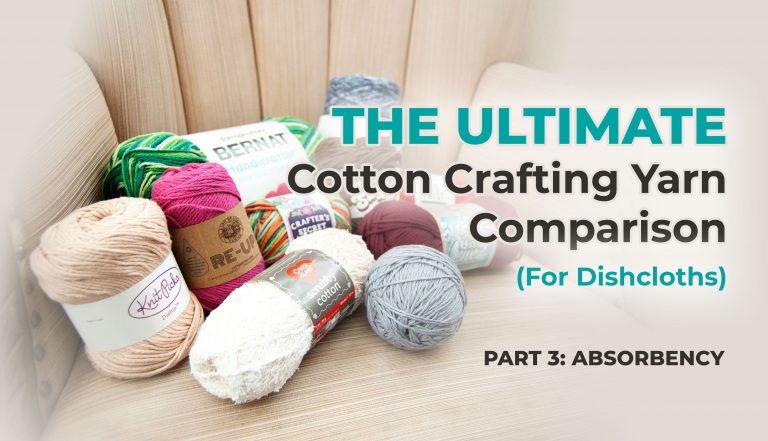 The Best Absorbent Cotton Yarn – Ultimate Cotton Crafting Yarn Test
The Best Absorbent Cotton Yarn – Ultimate Cotton Crafting Yarn Test
In today's post, I'll review the results of my cotton crafting yarn absorbency test! In the end, I chose to perform two different absorbency tests to determine the best absorbent cotton yarn. The first test demonstrated which yarns could absorb liquids quickly. The second demonstrated how much each yarn could hold at full saturation. As is common in my yarn comparisons, I created more work for myself when I decided just the first absorbency test was not comprehensive enough!
I've got two very long videos to accompany this post, but I will try to do my best to summarize the data for skimming.
First Test: Speed of Absorbency
Method to Determine the Best Absorbent Cotton Yarn
This test was originally the only absorbency test I was going to do to determine the best absorbent cotton yarn. After some experimentation, I determined the amount of water most the dishcloths could absorb without leaving residue was a single tablespoon. Not much, is it?
I also determined that it would be impossible to see how well or how quickly the water was absorbed when attempting to wipe up a puddle. Additionally, it would be more difficult to determine how much residue was left. As a result, I landed on pouring my tablespoon of water from above, to see how quickly it soaked in. This also allowed me to evaluate residue based purely on what soaked through, without any smearing.
Video & Results
I would highly recommend that you watch the video for this test. It was incredibly hard to collect measurable data. Although it was very clear which yarns absorbed quickly and left no residue, it was very hard to ensure that my pour timing was consistent.
I believe this was a very valuable test. But it didn't generate data that I could put into numbers very accurately. So again, I would watch the video above. But I will provide a general summary of what I saw.
Summary
First, most of the yarns absorbed water at what I would consider to be a reasonable pace. EXCEPT for Hobby Lobby I Love This Yarn, Crafters Secret and Premier Home Cotton. All these yarns had water puddling on top for a very long time before the water finally soaked through, leaving a significant amount of residue beneath.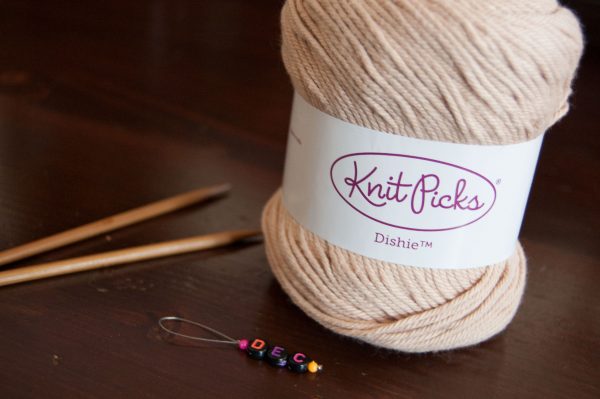 Second, even if a yarn absorbed at a reasonable pace, it did not always absorb everything. For example, Knit Pick's Dishie absorbed at a reasonable pace. But it left what I considered to be a significant amount of water underneath.
Finally, the only yarns the I considered to be worth using, based on the fact that they absorbed quickly and left an insignificant amount of water behind, are:
In the end, this test made me conclude that I Love this Cotton, Premier Home Cotton, Crafters Secret & Knit Pick's Dishie were not absorbent. But I also concluded that a second test was warranted.
Second Test: Fully Saturated Absorbency Per Yard
Method to Determine the Best Absorbent Cotton Yarn
As I finished the first absorbency test, I came up for an idea for how to test total absorbency. This may be the most accurate way to determine the best absorbent cotton yarn. The way that I originally articulated the test in the video did NOT work due to the small amount of yarns I was thinking of using. But I was able to create a test with the same end result.
Based on the weight of each cloth when dry, I was first able to determine yardage used in each cloth. I did this by referencing the ball band information.
Secondly, I soaked all the cloths in a sink full of water for 20-30 minutes so that they would be fully saturated. I then gently squeezed each cloth to remove any excess water and then weighed a second time. I took the weight of the cloth when wet and subtracted the dry weight. From this I was able to determine the total grams of water absorbed by each cloth.
Finally, I wrung each cloth to remove as much water as humanly possible and weighed again. This gave me the weight of a damp cloth. I subtracted the damp cloth weight from the wet cloth weight to determine how much more water could be absorbed in a subsequent cleaning.
I took the weight of the total water absorbed, as well as the weight that could be re-absorbed, and divided by the cloth yardage to get grams of water per yard for each cloth.
Video & Results
I will share the complete list of calculation results below, but I will make a few initial comments. First, the mercerized 24/7 Cotton was the least absorbent (as it should be). Second, there were only 4 yarns with less than 2g/yd of water absorbed, everything else was generally pretty absorbent, even if it could not absorb the water quickly. Finally, only two yarns had really poor re-use absorbency, at less than .3g/yard.
I have a very interesting data point for top 5 yarns in the saturation test. Two of them failed miserably in the initial absorbency speed test (4 & 5). This leads me to believe that there may be a coating on these yarns that is limiting absorption and that it may improve with more washing. This is something I will have to test again to truly know the best absorbent cotton yarn.
The Best Absorbent Cotton Yarn: Sugar n' Cream
If you're skimming today's post, this is the part you'll want to read.
In the end, the top yarn was Lily Sugar n' Cream. Not only did it absorb quickly, with little residue, but it overall held more grams of water per yard than any of the other yarns. But there was some fierce competition, and I would not rule out any of the other yarns with more than 2g/yd absorbency.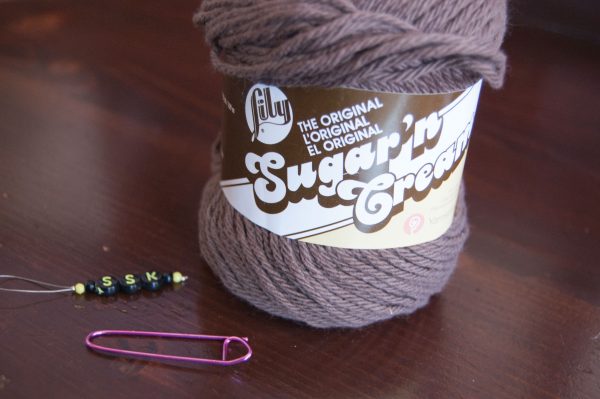 I was incredibly wrong in thinking that Red Heart Scrubby Cotton would be more absorbent than other yarns simply due to the different ply. In fact, it was overall one of the least absorbent yarns, even when evaluating re-use.
When I analyzed the growth rates of the cloths when wet, I picked out four yarns I hoped might be the most absorbent based on size. These four were Lily Sugar n' Cream, Crafter's Secret Cotton, Hobby Lobby's I Love This Cotton and Knit Pick's Dishie. Of these four, only 3 were in the Top 5 yarns of the saturation test. This indicates at least a moderate correlation between wet growth and absorbency.
There may be some possible correlation to cotton source and absorbency. Of the top 5 yarns in the saturation test, 2 of the yarns (I Love This Cotton, Sugar n' Cream) were made with United States Cotton. Crafters Secret, Re-Up & Just Cotton (the other 3 in the top 5) are all manufactured in Turkey.
And although the 100% Cotton yarns did the best, the cotton/poly blends did not do too bad! Premier's Just Cotton was more absorbent than Premier Home Cotton or Big Twist Cotton, but overall they didn't do too bad. I would no longer rule them out as long as they absorbed quickly.
What's Next in the Cotton Crafting Yarn Comparison
From here, I'm going to start using each of these dishcloths in my kitchen. This will begin the durability testing, but also allow me to start to see what I like from a practical point of view. Will I be able to notice the .6g difference in absorbency between Sugar n' Cream and Handicrafter? Or in the end, will I care more about absorbency speed than total absorbency? I hope to discover the answers to these questions.
Additionally, I still have to crochet dishcloths from each yarn to see how crochet affects the overall size adjustments of each dishcloth. I may end up making these in tunisian crochet so that I finally learn how to do so!
Until then, contact me with any questions or comments you may have!
Featured in this Post
You can buy any of the cotton crafting yarns featured in this post by clicking on the links below! Using these links help support my work on this blog, as I may receive a small commission from any purchases you make. This does not affect the price you pay, but keeps this blog running.