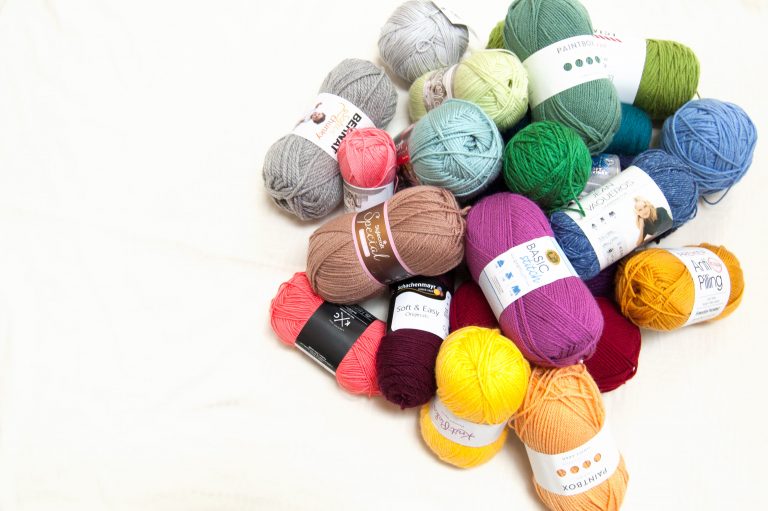 Yarn Durability Update (and More!) for UAYC
Yarn Durability Update (and More!) for UAYC
Today I bring you the long awaited update on the Ultimate Acrylic Yarn Comparison. The four "Fast Follow" yarns have been swatched, washed and they are ready to compare to their predecessors! I'll cover yarn durability, softness and workability.
As a reminder, the four yarns are Red Heart Super Saver, Premier Yarns Basix, Lion Brand Pound of Love and Willow Wash (China manufactured). You can watch my YouTube video below or read on to get the details.
Yarn Durability Rankings
In terms of durability, I will remind you that I created four general categories to classify all the previous swatches. You can see the previous post here. These were premature wear, average wear and runner ups (above average wear) and clear winners (durable).
Unfortunately, I have to say that Red Heart Super Saver and Premier Basix both ranked in the premature wear category. This is to be expected, with the other yarns in this category also being incredibly affordable value yarns. Basix wear pattern reminded me the most of Hobby Lobby's I Love This Yarn, with wear showing more on the inner stitches than the edges. Super Saver wore the most around the edges, much like Paintbox and Big Twist.
I placed Lion Brand Pound of Love in the average wear category. I would compare it to Lion Brand's Premier Basic Stitch.
Lastly, the Willow Wash manufactured in China did not rank quite as well as the Willow Wash manufactured in Turkey. Wash still held up quite well though and it got a runner up ranking rather than the original clear winner rank. It wore more like Caron Simply Soft than the original Willow Wash.
Yarn Softness Rankings
In terms of softness, I inserted the four yarns into the rankings as follows:
The general takeaway is that the China sourced Willow Wash is not as soft as the skeins sourced from Turkey. And that Pound of Love, Super Saver and Basix are all about the same softness. Which is to say, not very, like many of the cheaper value yarns. Granted, most of these yarns will be just fine and cozy for most. But if you are feeling them side by side with all these other amazing yarns, they just cannot compare. You can find my original rankings here.
A newcomer to the comparison
I've also begun the process of washing swatches of Yarn Bee's Soft & Sleek yarn. I'm only 5 washes in, so I can only wager that it will end up being an average wear yarn in term of durability. When it comes to softness, it's already way up there in the ranks and I expect it to do well in the long run.
Soft and Sleek won't be the only newcomer in the comparison. My current plan is to expand the comparison and the comparison chart to include more yarns that I have on hand, including acrylic blends. Examples include Lion Brand Heartland, Premier Yarns Everyday Antipilling Merino Blend and Premier Yarns Cotton Fair. It'll be a slow process, but it'll happen.
Yarn Durability, Softness & Workability Conclusions
With four more yarns on the value end of the spectrum, I have some thoughts on which yarns to purchase. I am defining the "value" end of the spectrum to be the following yarns:
Red Heart Super Saver
Premier Yarns Basix
Caron One Pound
Loops & Threads Impeccable
Knit Pick's Brava
Big Twist Value
Hobby Lobby I Love This Yarn
Lion Brand Pound of Love
If you're looking for something available in a sport or dk weight, you really only have one budget option and that is Knit Pick's Brava. However, Lion Brand Pound of Love is certainly on the lighter end of the spectrum and may be a reasonable substitute depending on your pattern.
When basic worsted is all you need, you have lots of options to choose from. And in general, I would say that you should make this decision primarily based on color, as most of them wear somewhere from premature to average. The only yarn on this end of the spectrum with crazy good durability is Loops & Threads Impeccable.
However, if you want to talk workability, I have developed some very clear preferences. If I had to choose on workability alone, I would pick Premier Basix, Big Twist Value, and Hobby Lobby I Love This Yarn. These were the ones I found easiest to knit. I would also be open to working with Knit Pick's Brava, but I definitely did not enjoy working with One Pound, Impeccable and Super Saver.
That's all for now folks, but stay tuned for more additions to the comparison as time goes on!