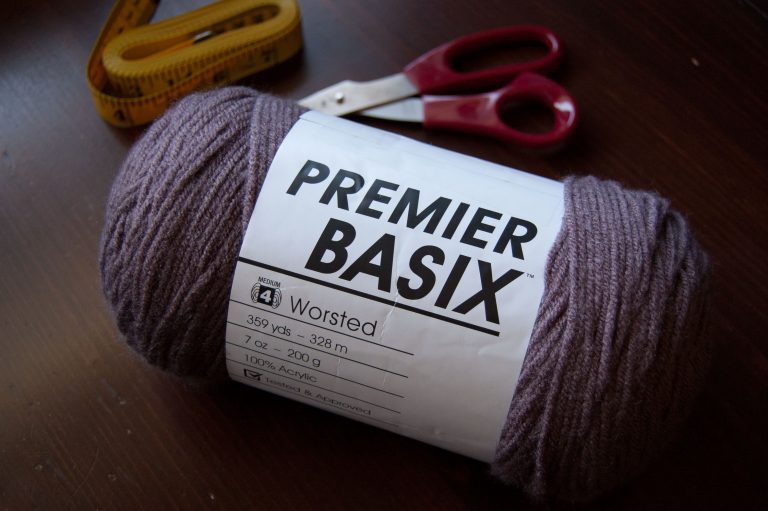 Premier Yarns Basix Acrylic
Premier Yarns Basix Acrylic
Premier Yarns Basix is a "fast follow" contender in the Ultimate Acrylic Yarn Comparison. Basix has been chosen due to it's OKEO-TEX certification and affordable price. It's a new release from Premier Yarns, and I had to compare it to all the other yarns! Learn more about the yarn comparison here.
Today, I want to introduce you to a new yarn from Premier Yarns. Now it's not THAT new, but I only started seeing this yarn everywhere in March. And it only has 117 stashes on Ravelry right now. So yes, it's a pretty darn NEW YARN! The yarn I'm talking about is Premier Yarns Basix, and I'm telling you this yarn is going to give Red Heart Super Saver some serious competition.
Details of Premier Yarns Basix
Premier Yarn's Basix is a heavier worsted weight acrylic yarn with 359 yards per skein. It is machine washable and dryable, but it is not anti-pilling. Most budget acrylics are don't have the anti-pilling feature. But Premier is known for their amazing Anti-Pilling Everyday Worsted so they explicitly say on the product page that this yarn IS. NOT. ANTI-PILLING.
Entire generations of knitters and crocheters have survived with anti-pilling yarn, so does it matter? The yarn comparison results will tell us. But in the meantime, what does matter is the color selection! Basix comes in a total of 48 modern and instagrammable (is that an official verb yet?) colors.
Oh, and did I mention that Basix yarn is OKEO-TEX certified? Basix is one of many yarns from Premier that is STANDARD 100 by OEKO-TEX® certified. This means it's been tested for harmful substances and has a very high product safety.
Affordability of Premier Yarn Basix
As a newer yarn, the pricing of Premier Yarn Basix is a little hard to decipher. It is offered nearly everywhere at $2.99 per skein, but this price is also advertised as a sale price much of the time. I'm not sure if this will regularly be $3.99/skein once it catches on, or if there will be sale prices lower than $2.99. With this uncertainty in mind, I'm using the $2.99 as a sales price in today's breakdown.
| Yarn | Price | Price/Yd |
| --- | --- | --- |
| 1 Skein "Regular" Price | $3.99 | $0.011/yard |
| 1 Skein "Sales" Price | $2.99 | $0.008/yard |
| Project | Reg. Price | Sale Price |
| --- | --- | --- |
| A Scarf (1 Skeins) | $3.99 | $2.99 |
| Small Sweater (3 skeins) | $11.97 | $8.97 |
| Blanket (5 skeins) | $19.95 | $14.95 |
If you're able to score that $2.99 price, Premier Yarns Basix is cheaper than the lowest priced yarns in the Ultimate Acrylic Yarn Comparison. Even if they start selling Basix for $3.99/skein, it's just as affordable as Knit Pick's Brava and Loops & Threads Impeccable.
First Impressions of Premier Yarns Basix
Basix is one of several yarns slated for a multi-color baby blanket for my sister's baby. Having this skein side by side with comparative yarns like Red Heart Super Saver and Big Twist Value gives me very high hopes and even higher expectations!
Basix is thick and squishy like Red Heart Super Saver, but softer to the touch like Big Twist Value yarn. By now you should know that I am not a fan of budget acrylics due to stiffness and general feel. The Ultimate Acrylic Yarn Comparison introduced me to some amazing acrylics, but I did feel that I never found a perfect big-ball, budget acrylic. I'm crossing my fingers that Basix will meet my ever-so-picky needs!
I've already started the baby blanket that uses Basix, so that post will come sooner rather than later! Stay tuned, because when it's all finished I'll be able to tell you exactly how it compares to Red Heart Super Saver!
---
Featured in this Post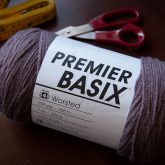 Basix is a thick and squishy value acrylic yarn that is OKEO-TEX certified! Perfect for baby and charity knits, you can buy all the Instagrammable colorways at LoveCrafts and other online retailers.