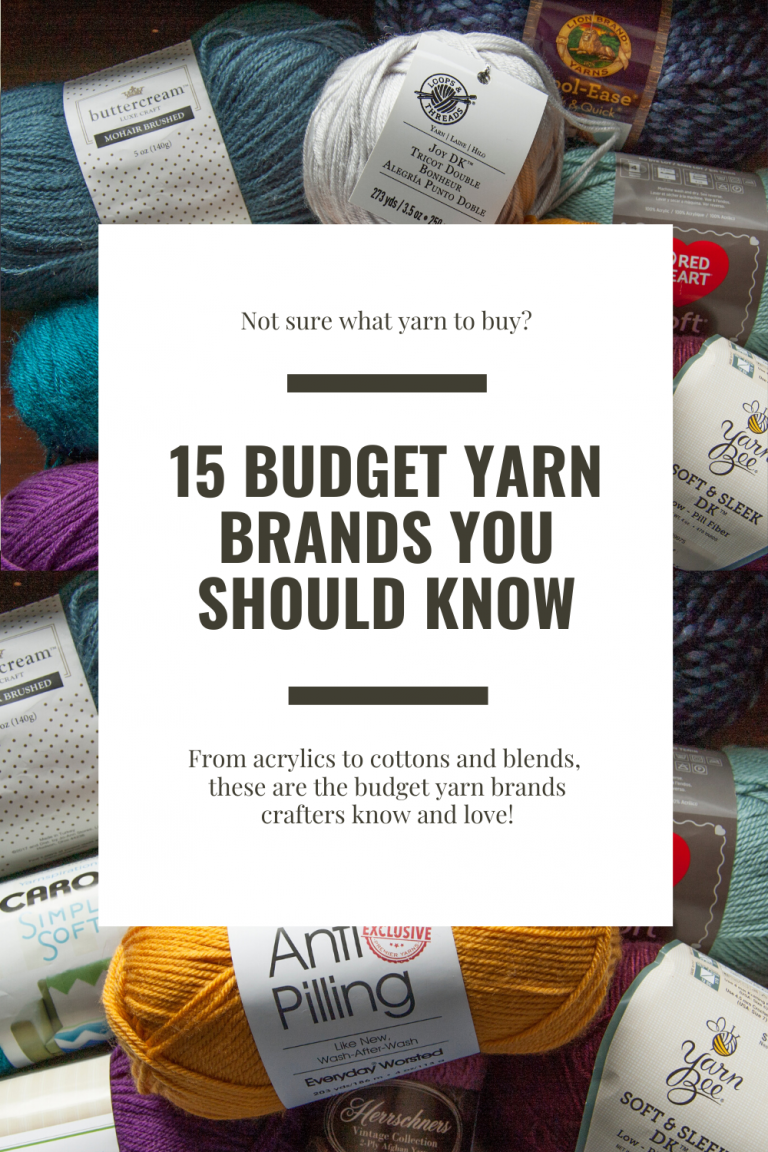 15 Budget Yarn Brands You Should Know
15 Budget Yarn Brands You Should Know
October 2nd, 2020 – This post has been updated based on the results of the Ultimate Acrylic Yarn Comparison.
Everyone has a different idea of what a "budget" yarn is. For the simple reason we all come from different walks of life and have different budgets! To provide valuable information for ALL readers, I'm creating multiple budget yarn lists based on price point.
My first group of budget yarn brands are those very affordable and readily available yarns you can typically find at your average craft store or at a reputable online retailer. With modern technology, these companies are creating some amazing products at great prices. Most of the yarn lines from these manufacturers will be acrylic or blended acrylic featuring cotton and wool.
All the budget yarn brands in this list will have most of their yarns priced at $.03/yd or less. The average skein price will range from $1 to $6.
5 Common Budget Yarn Brands
1- Caron Yarn – Readily available at Joann, Michael's, Herrschner's, Yarnspirations.com and even Walmart. Most crafters used to think of fuzzy, splitty Simply Soft when they heard the name Caron. In recent years they've begun manufacturing cake yarns that are a hit with knitters and crocheters alike! If you're looking at something other than a cake yarn, I would recommend looking at some yarn ratings and reviews before buying.
2 – Red Heart Yarn – You can find Red Heart while browsing the aisles of Walmart, Michael's and Joann or online at Yarnspirations.com. RH is some of the cheapest acrylic you can buy and it's generally known as the "squeaky" acrylic. However, like Caron, they are creating some new yarns that are a hit! Steer clear of Soft and similarly priced acrylic lines, but don't miss their much loved Hygge or their return to wool with Chic Sheep by Marly Bird.
3 – Bernat Yarn – Available at your standard big box stores (Joann, Michael's, Walmart), you can also find Bernat on Amazon and at Yarnspirations.com. Bernat's average ratings are redeemed by a few amazing yarn lines that are well loved. The polyester Bernat Blanket yarns are an absolutely hit as is their Chenille and Velvet lines.
4- Premier Yarns – It took me a long time to finally try Premier Yarns. Recently I discovered their Anti-Pilling Everyday yarns are some of the best acrylic I've tried! I'm equally as excited about Cotton Fair and generally think Premier is great quality. You'll be lucky to find a few yarn lines in Joann, Michael's and Walmart, but for the best selection check out their website or Herrschner's.
5 – Lion Brand Yarn – Available at Michael's, Joann, Amazon, Walmart, LoveCrafts & LionBrand.com. LB has been around so long you can't create a yarn list without including it. As with many budget yarns, you have to steer clear of the really low priced lines such as Vanna's Choice. But overall their yarn quality is great. Mandala, Jeans, Heartland and Wool-Ease Thick & Quick all have fan followings.
5 Store Brand Budget Yarns
6 – Loops & Thread Yarn – Exclusive to Michael's stores, you're likely familiar with this yarn! L&T offers some of the cheapest acrylic yarn you can find. Generally I haven't enjoyed many of their low cost yarns like Impeccable or Cozy Wool. But their Joy DK did amazing in my Ultimate Acrylic Yarn Comparison! Additionally, they've started releasing some seasonal yarns that are really different and worth trying!
7 – Buttercream Luxe Craft – Exclusive to Joann stores, Buttercream yarns can be hit or miss just like L&T. They have some really unique looking yarns that aren't really my cup of tea, but I really love their Roving yarn. Unlike Patons or Bernat, it doesn't make me itch! If you're looking at something other than Roving, be sure check those online reviews.
8 – Big Twist – Also exclusive to Joann stores, Big Twist is the value yarn brand to complement their Buttercream line of affordable natural fibers. Their Big Twist Value is crazy soft and has a very low price per yard — it's perfect for those charity and baby knits!
9 – Yarn Bee Yarn – Available exclusively at Hobby Lobby. Yarn Bee is one of the only store brands that consistently offers a yarn with a high merino wool content (Must Be Merino). Additionally they have a real winner with their Soft & Sleek yarns. Overall Yarn Bee is one of the most intriguing store brands!
10 – Herrschner's Yarn – Herrschner's almost went in the online only category, but they do have a physical location in Wisconsin and their own yarn brand. Herrschner's has several yarns, mostly acrylics and cottons, catering to those making blankets and baby items. The primary appeal if these yarns is the large color selection!
5 Online Only Yarn Brands
11 – Paintbox Yarns – Available online at LoveCrafts, Paintbox is a yarn known for their amazing colors! Their acrylic yarns are some of the best rated on Ravelry, and they get that rating for their perfect balance of softness, durability and affordability. If you want to learn more about this, I highly recommend reading the conclusion to the Ultimate Acrylic Yarn Comparison.
12 – Willow Yarns – Available online at Herrschner's and WillowYarns.com. I am always surprised by how few people are aware Willow Yarns exists. Willow has several very affordable ($) budget yarns, including wools! So far I've tried Wash, Burrow & Spectral and I'm quite satisfied. Keep coming back to this blog, because my goal is to try all their lines!
13 – Sirdar Yarn – Available online at Webs and LoveCrafts, Sirdar yarns is a well known name in the UK. Established in 1880, Sirdar comes across as the Lion Brand of Yorkshire. I have zero personal experience with this brand, but my next LoveCrafts order will change that.
14 – DY Choice – Mostly available in the UK, you can find some DY Choice yarns at LoveCrafts. I happened to find myself a few skeins of 4Ply with Wool and I would say DY Choice is comparable to your average store brand yarn.
15 – Stylecraft – Yes, I have another UK yarn brand! Stylecraft was a winner in the 2019 British Knitting & Crochet awards so it must be mentioned. They placed 1st in Best Overall Yarn Brand, Best Yarn for Crochet AND Best Value Yarn Brand! Thankfully for those of us "across the pond", LoveCrafts carries many Stylecraft yarns for us to try!
---
If you're looking to spend a little more on yarn for that special gift knit, check out my midpoint ($$) budget yarns list and the luxury budget yarns!
Know of a brand that belongs in this list? Contact me and let me know I missed one!