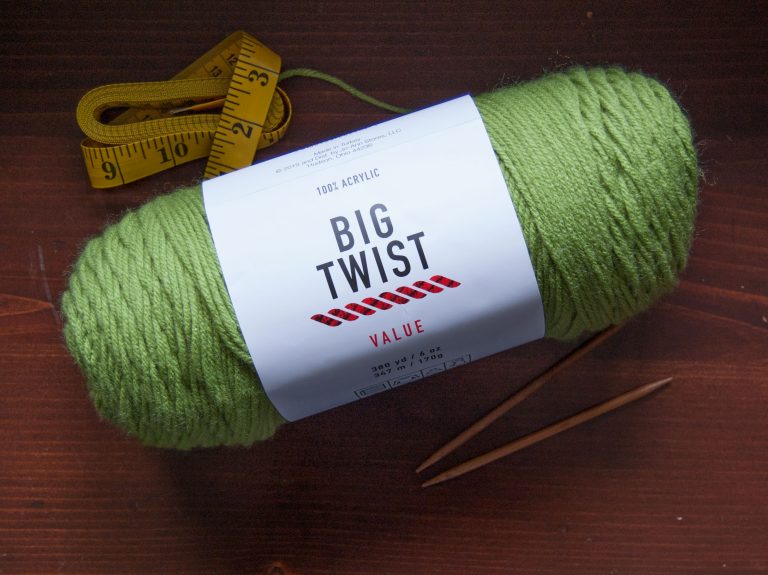 Big Twist Value Yarn
Big Twist Value Yarn
Big Twist Value yarn is a contender in the Ultimate Acrylic Yarn Comparison! It is impossible to represent store brand acrylics without including the most popular Big Twist yarn available from Joann. This worsted weight yarn is available in 43 different colorways and is advertised as "durable, functional and affordable […] for charity needs. "
If you regularly buy yarn at Joann Fabrics, you may know more about today's yarn than I do! Joann's budget yarn line, Big Twist, offers three worsted weight value yarns. Today we'll be discussing the most popular, Big Twist Value.
Big Twist Value Details
I will be honest and say that I had avoided purchasing any Big Twist yarn for a very long time. I had just assumed it was a cheap acrylic along the likes of Red Heart Super Saver. But recently I began to see some favorable mentions and decided I had a duty to try at least one Big Twist yarn.
After looking at the popularity ratings on Ravelry, I chose to evaluate Big Twist Value instead of Big Twist Soft. The simple reason is that there were many more ratings!
Big Twist Value is sold in 6 oz solids or 5 oz ombres. The 371 yards of the 6oz big ball can compete with most value yarn skein sizes. Joann markets Value as "Durable, functional, and affordable, this yarn is perfect for afghans, family projects, and all of your charity needs."
When evaluating the label, you won't see anything all that different from your average value yarn. Until you get to the care instructions.
Care Requirements for Big Twist Value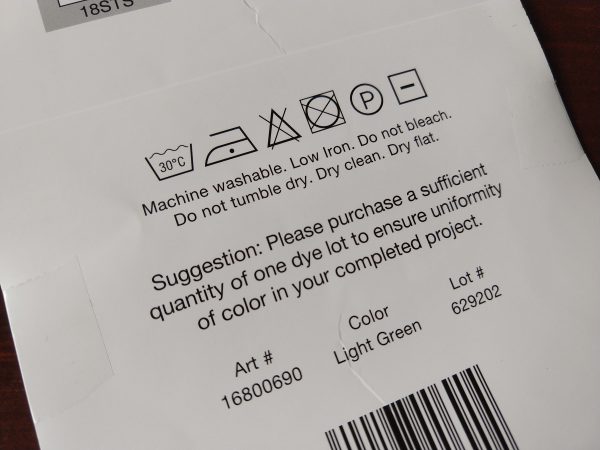 Big Twist Value is the ONLY value acrylic yarn I have found that says "Do not tumble dry. Dry clean. Dry flat." The Joann website is a little less jarring and says "Machine was and air dry (do not use dryer)". Since when did an acrylic yarn require dry cleaning? How is this yarn suitable for charity needs when it can't be machine dried?
Ravelry commenters say they use this yarn often for baby and charity knits, some specifically mentioning having machine dried it. But no one attests to how it holds up after long term machine washing and drying. I am crossing my fingers that Value is truly "durable, functional and affordable" even after machine drying.
Affordability of Big Twist's Value Yarn
Value is very reasonably priced at a regular price of $3.49/skein. I have regularly seen it on sale for less than $3/skein, and there is always the option to purchase with a 40% off regular price coupon. But allow me to crunch the affordability numbers for you.
| Yarn | Price | Price/Yd |
| --- | --- | --- |
| 1 Skein Regular Price | $3.49 | $0.009/yard |
| 1 Skein Discount Price | $2.09 | $0.005/yard |
| Project | Reg. Price | Sale Price |
| --- | --- | --- |
| Scarf (1 Skeins) | $3.49 | $2.09 |
| Sweater (3 skeins) | $10.47 | $6.27 |
| Blanket (6 skeins) | $20.94 | $12.54 |
Even at regular price, Big Twist Value really is a value yarn for those on the tightest of budgets.
First Impressions of BT Value
Even in the skein, I was surprised by how much softer Value was than some other store brand budget yarns. Much to my surprise, knitting the swatch was actually pleasant!
Many cheap yarns can be stiff and rigid, but BT Value was not. I found it flexible, soft and very easy to work with. I regret that I had not tried this yarn sooner, for I could see myself making afghans with a value yarn that knit so nicely.
BUT…….. and it is a big but….. what about the care instructions? If this yarn cannot hold up to washing and drying in a machine, I would take a hard pass.
Have you machine washed and dried Big Twist Value? Share your knowledge and project photos with me on Instagram or Facebook!
---
Featured in this Post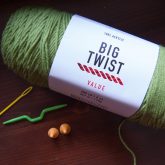 You can find Value and other Big Twist yarns exclusively at Joann stores. If you're looking for a softer and less stiff value yarn, you just found it!