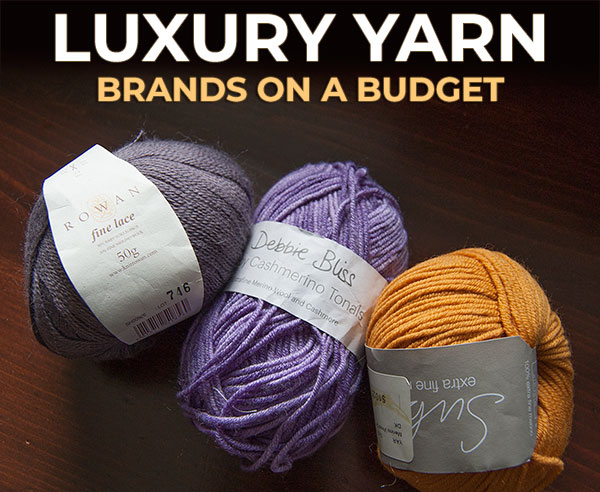 Luxury Yarn on a Budget
Luxury Yarn on a Budget
We all come from different walks of life. For that reason, we all have drastically different budgets! What is my luxury yarn may be your budget yarn. For that reason, I'm creating multiple budget yarn lists based on price point.
For a large portion of us, the yarns in this third and final list will never be considered a budget yarn unless we get a steep discount. But I can't tell you how many times I've seen these brands called budget friendly. They aren't Madelinetosh, so for that reason they are affordable to someone! I have very little personal experience with these yarns so my impressions are very vague.
All the budget yarn brands in this list will have most of their yarns priced at $0.05/yard and up. Most 50g skeins will cost at least $9.
Budget Luxury Yarn for Big Budgets
Debbie Bliss Yarn – Named for the famed pattern designer, Debbie Bliss yarns are available at Webs & LoveCrafts. DB Yarn is part of the Designer Yarns family, maker of the affordable DY Choice. Debbie Bliss yarn ratings are all 4 stars and above. If you're looking to give this brand a try, start with their incredibly popular Baby Cashmerino. It's so soft!
Sugar Bush Yarns – Available at Webs, LoveCrafts, Yarnspirations & Amazon. Part of the Spinright Yarn family, Sugar Bush is the the high end yarn line from the creators of big box staples like Caron, Bernat & Red Heart. Sugar Bush yarns are gaining popularity and really giving luxury yarn brands a run for their money.
Rowan Yarn – I've seen plenty people call out Rowan yarns at their go-to favorite. Available at Webs, LoveCrafts and local yarn stores, this is another brand hailing from the UK. The above average ratings on Ravelry speak for themselves.
Sublime Yarns – Sublime is the luxury yarn brand brought to you by Sirdar. Available at Webs, LoveCrafts and local yarn stores, Sublime offers some really amazing wool yarns. I've got a few skeins of Extra Fine Merino for a wicked good price, and BOY is this some gorgeous yarn!
Malabrigo Yarns – Everyone. Loves. Malabrigo. Available online at Webs, LoveCrafts and local yarn stores, Malabrigo yarns are well loved not only for their amazing colorways but for their incredible quality. If sustainability and environmental consciousness is important, then buy Malabrigo and support this family owned business from Uruguay.
---
Are these yarns a bit too rich for your budget? Check out my list of more affordable midpoint budget yarn brands or the list of rock bottom priced ($) budget yarn brands.
Know of a brand that belongs in this list? Contact me and let me know I missed one!