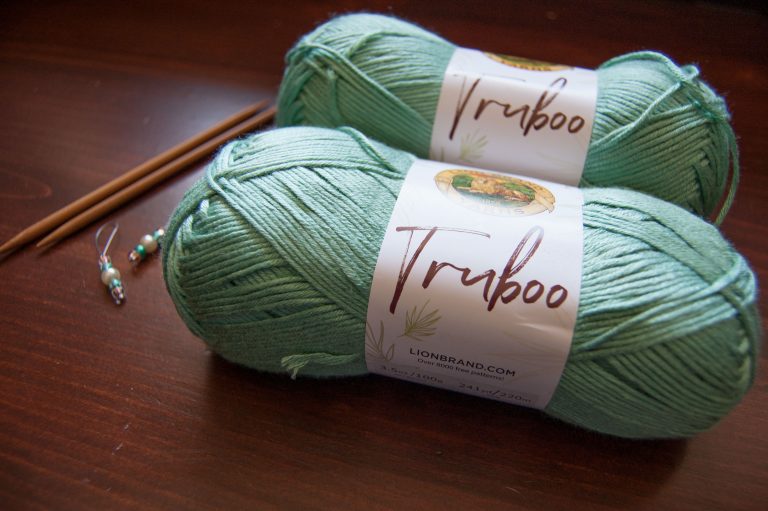 Lion Brand Trueboo Bamboo Yarn
Lion Brand Trueboo Bamboo Yarn
For those of you with summery fibers on the mind, today's post is just what the doctor ordered. Our last post was about a viscose yarn from Hobby Lobby. Definitely a perfect yarn for summer! Today we'll be talking about a a "sister" fiber — bamboo! We found Lion Brand Truboo bamboo yarn at Joann and we're so excited to tell you about it.
Bamboo vs Rayon vs Viscose
Ready to be confused? Lets start with Rayon since you may recognize that from your standard clothing label. Rayon is considered a semi-synthetic fiber because it begins with a natural substance (wood pulp) and gets treated with certain chemicals to become a soft material suitable for clothing and bedding.
If we back track to last week's post about viscose, you'll recall that viscose is also semi-synthetic, the unnatural offspring of man made process and natural cellulose fibers. Viscose is technically one of many types of Rayon, but it is the most common kind.
Bamboo yarn will typically say in the fine print "100% Rayon from Bamboo". Your bamboo yarn is technically rayon! But rather than being derived from wood pulp or an unknown cellulose source, they are making sure you know it came from 100% bamboo. Also in the rayon family you'll see modal (from beech fiber) and lyocell (from eucalyptus, gum trees or bamboo).
Now there seems to be a lot of gray area and interchangeable terms here. It is worth noting that the term Lyocell is associated with more eco-friendly production methods than standard rayon/viscose/modal. And there may be different processing methods between viscose and modal that allow modal to be a stronger and more durable fiber than viscose.
Lion Brand Truboo Bamboo yarn
With the pesky fiber details out of the way, you'll notice that Lion Brand's Truboo is 100% Rayon from bamboo. This yarn is not a cotton blend marketing ploy like many of the rayon slash bamboo yarns you'll find at your big box craft retailer.
A single skein of Truboo contains 241 yards of DK weight yarn. Unlike last weeks viscose yarn, Truboo's care instructions allow for machine washing (dry flat). Maybe this goes back to different processing methods? If someone has a definitive guide on the differences between viscose/modal, etc, please share! The internet has so many varying opinions on this topic.
But time to give you a cost breakdown of this yarn. Is Truboo truly a budget bamboo yarn?
| Yarn | Price | Price/Yd |
| --- | --- | --- |
| 1 Skein Regular Price | $5.99 | $0.024/yard |
| 1 Skein w/ 30% Off Sale | $4.19 | $0.017/yard |
| Project | Reg. Price | Sale Price |
| --- | --- | --- |
| A Shawl (2 Skeins) | $11.98 | $8.38 |
| Med. Tank (3 skeins) | $17.97 | $12.57 |
| Med. Cardigan (4 skeins) | $23.96 | $16.76 |
Early Impressions of Lion Brand Trueboo
I'll send you off with some first impressions to hold you over until we make something and give Truboo a yarn review.
Truboo is so, so soft! But if you can, buy it in person. I ordered two skeins of Seafoam and the yarn has much more of a yellow undertone than the photos on Joann showed. Many Truboo shades are minor differences of a main color (blue, green, etc) so color accuracy makes a big difference here.
Compared to my rayon/viscose yarn from last week, this bamboo yarn skein is more rigid. I don't think it will have as much drape as Yarn Bee Spinessse.
The ends poking out from underneath the label tags are already unwinding. The ply could be loose overall; we'll let you know how that plays out in overall yarn workability.
Hopefully we gave you some great info on bamboo yarn today and we've inspired you to try out some Lion Brand Truboo for yourself!
Do you have a bamboo yarn you love?
---
Featured in this Post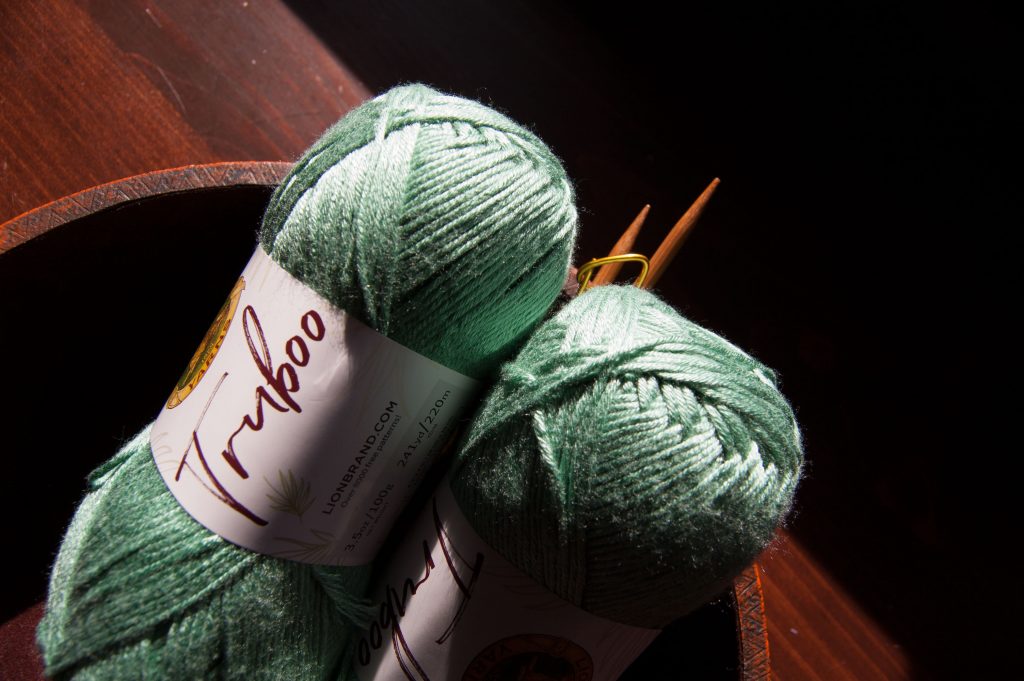 Trueboo is a budget friendly 100% Bamboo yarn! Find it online and in store at Joann or at LionBrand.com