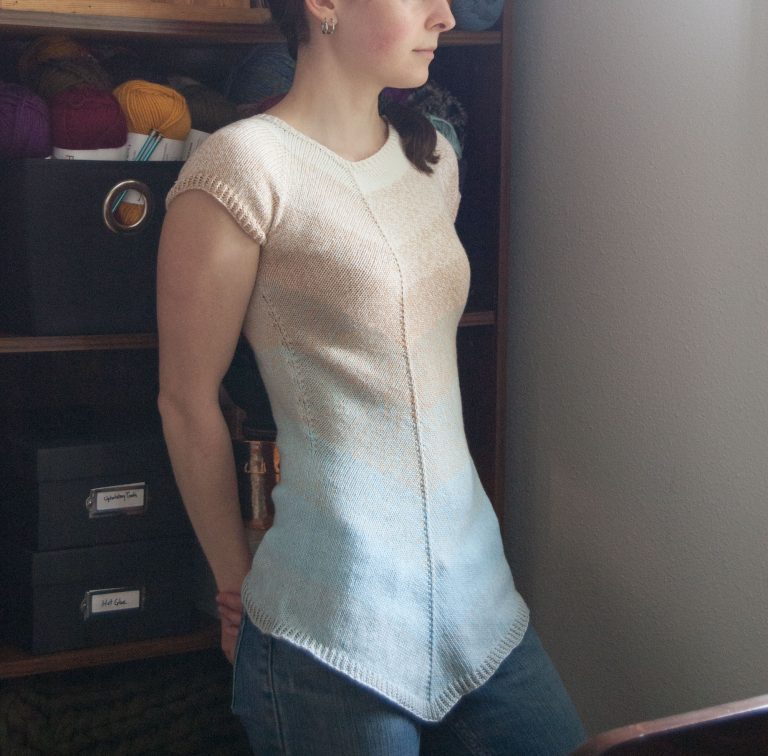 Sugar Maple Tee in Willow Yarns Spectral
Sugar Maple Tee in Willow Yarns Spectral
Are you ready for a stunner of a project? I just finished knitting my Sugar Maple Tee (pattern by Carina Spencer) in Willow Yarns Spectral and we are absolutely in love. Find the link to the pattern at the bottom of this post.
About the Sugar Maple Tee Knitting Pattern
The Sugar Maple Tee pattern has been around for several years now. Many the design elements may feel a little "dated" when you compare to the oversized, off-the-shoulder looks that are popular now. The Sugar Maple Tee has an asymmetrical hem, with a high back and low front. The asymmetric hem in the front is created by a series of increases that run down the right side of the bust.
With a fitted silhouette, the Sugar Maple Tee is by far the most flattering garment I have knit to date. The pattern directions express lengths to knit by referencing points on your own physique rather than with specific dimensions. As a result, this pattern seems to be very flattering for a variety of body types. Not everyone's waist is in the same place. Knitting to the lowest rib is certainly going to have better results than prescribing a standard 7″ of length for all size smalls.
This is not a free pattern. Sugar Maple sold for about $6.00 on Lovecrafts in December (price appears to be variable). I requested it as a gift last Christmas and it is honestly the first paid sweater/top pattern I have used. I have been so satisfied with the end result, I believe I will be much more willing to pay for patterns in the future. Paying $6 to ensure you love your final product is well worth it!
Knitting the Sugar Maple Tee
It's easy to see the long asymmetric hem and assume Sugar Maple is a very long knitting project. But the tee turned out to be a surprisingly quick knit, in spite of being worked in fingering weight yarn.
The flattering cap sleeves are all finished before you've even completed the chest increases. There is no need to go back and pick up stitches or finish sleeves separately and weave in ends. It's not until you've gotten halfway through the bottom of the tee that your rounds begin to get long and time consuming.
Designed to showcase gradient yarns, which are typically sold in massive single skeins, Sugar Maple is typically knit with one long length of yarn. The only finishing to complete is two ends to weave in! One from the cast on at the collar and the other at the bind off at the hem. In terms of finishing and non-knitting details, this project is as easy as a beanie.
Using Willow Yarns Spectral
I went off the beaten path when choosing the yarn for this project. The recommended yarn for this pattern is a gradient wool sock yarn – Twisted Fiber Art Tasty Evolution. Most interpretations of this project stick with the recommended wool gradient. However, there is clear second group who used a popular fingering weight acrylic/cotton blend – Scheepjes Whirl.
I found an affordable underdog in the acrylic/cotton blend category – Willow Yarns Spectral. Often times when you use a cheaper yarn you pay for the difference quickly, finding it is annoying to work with. We could not be happier with the workability of Spectral.
Spectral has enough acrylic content that it wasn't hard on the hands. We experienced no yarn burn. The ply is nice and tight; we experienced absolutely zero splitting. We were able to really speed through knitting the Sugar Maple Tee because of how well the yarn was constructed.
Our Project Takeaways
Iwould highly recommend this knitting pattern to anyone who has not yet ventured into garments. Not only do you have clear directions and a simple knit-in-the-round construction, but you'll have great project satisfaction.
Knitting the Sugar Maple Tee, I was able to identify shaping techniques that really flatter. First, start eyeing where your final waist decreases will be as you reach your final rib. Second, I learned how to complete a cute cap sleeve with no special finishing. Understanding how to construct a pointed hem was an added bonus.
Finally, Ivdiscovered I love working with Willow Yarns Spectral. I'm crossing our fingers that it wears well and we can give it a resounding Buy Again in my final yarn review. My only complaint thus far is that they need a larger color selection!
---
Featured in this Post