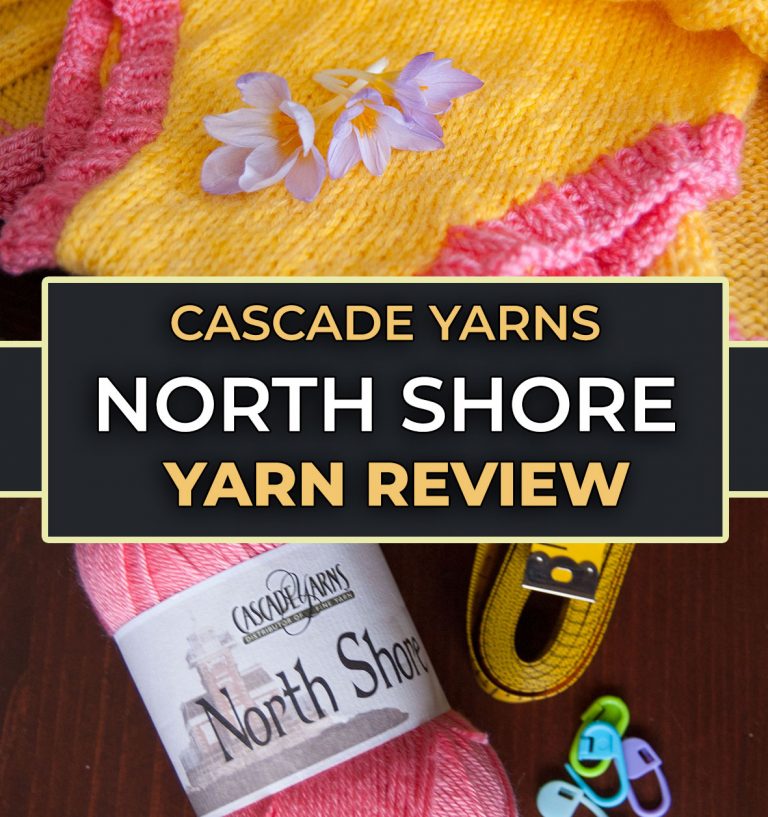 Cascade Yarns North Shore Yarn Review
Cascade Yarns North Shore Yarn Review
I'm going to try and keep today's review short and sweet, for a couple reasons. First, North Shore has become hard to find online and seems to only be available through local yarn shops at this time. Second, the scarcity may be because the yarn will soon be discontinued, but that is not official at this time. Third, if I can't link to an online store with an affiliate link, I don't make money. Hence, I am not making any money from this Cascade Yarns North Shore Yarn Review!
But because I love ya'll and feel compelled to finish what I start, here it is.
Availability of North Shore
This WAS easy to find online at Webs, LoveCrafts and some other common online yarn stores only a year ago when I started the Ultimate Acrylic Yarn Comparison. Thus I originally ranked it as 7/10. As of this posting, I can only find it at four online stores! They are:
My hope is that it's hard to find because of pandemic related shortages, and not because it is being discontinued. I see nowhere online saying the yarn has been discontinued, so who knows at this point.
Workability of Cascade Yarns North Shore
My first impression of North Shore was that it would not be fun to work with. Why? It felt like a cotton yarn rather than an acrylic! But after all the swatching, I decided it wasn't so bad. It wasn't one of my favorite yarns to work with, but overall I did not have a negative experience. I gave it an average workability rating of 6 out of 10.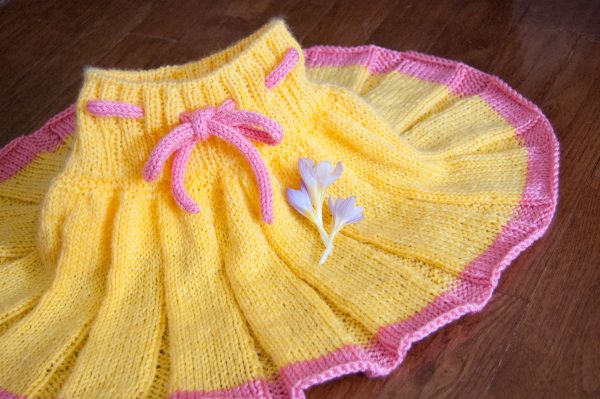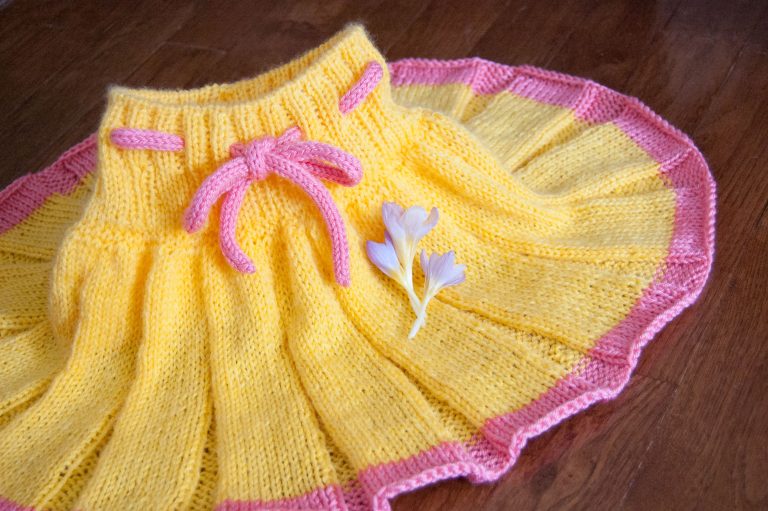 After working a few projects in North Shore, namely the Skirty Soaker and Watermelon Cardigan, I would say I liked it a little more than I did at swatching time. I would attribute this to the simple fact I was no longer directly comparing the yarn to another. Overall it makes for a fairly pleasant knit and feels higher than 6/10!
How soft is Cascade Yarns North Shore?
I was so confused by this yarn when I first discovered it, because it felt like a COTTON yarn rather than an acrylic. I expected it to turn out more like your basic cotton — a little rough, with lots of washing required to soften.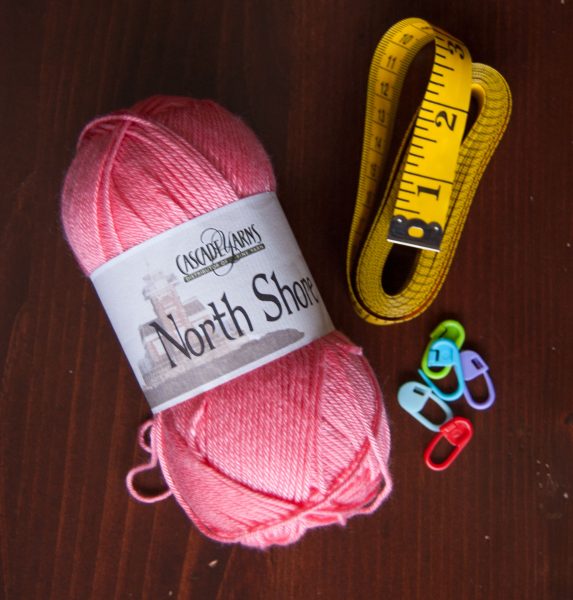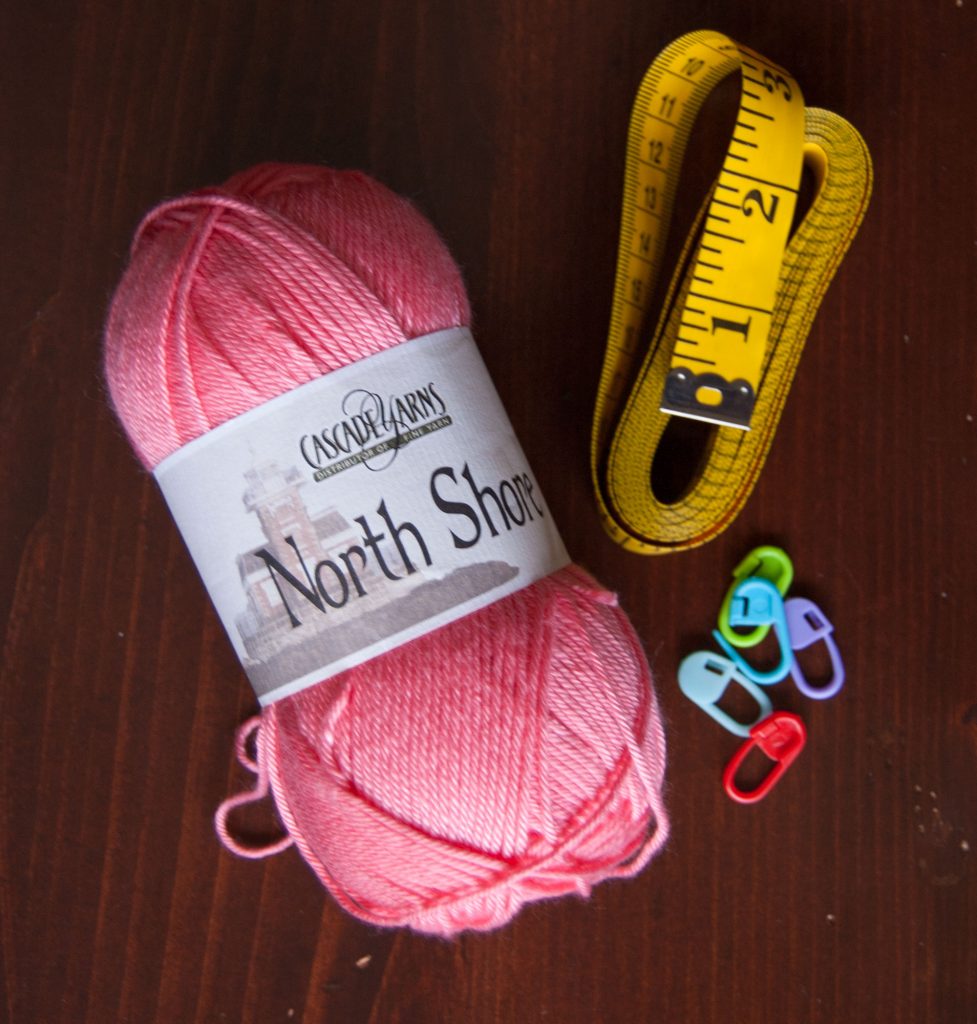 Washing was required to get North Shore to soften up, but not as much as I thought. In fact, all it took was swatching to put this yarn in the top 10 for softness. After 15 washes, it ended up in the top five. So, hands down, YES, Cascade Yarns North Shore is a soft yarn! I rated this yarn a stellar 9 out of 10 for softness.
How durable is North Shore?
I fully expected this yarn to perform well in the durability category, like a cotton yarn. Indeed it did! After 15 washes, Cascade North Shore was in my "runner-ups" category, showing above average durability. It did not perform quite as well as many of the new anti-pilling yarns, but overall North Shore was a winner.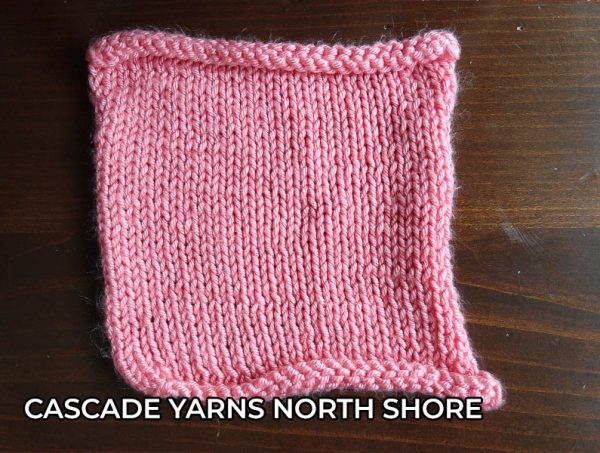 Not surprisingly, North Shore received a 9 out of 10 durability score.
Concluding the Cascade Yarns North Shore Yarn Review: Buy Again!
In the event this yarn becomes available once more, I would buy it again. Not only was I surprised by the softness, but the durability was impressive. Because of the cotton like texture of North Shore, it actually had a lovely, unique feel that I would love to have in garments.
Quite frankly, this yarn was unique enough that I'll be constantly searching for a replacement (if it's been discontinued). I'm getting quite frustrated by how many amazing yarns are being discontinued these days. I feel that they are being replaced by far too many gimmicky yarns that will not withstand the test of time. For example, a significantly number of new Loops & Threads yarns being introduced this year are to be hand washed in cold water — even the baby yarn, Baby Rainbow! Someone did not think that product decision all the way through.
So if you can find it, I'd buy some Cascade Yarns North Shore while you can since it may not be coming back.
---
Featured in this Post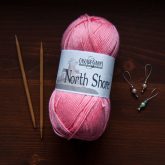 You can try finding North Shore online at Amazon or at your local yarn store. This yarn is currently hard to find, so I will be searching for a substitute with the same unique cotton feel!