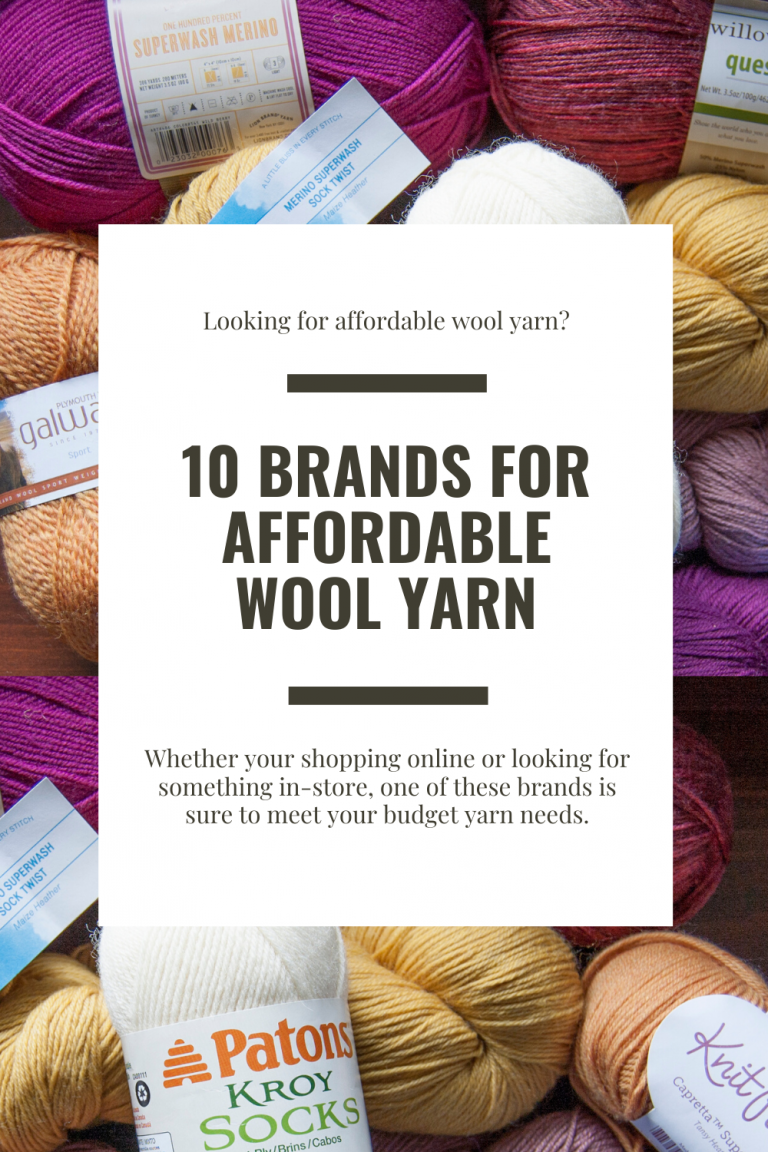 10 Budget Yarn Brands for Affordable Wool Yarn
10 Budget Yarn Brands for Affordable Wool Yarn
We all come from different walks of life. For that reason we all have drastically different budgets and different ideas of what a budget yarn is! I'm creating multiple budget yarn lists based on price point.
My second yarn brand list is for those who can squeeze a little more cash into their yarn budget. There is an entire world of quality natural fibers that become available to you. You will find some higher end acrylics offered by these budget yarn brands, but this is where you find your affordable wools and alpacas.
All the budget yarn brands in this list will have most of their yarns priced between $0.03/yd and $0.05/yd.
Buying Local: 4 Affordable Wool Yarns
1 – Patons Yarn – Available at Joann, Michael's, Hobby Lobby & Yarnspirations. Patons is one of the only ($$) budget wool yarns available in big box stores. If you're shopping for a wool yarn in a big box store, Patons will be the only brand you see in most cases. I do not recommend buying Patons wool yarns if you cannot feel it first. It is not the softest wool I've ever encountered, and we all have different levels of sensitivity.
2 – Plymouth Yarns – Most local yarn stores will carry Plymouth, but it is also available at Yarn.com, Amazon and Lovecrafts. Their Encore yarn is a well known and very affordable budget yarn. But they are also known for yarns like Galway ($$) and the Happy Feet ($$$), both of which have a higher price points and 4+ star ratings. Generally, Plymouth has a great reputation, and I've got some Galway and Encore I'll be testing soon.
3 – Cascade Yarns – Living in the PNW, I hear about Cascade yarns alot. Typically sold in local yarn stores, CY is available online at Webs and LoveCrafts. The 220 and Heritage yarn lines have fan followings. Most of their yarns have ratings of 4+ stars on Ravelry so you can be confident you're buying a quality yarn when you buy Cascade.
4 – Berroco Yarns – Available online a Webs and LoveCrafts as well as at local yarn stores. Berroco is another yarn brand that has been around for over a century, priding themselves on luxurious, easy-care yarn. Many of their yarns are well loved and you can generally feel good about purchasing this brand. But it wouldn't hurt to check reviews first. I had a terrible experience with Berroco Lustra, and I had to sell a skein of Ultra Alpaca because it made me itch just touching it to my wrist!
6 Online Only Budget Yarn Brands for Affordable Wool Yarn
5 – Lion Brand Yarn – Lion Brand is typically a very affordable yarn and you probably saw it my list of 15 Budget Yarn Brands You Should Know. Well, LB offers more than just your budget acrylic! Exclusively available at LionBrand.com, you have access to higher quality natural fiber yarns that aren't sold in stores. Marketed under the LB Collection, Lion Brand has produced some amazing yarns to compete with more expensive brands.
6 – Willow Yarns – I am always surprised by how few people are aware Willow Yarns exists. I'm constantly searching for their yarns on Ravelry and coming up with very little information. Willow Yarns has some fiber rich yarns that are a little more expensive than their budget staples. Available online at Herrschner's and WillowYarns.com.
7 – Bergere de France Yarn – These yarns are spun at the only woollen mill in France. Bergere De France has a wide range of yarns at varying price points, but overall their goal is quality. You can purchase Bergere de France yarns online at Joann or LoveCrafts.
8 – Knit Pick's Yarn – A list of midpoint budget yarns would be incomplete without mentioning Knit Pick's. Although they offer yarns that are outside of this a ($$) budget, they have a solid array of acrylic, cotton & wool yarns at a good price point. I'm still evaluating several of their yarns myself, but KP is one of the most recommended budget yarn brands!
9 – Valley Yarns – Exclusive to Webs (Yarn.com), Valley Yarns is another well loved budget brand of natural fibers with mostly 4+ star ratings. If you're looking for a budget wool yarn, Northampton or Huntington might be up your alley. I've been hanging onto a skein of Amherst for some time and hope to try more of Valley Yarns in the near future.
10 – Cloudborn Yarns – Cloudborn is the exclusive brand of Craftsy (now Bluprint). Bluprint is typically known for offering knitting and crochet classes, and many don't know that they have their own line of yarns. Cloudborn yarns are beginning to gain some popularity, particularly their sock yarns.
---
Are these yarns a bit too rich for your budget? Check out my list of more affordable budget yarn brands. If you've just inherited a windfall, you can check out the budget luxury yarn list too!
Know of a brand that belongs in this list? Contact me and let me know I missed one!