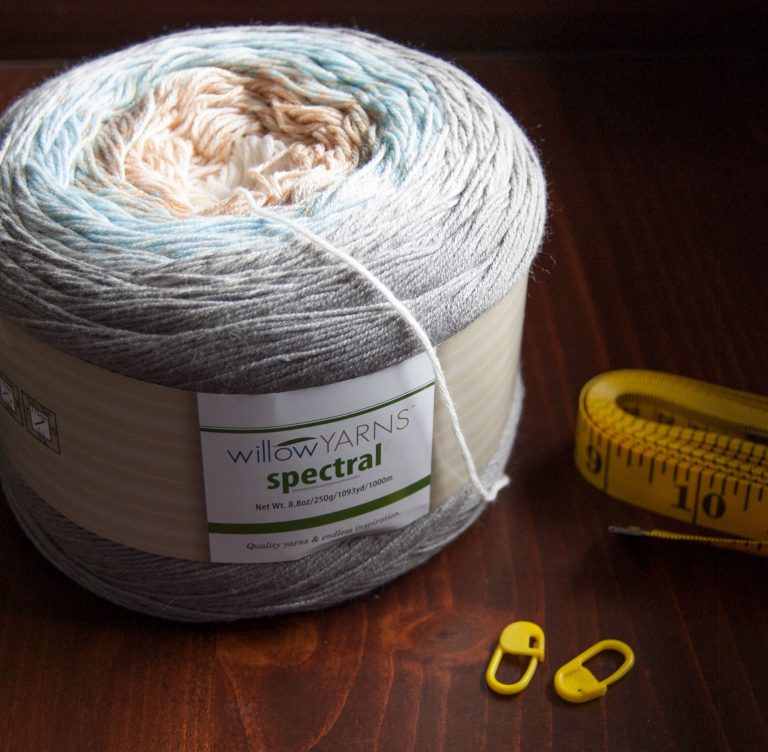 Willow Yarns Spectral Cotton Blend Yarn
Willow Yarns Spectral Cotton Blend Yarn
Update April 2021: It appears Spectral may no longer be available. I would highly recommend purchasing Sheepjes Whirl instead, or even try checking out Yarn Bee's Rainbow Rhapsody that has been released since this post was written.
Knitting for winter is easy. Online retailers offer a smorgasbord of fibers in a variety of weights that are suitable for winter projects. Knitting for summer is harder. The selection of lightweight, breathable yarns that are suitable for summer garments and accessories seems to be much smaller. I get it, when you think of knitting or crochet, thick sweaters and cozy blankets are the first things that come to mind, not a summer tank.
In my quest to try all fibers and all types of projects, I can't just grab your average lightweight acrylic off the shelf. Say hello to Spectral from Willow Yarns, a fingering weight cotton and acrylic blend gradient yarn that competes with the likes of Sheepjes Whirl or Rico Creative Cotton Degrade.
I really wanted to try and find a budget gradient yarn that would be suitable for summer. When you think budget gradient yarn, I'm sure you immediately think of Lion Brand's Mandala, which is much heavier than I want in summer wear. I looked into Red Heart's It's a Wrap yarns, but the loose ply and thread-like weight were complaints rather than compliments in the eyes of several Ravelry commenters.
Willow Yarns is run by Herrschners, one of my favorite online yarn retailers. They have really been stepping up their game with the introduction of Willow Yarns. Spectral is only one of many of their yarns I look forward to trying.
Spectral – An Affordable Cotton Blend Yarn
The 250g skein has 1093 yards of 55% cotton, 45% acrylic fingering weight yarn. My old friend YarnSub doesn't have it in their database, but if they did they would compare it to Sheepjes Whirl at 60% cotton, 40% wool and 1094 yards per skein. The huge yardage is part of what makes these two yarns special, as you can get ombre effects over larger projects like shawls or summer tanks. Many of the readily available cotton blend gradient yarns (such as Lion Brand Ombre Life) will top out at 450 yards or so.
Sheepjes has a significantly larger color selection than Spectral with 54 different colorway vs Spectral's meager six. But at half the price, Spectral will certainly satisfy a budget shopper who isn't choosy about their color selection. Lets compare the prices of these two yarns, as well as their more lightweight and loosely plied cousins, Rico Creative Cotton Degrade and Red Heart's It's a Wrap.
| | | |
| --- | --- | --- |
| Willow Yarns Spectral | Price | Price/Yd |
| 1093 yards | $14.99 | $0.013/yard |
| Sheepjes Whirl | Price | Price/Yd |
| 1094 yards | $28.99 | $0.026 |
| Rico Creative Cotton | Price | Price/Yd |
| 875 yards | $20.99 | $0.026 |
| Red Heart It's a Wrap | Price | Price/Yd |
| 1100 | $10.70 | $0.009 |
If you're in the market for a cotton blend gradient yarn, Willow Yarn's Spectral is definitely a budget yarn choice to consider. I've got my eyes on making Carina Spencer's Sugar Maple tee with my skein of Mistful. Check back to see how the yarn fares!
---
Featured in this Post