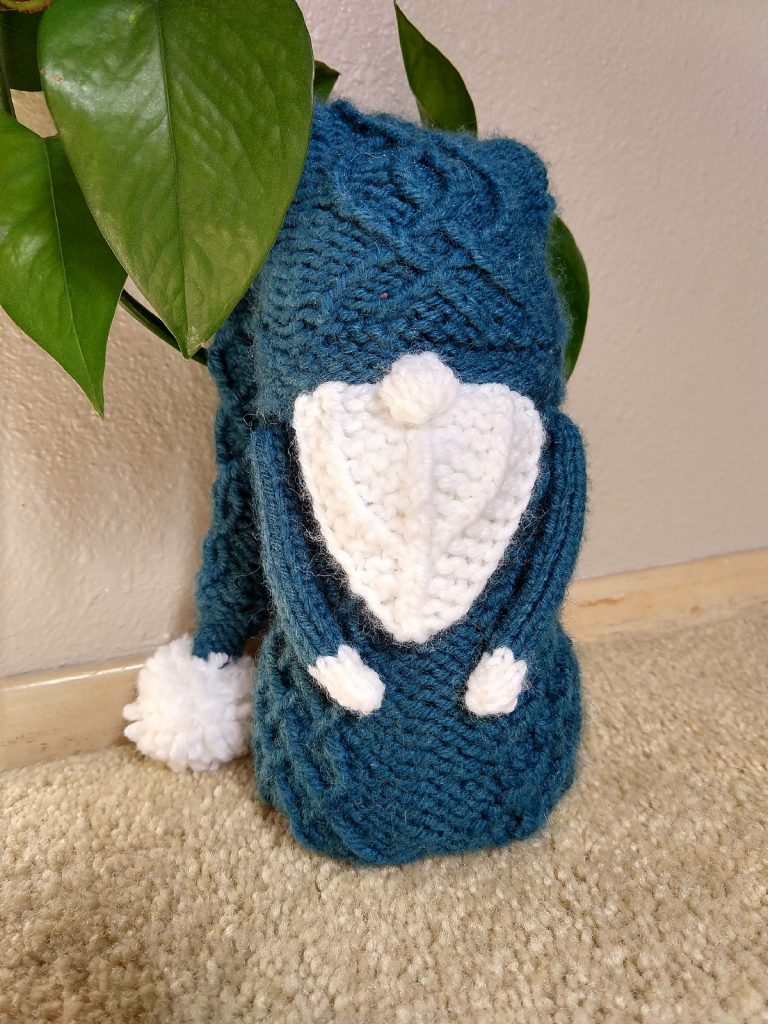 Here We Gnome Again in Willow Yarns Burrow
Here We Gnome Again in Willow Yarns Burrow
My projects usually consist of wearables – hats, scarves & sweaters. When I mostly crocheted, I never really got into the amigurumi thing, mostly because I didn't have a niece or nephew or anyone to make them for. I've just never had an affinity for that sort of thing so I was surprised when I came across Sarah Schira's Here We Gnome Again pattern. I absolutely had to try this gnome knitting pattern and the urge was irresistible. Check the bottom of this post for a link to the pattern.
Knit Some Holiday Gnome Decor
Here We Gnome Again is a paid pattern, only a little over $5 USD. It is one of several gnome knitting patterns, featuring some amazing cable patterns on the clothes and hat. I couldn't help but see these as Christmas Gnomes, a perfect addition to holiday decor.
My mother-in-law has mostly blue holiday decorations – blue ornaments, blue lights, etc. I bought some white and teal Willow Yarns Burrow specifically to make her a gnome for Christmas. Although my interpretation is on the boring side, there are some amazing interpretations of this pattern using heathered and ombre yarns. Here We Gnome Again is a great pattern for some of those skeins remnants we all have lying around.
Notes On The Here We Gnome Again Pattern
These knit gnomes require a few extra materials than just yarn. You'll want to have some poly pellets and stuffing. The poly pellets help provide weight in the bottom, so you could technically use a variety of items for this purpose. But poly pellets are machine washable, allowing the gnomes to act as stuffed animals as well. My own addition to the list of required materials is an old sock. I found that putting the stuffing into a sock before filling the gnome helped contain the filling a bit better. Particularly if you end up with any small gaps near the cables.
For the life of me, I did not find the cable pattern intuitive or easy to commit to memory. I heavily relied on the pattern charts, requiring a little more brain power than your average "knit and chill" project in front of the television. However, I do not claim to be a cable expert so this may be more natural for others. I would definitely recommend that you be a more advanced beginner before taking on Here We Gnome Again. The gnome pattern is very well written and clear, but it is still lots to keep track of for anyone new to cables.
Regardless, the end product is irresistibly cute and is a perfect gift item. For that reason I highly recommend this gnome knitting pattern. I am going to knit one for myself in some red Valley Yarn's Amherst. He will be my Santa Gnome and become an adorable addition to my holiday decor!
---
Featured in this Post