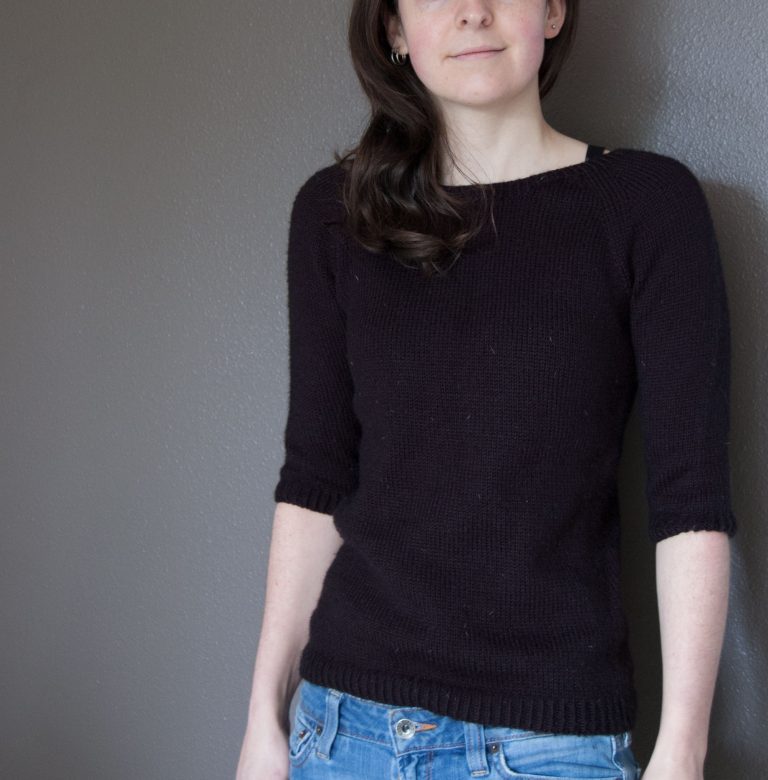 Sperry Sweater in Red Heart Fashion Soft
Sperry Sweater in Red Heart Fashion Soft
There are so many wonderful free patterns available on the internet that I don't buy patterns all that often. The Sperry Sweater pattern designed by Amy Miller is one of my few pattern purchases to date. Pattern link is available at the bottom of this post.
A Note on Pattern Sizing
Women's pattern sizing typically considers a size small to be a 32 inch bust; sometimes even a 34 inch bust is considered small. As a petite woman, this sizing is STILL too big and usually involves plenty of adjustments. If I find a pattern with a 30″ bust (or even better, an extra small 28″) I save it to my Ravelry favorites just because it's so rare. The Sperry pattern from Amy Miller's Ravelry store has a 30″ bust size appropriate for petite women.
The Sperry Sweater
Overall it's a very simple three quarter sleeve raglan pullover. But one of the key selling points for me was that it is very fitted around the arm/armpit. There are so many raglan patterns out there that have what I think of as a dangling armpit. The bottom of the armhole sits far too low, giving a less tailored look. Not to mention it limits your range of motion when you're wearing it. I'm fine with a lower armpit in a very, very loosely fitted garment, but it is a huge detractor when it comes to sweaters that should be fitted.
Pattern Modifications
Sperry has a fun, modern striping pattern with shirttail hems, neither of which I included.
I chose to use my stash of Red Heart Fashion Soft in black to make a solid pullover. You can vary the quantity of stripes for varying effects, but horizontal stripes have never been my thing.
I saw that many other Ravelers had trouble with the shirttail hem rolling in an unsightly manner. Hems rolling can be more of a problem with certain fiber types and many other knitters chose to use the same twisted ribbing that was used on the sleeve hems. I took their advice and did the same.
Final Thoughts
The Sperry pattern could use some slightly better formatting to make it easier to keep track of your place. You will likely end up making plenty of marks, divisions and notes to compensate for this. Otherwise I was very happy with the Sperry pattern and my end result as well! Red Heart's Fashion Soft is indeed Soft and it was quite nice to work with for an acrylic yarn. We shall see if it's as nice to wear!
Have you made a Sperry Sweater?
---
Featured in this Post