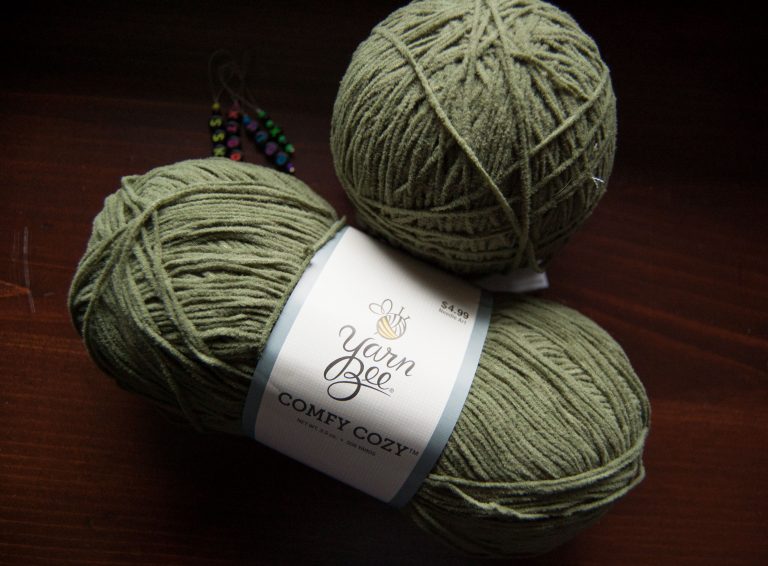 Yarn Bee Comfy Cozy Chenille Yarn
Yarn Bee Comfy Cozy Chenille Yarn
Today when I was at Hobby Lobby I saw a finer, sport weight chenille yarn unlike any I'd seen before. Yarn Bee's Comfy Cozy yarn is the smallest chenille yarn I've encountered. A quick search for chenille yarns on YarnSub confirms what I know to be true – most chenille yarns are worsted to bulky weight. Think Bernat Blanket or Bernat Velvet, but unlike these two bulky weight yarns, Comfy Cozy is fine enough to be suitable for a garment.
Obviously Comfy Cozy has to be tried and tested so I came home with two skeins in the Olive Green colorway. YarnSub has no details on this particular yarn, but the label supplies the important ones – 75% Nylon/Polyamine, 25% Polyester. There are 508 yards in a single skein, so I'll have a little over one thousand yards to work with. The recommended knitting needle is a size 3 and the recommended crochet hook is size E; this should give you an idea of how fine this yarn really is.
Comfy Cozy, An Affordable Chenille Yarn
As always, I purchased my yarn during one of Hobby Lobby's monthly 30% off yarn sales. Regularly priced at $4.99/skein, I was able to purchase both skeins for only $6.98 + tax.
| Yarn | Price | Price/Yd |
| --- | --- | --- |
| 1 Skein Regular Price | $4.99 | $0.009/yard |
| 1 Skein w/ 30% Off Sale | $3.49 | $0.006/yard |
| Project | Reg. Price | Sale Price |
| --- | --- | --- |
| A Cowl (1 Skeins) | $4.99 | $3.49 |
| Small Sweater (3 skeins) | $14.97 | $10.47 |
| Large Sweater (5 skeins) | $24.95 | $17.45 |
If you're looking for a really unique yarn to try, head to Hobby Lobby and purchase some Comfy Cozy of your own. With 8 great colorways to choose from, you're bound to find something to inspire your next project. The only complaint I've seen on Ravelry thus far is that it doesn't have much stretch. When planning projects, plan as if you were using a 100% cotton yarn which is also going to be more rigid than an acrylic or wool.
Update 2020:
Yarn Bee's Comfy Cozy appears to have been discontinued. I have only seen one other chenille yarn this fine before and that was at Joann; Bernat had a tiny version of their blanket yarn, labeled as a baby yarn. I didn't take a picture of the label to know for sure, but I believe it was the Bernat Baby Blanket Tiny. Various websites list this as a worsted weight yarn, but if it is the one I saw it is definitely a light worsted. It may be a reasonable substitute if you're looking for a smaller chenille yarn like Comfy Cozy.