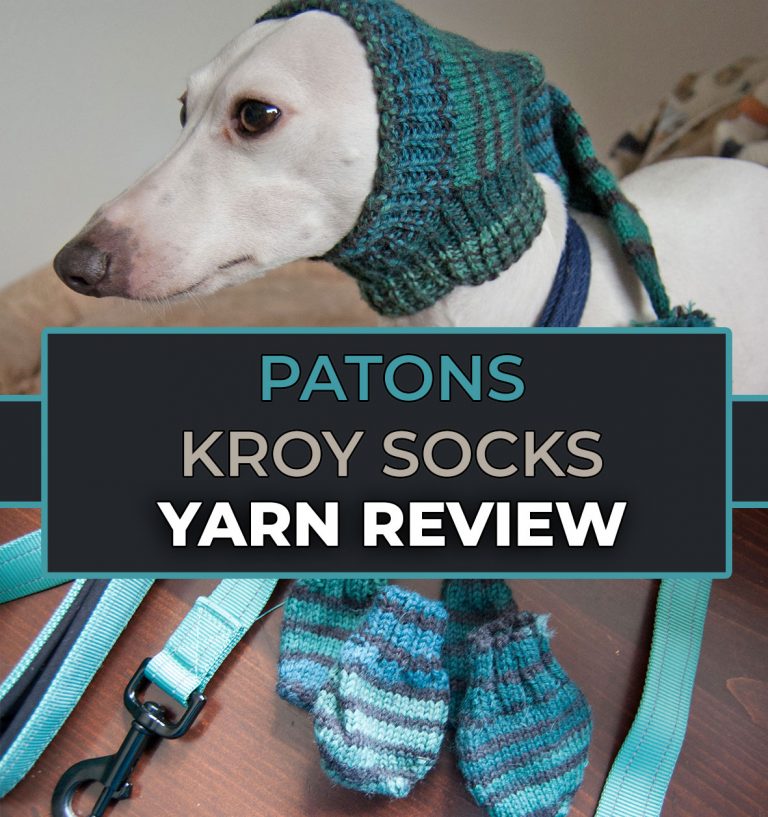 Patons Kroy Sock Review, Project & Purchase in One
Patons Kroy Sock Review, Project & Purchase in One
Today I have for you a rare purchase, project & yarn review in one. These are a special feature made possible by lazy blogging. Follow one yarn's journey from my shopping cart to my dogs wardrobe. It's my way of keeping things short and sweet. Here is the Patons Kroy Sock review!
Patons Kroy Sock Yarn Purchase
All the way back in December of 2018, I bought my first interchangeable knitting needle set and a ball of Patons Kroy Sock yarn. I hadn't started compulsively buying yarn yet, so I actually had an intended project in mind with my purchase — a snow hat for my dog. I hadn't done any knitting in the round and this was going to be my first attempt at something other than your standard back and forth stockinette.
Patons Kroy Socks is a sock/fingering weight yarn that is sold in 50 gram skeins at big box stores like Michael's, Joann and Hobby Lobby. It is one of the few superwash sock yarns that is easy to find locally without having to go online. I bought mine at Hobby Lobby. With only 166 yards per skein, you definitely need more than one skein to make most pairs of socks.
Believe it or not, at $7.99/skein (Hobby Lobby regular price) Kroy's 75% Wool, 25% Nylon blend is more expensive than Knit Pick's Hawthorne Fingering, one of YarnSub's recommended alternate yarns. The good news is that you can get this yarn 30% off during Hobby Lobby's regular yarn sales, or 40% off with their readily available regular price purchase coupons.
| Yarn | Price | Price/Yd |
| --- | --- | --- |
| 1 Skein Regular Price | $7.99 | $0.048/yard |
| 1 Skein w/ 30% Off Sale | $5.59 | $0.033/yard |
| Project | Reg. Price | Sale Price |
| --- | --- | --- |
| Women's Socks (2 Skeins) | $15.98 | $11.18 |
| Men's Socks (4 skeins) | $31.96 | $22.36 |
| Cardigan (8 skeins) | $63.92 | $44.72 |
Yarn Workability
Overall I enjoyed working with Kroy Socks. As a beginning knitter, even the slightest issues with a bad yarn texture – splitting, squeakiness, etc – was extra annoying to me. These are annoyances that are often more problematic with smaller gauge yarns, but there were no major complaints to halt my work in it's tracks.
With my single skein I was able to make the hat for my dog and have enough to make four small pairs of booties/mittens for her. Both of these projects were knit in the round on my (annoying) pair of Yarnology circulars.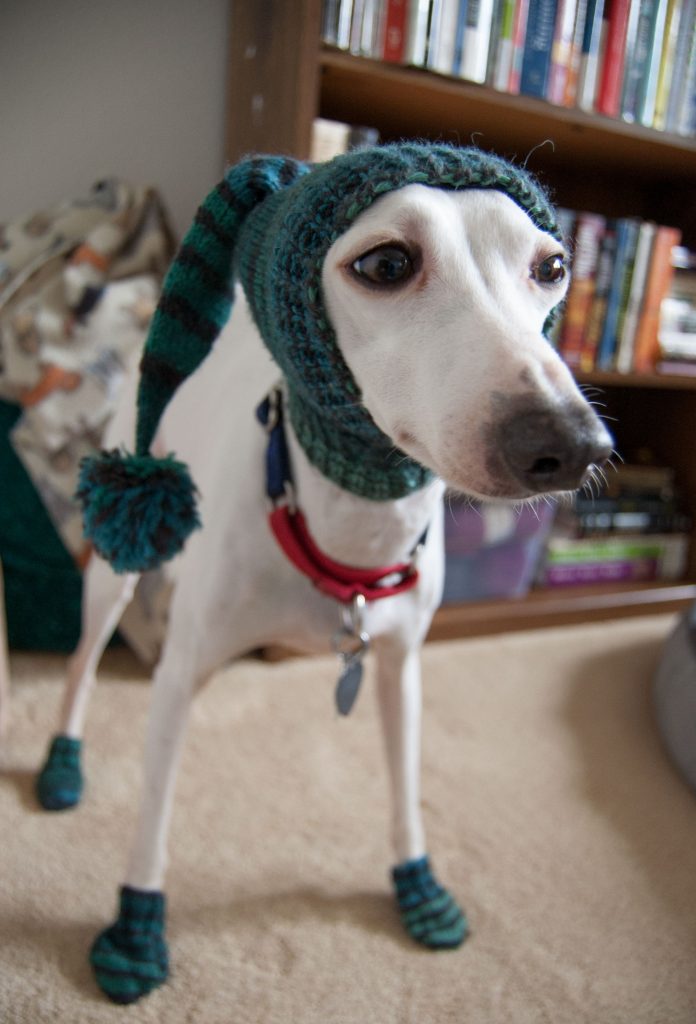 The socks were done two at a time, toe-up with Judy's Magic Cast On, for which I will pat my former self on the back. What kind of beginner does two at a time magic cast on for their second project on circular needles? I mention this only to further emphasize that any annoyances on the result of the yarn would have been deal breakers — knitting with Paton's Kroy Socks was smooth and easy, as if you were knitting with butter.
Patons Kroy Socks Review
The caveat is that although Kroy Socks is a breeze to work with, it is not amazing to wear. I could feel how rough the yarn was as I was working it. Although Kroy didn't make me itch, I knew it was a workhorse yarn and not anything to be used for a very nice garment (even if other Ravelers had done so). I had to line the hat I made for my dog with fleece because the rough nature of the yarn was irritating the inside of her (very) large ears.
Personally, I think that Paton's Kroy Socks is priced a bit too high for what it is – a reliable, workhorse wool sock yarn. Kroy is certainly thicker and higher quality than Lion Brand's Sock-Ease, but it is also twice as expensive. For twice the cost, I think I would explore some more of Knit Pick's sock yarns before repurchasing Paton's Kroy Socks.
---
Featured in this Post