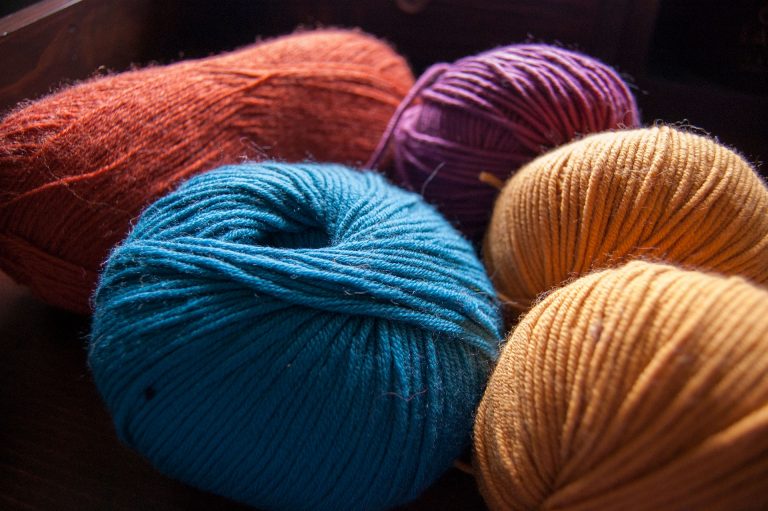 Berroco Lustra, Sublime, and More Wool Yarns!
Berroco Lustra, Sublime, and More Wool Yarns!
As a budget yarn shopper, sometimes you have to look outside the realm of big box stores to find a steal of a deal. Our society is beginning to rediscover the value of lightly used secondhand goods and wool yarn shopping should not be exempt from this phenomena.
It's both faster and easier to buy yarn than it is to actually create the goods it is intended to become. As a result, there are many people out there with stashes that they will never deplete within their lifetime. Thanks to the likes of Marie Kondo, many of these first-purchasers are parting with their yarns for budget prices. The typical places to look for these kind of deals include eBay or Etsy, but I highly recommend checking local classifieds to cut out the (expensive) shipping component of your purchase.
Recently I found a Facebook classified ad for a woman in my neighborhood liquidating an aging aunts yarn stash of high quality yarns. Needless to say I had to go check it out, as she was advertising 50-60% off retail prices. I may have splurged a bit.
Berroco Lustra Wool Yarn
Five skeins of Berroco Lustra – 2 skeins in purple and 3 skeins in what I will call gold. I was drawn to the beautiful metallic, richness of the colours and immediately pegged these as skeins for Christmas gifts. It is aran weight, 197 yards per 100g skein, 50% Peruvian wool and 50% Tencel/Lyocell. I paid $7/skein, a 50% discount from the $13.99 list price from the original yarn shop tag. The original cost per yard is a pricer $0.07/yard. Sale price was a $0.035/yard.
Update: I made two cowls with this yarn and wrote a Berroco Lustra review.
Plymouth Yarn Galway Sport
Five skeins of Plymouth Yarn's Galway Sport – 2 charcoal, one light gray, one yellow and one teal. As the name would imply, it is a sport weight yarn with 151 yards per 50 grams. Typically sold for $4.50 at most online retailers, I paid $3/skein. This is one of the few 2 ply yarns I have purchased. The colours all complemented each other so wonderfully, I've got my eyes out for the perfect colorwork project. Original price is $0.03/yard so even at regular price it's a budget yarn. Sale price $0.02/yard.
Sublime Yarn Extra Fine Merino Wool
Two skeins of Sublime Yarn's Extra Fine Merino Wool DK in a mustardy yellow. This is a handwash merino yarn with 127 yards in each 50g skein.  YarnSub lists this as the S on S ply that always appeals to me regardless of the fiber type. Regular price for this yarn is $11.50 a skein and I paid $5. I cannot seem to resist S on S ply and bought this with only the beauty and softness in mind. Original price is $0.09/yard.  Sale price $0.04/yard.
Update: I made the gorgeous Nonna Rosalie's Toque in my Sublime Extra Fine Merino!
Cashmere Merino Silk DK
One skein of another Sublime Yarn's beauty, the discontinued Cashmere Merino Silk DK. This is similar to the Extra Fine Merino with 127 yards per 50 grams and S on S ply and lists at a similar $11.95 per skein. I paid $5 for this one as well. The colour paired beautifully with the mustard yellow of the Extra Fine Merino Wool DK and I justified the purchase citing "colorwork practice/education." Original price is $0.094/yard. Sale price $0.04/yard.
Cascade Yarns Longwood Wool Yarn
One skein of Cascade Yarn's Longwood in Deep Ocean. It is a heftier weight Aran yarn with 191 yards in a single 100g skein. I was excited to find a superwash yarn that was listed as machine wash and dry! This yarn sells for $14.50 on LoveCrafts, but I paid $6 for the skein. Although I live in the PNW and Cascade yarns are everywhere, I actually have very little experience with them. This was mostly curiosity in trying one of their lines affordably. Original price is $0.08/yard. Sale price $0.03/yard.
Update: I made the spunky January Hat in Longwood.
DY Choice Wool/Acrylic Blend Yarn
The DY Choice is what you'd expect from the name, being a fingering weight yarn with 25% wool. It passed my itch test and I adored the color! Skein tag showed an original purchase price of $7.25 for 492 yards, and I paid $4. Original price is $0.014/yard. Sale price $0.008/yard.
Painted Desert Fingering Weight Yarn
The Painted Desert was one of my real steals. It was in a big bin of random partial skeins that were being sold for $1/ea! It felt like there was still plenty there and sure enough it was 78g of the original 100g. That would be roughly 340 yards, so definitely enough for a lacy cowl. Original price is $12.95/skein, or $0.03/yard. Sale price $0.0029/yard.
Whew! This was obviously wayyy too much yarn for one days worth of purchasing, but as you can see I got some really great prices on some high quality yarns. It's also evidence you can find some truly amazing yarns for budget prices. In addition to checking your local classifieds, you can use Ravelry to find other crafters near you that may be willing to let you buy their unused stash items locally – this will cut back on shipping costs that can really eat into your budget.
Check back for updates on how I use these yarns!