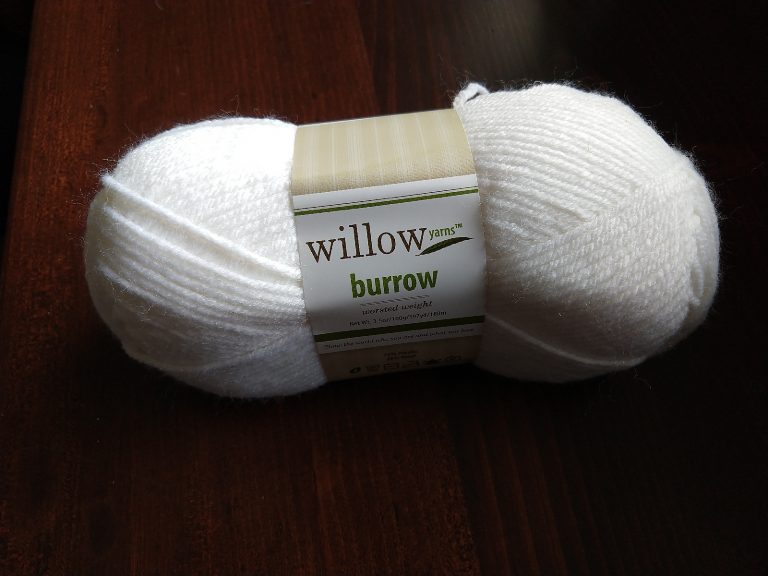 Willow Yarns Burrow Wool Blend Yarn
Willow Yarns Burrow Wool Blend Yarn
The first acrylic/wool blend yarn I ever bought was some of Loops & Threads Cozy Wool I knit to make a pillow cover. It was about seven years ago and I absolutely despised the yarn. It squeaked like acrylic and it itched like cheap wool. Subconsciously I have since avoided acrylic/wool blend yarn, especially budget yarns, afraid of having the same experience.
Somehow I ended up buying some Willow Yarns Burrow worsted to finally break this cycle of judging all blended yarns as bad. I was looking for a cheap yarn to make Here We Gnome Again by Sarah Schira, but with a slightly more rustic look/feel than plain old acrylic. I think Burrow was a great choice!
The Return to Acrylic/Wool Blend Yarn
Willow Yarn's Burrow is all around a great yarn for more than just decorative gnomes. The 75% acrylic, 25% washable wool blend is soft and not scratchy. At 197 yards per skein you can easily make a hat or a small cowl out of a single skein and a full sized scarf with just two. Willow Yarns offers this yarn in an amazing 46 different colors so you are bound to find just the right shade for whatever your project needs are. At $3.99/skein ($3.49/skein if you buy more than 10) it's a great budget buy for all your baby and kid needs as well.
Burrow is also available in a bulky weight (see Burrow Bulky), further expanding your project options. The bulky skeins offer an ample 131 yards, more yardage than your typical skein of Lion Brand Thick & Quick.
Willow Yarns Burrow Affordability
I've seen Burrow offered at 30% off at least a couple times a year. If you've got a large project, I would recommend either waiting for a sale or taking advantage of the discount for buying 10+ skeins. Those extra cents add up!
| Yarn | Price | Price/Yd |
| --- | --- | --- |
| 1 Skein Regular Price | $3.99 | $0.020/yard |
| 1 Skein 30% Off Sale | $2.79 | $0.014/yard |
| Project | Reg. Price | Sale Price |
| --- | --- | --- |
| A Scarf (2 Skeins) | $7.98 | $5.58 |
| Large Poncho (7 skeins) | $27.93 | $19.53 |
| Throw Blanket (11 skeins) | $43.89 | $30.69 |
Don't forget to sign up for Willow Yarn's Insider Club Emails for a free pattern every week in addition to notifications about great sales on yarns like Burrow. New registrants received a coupon for 10% off their first order!