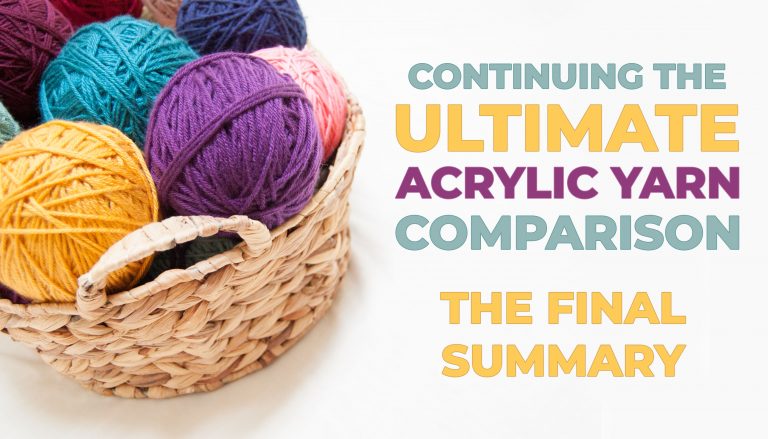 The Ultimate Acrylic Yarn Comparison: Results
The Ultimate Acrylic Yarn Comparison: Results
The end is finally here! As much fun as the Ultimate Acrylic Yarn Comparison has been, I am so over swatching and documenting this process. It has been a labor of love, born of the desire to use the best acrylic yarns for my gift knits. If you've been following along, you might be exhausted too. Thank you for sticking this out with me!
Let's not waste any more time. Which yarns are the best yarns?
Eye Opening Revelations about Budget Acrylics
One of my favorite takeaways is that not all acrylic yarns are created equal. It's very easy to say that, but it is a whole different thing to experience it first hand.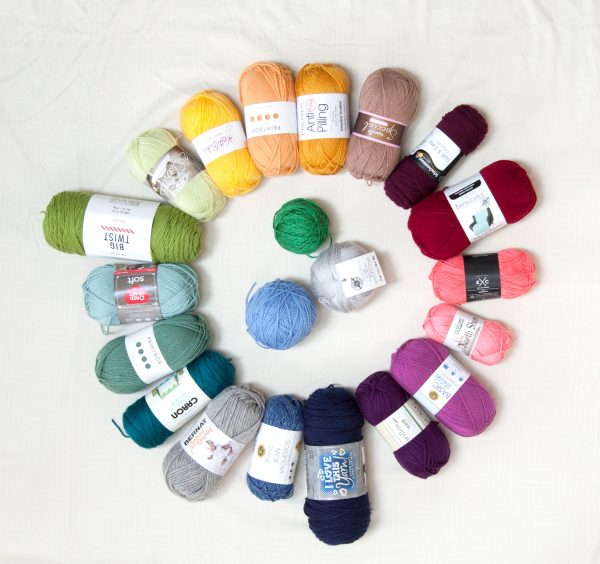 Every single one of these yarns said one thing on the label: 100% Acrylic. Sure, some were antipilling, some were low-pill. Some were OKEO-TEX certified and some were not. But even among the most basic four ply value yarns there were differences in softness, stiffness and durability.
Some acrylic yarns are stiff and suited to amigurumi or structural projects like baskets. Others are soft and drapey, perfect for garments but NOT for amigurumi. Want a yarn that will wear in and not wear out? Not all of the acrylic yarns in this comparison could meet that criteria.
How I Will Use Each Unique Yarn
The Acrylic Yarn Comparison Data Doesn't Lie
You've seen the videos and the photos. Some yarns wear out faster than others. Although you can't feel the swatches like I have, some yarns are softer than others. I've applied a ranking system for data point, availability, durability, workability, wearability (aka softness), and plugged everything into a chart for your perusal. It's huge, so you'll have to click on the image below to go to the page that does have the chart.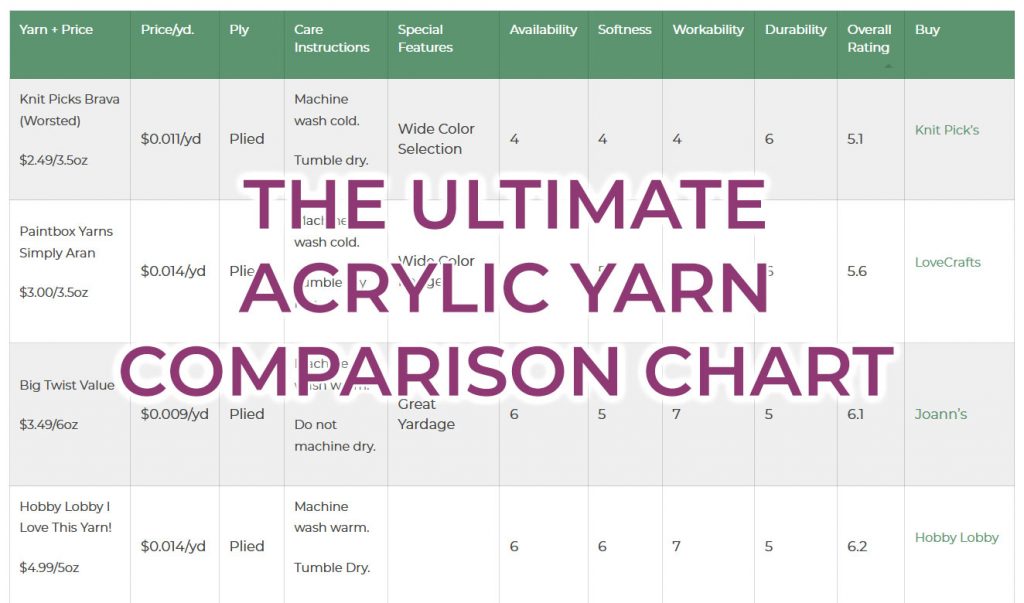 But enough with the data and politically correct impressions of each yarn. What would I actually continue to buy and use?
My Honest Opinion – Yarns I'm Avoiding
I personally would never buy Caron One Pound, Red Heart Soft or Knit Pick's Brava again. I did not enjoy these yarns. While I do see there are plenty of use cases where they might work well for someone, my tolerance for splitty, squeaky and stiff yarns is very low. And I have sensitive skin that would be irritated by these yarns as well. I'll take a hard pass on these yarns.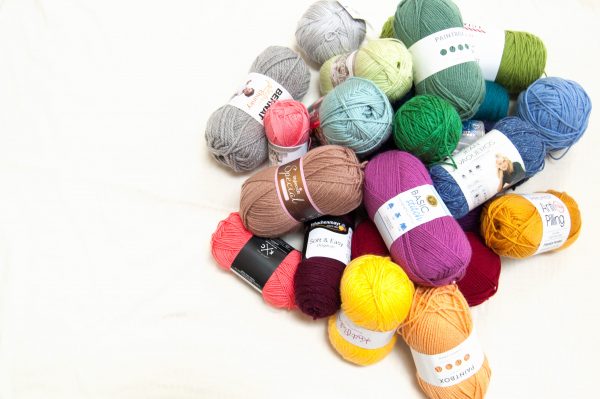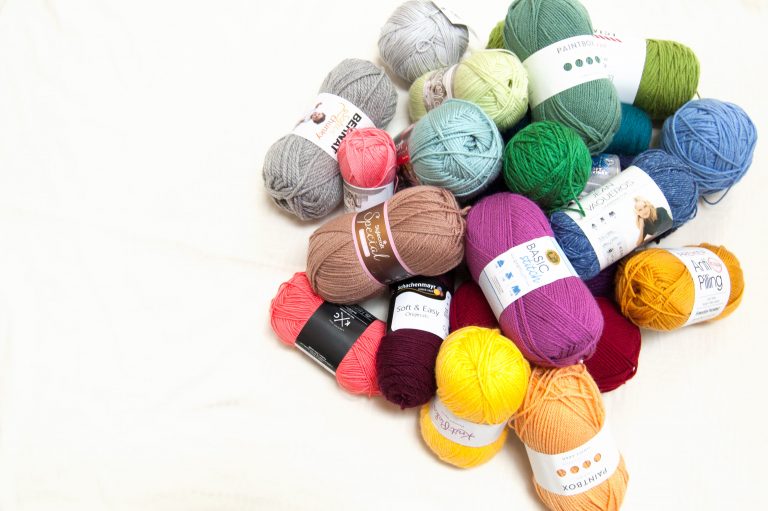 I would purchase Hobby Lobby's I Love This Yarn, Paintbox Simply yarns and Big Twist Value ONLY under certain conditions where I didn't care about durability. Aka, baby knits that can only be worn for a little while before they are grown out of. They wear out much too quickly for them to be options in gift knitting.
My Honest Opinion – Yarns I *Might* Buy Again
I don't have any strong opinions about Schachenmayr Soft & Easy, King Cole Cherish, Stylecraft Special DK, Caron Simply Soft, Bernat Softee Chunky or Lion Brand Basic Stitch Premium. I wouldn't avoid these yarns, but I don't think I would go out of my way to purchase them. If I saw them on sale for a great price in a color I liked, I would probably purchase them.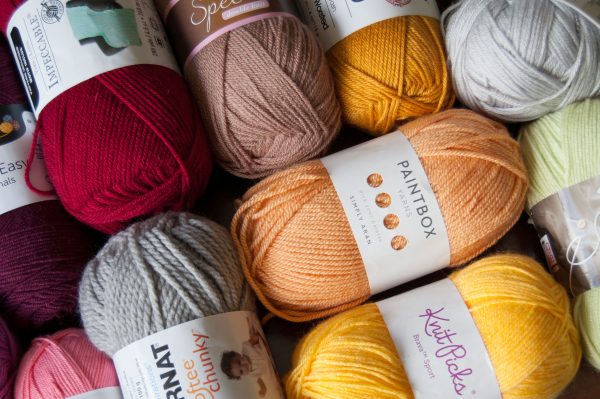 I have mixed feelings about Cascade Yarns North Shore. I didn't enjoy working with it, but the end product after washing is so amazing I think I would suffer through. For small projects at least. I also have mixed feelings about Willow Wash. I LOVED the skein from Turkey, but the one I have from China has me apprehensive about future quality. As followup to this comparison, I will be evaluating the skein from China as well.
My Honest Opinion – My Go-To Acrylic Yarns
I would HANDS DOWN, continue to buy Premier Everyday Anti-pilling, KC Smooth, Loops & Threads Joy DK and Lion Brand Basic Stitch Anti-Pilling. These are honestly going to be my go-to yarns as long as the quality remains consistent. These yarns are (mostly) more expensive, so if I needed something really affordable, my go-to value yarn would have to be Loops & Threads Impeccable due to it's durability. But since it wasn't my favorite to work with, I'd would alternately choose between Paintbox and Hobby Lobby's I Love This Yarn.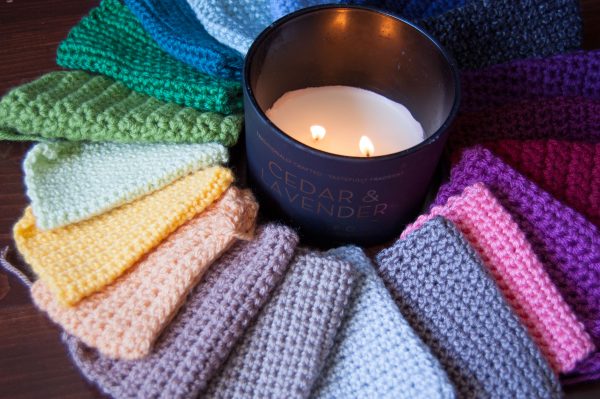 This has been a general overview of my experience over the last few months and full reviews of each yarn will come to the blog with time! I am waiting to complete projects in each yarn before I write full reviews. But keep checking back and feel free to read the reviews of yarns I've already put to use in a project!
---
If you found this post helpful, please consider supporting my blog by buying yarn through one of the affiliate links below or by buying me a coffee on Ko-Fi!