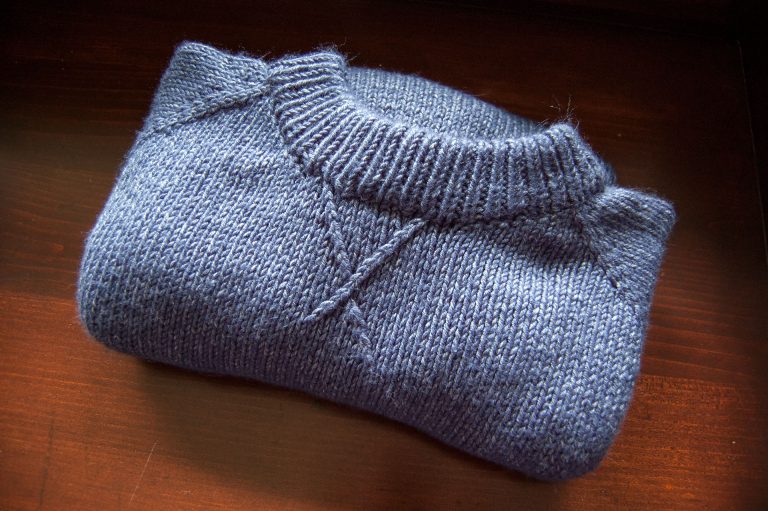 Autumn League Sweater with Lion Brand Jeans
Autumn League Sweater with Lion Brand Jeans
My latest personal project has been the Autumn League Sweater. I got busy doing so much knitting for others, many of my personal projects have taken much longer to get to than I had hoped. It has been some time since I purchased my stash of Lion Brand Jeans yarn, so feel free to click away if you need a refresher.
The Free Pattern Search
While I waited to have time to turn my Jeans yarn into a sweater, I wavered back and forth on the perfect pattern. I had originally planned to use it to make Brooklyn Tweed's Hudson sweater. The heathered effect of the Jeans seemed perfectly suited, but I wasn't confident the acrylic would behave appropriately. I am still in love with Hudson, but I decided whatever yarn I use should be at least 50% wool, not 100% acrylic like Jeans.
I also considered Clare Lee's Brick pattern and would have made that if I hadn't stumbled on the Autumn League Pullover. Find the link to this pattern at the bottom our our post.
Although designer Alexandra Tavel recommends Lion Brand's Cotton Jeans yarn, many other knitters also used the acrylic Jeans yarn. With so many examples, I knew this would be a successful pairing. The pattern is cute to boot!
The Autumn League Sweater
Autumn League is available for free on the Two of Wands, but you'll end up with a image heavy printout. If you'd like an ad-free and more printer friendly version of the pattern, Alexandra has one available for purchase. See the bottom of our post for links to both versions of the pattern.
The pattern is a very easy to follow, top-down raglan design. Unlike many top down patterns that are knit in the round, the sleeves, front & back are all worked back and forth once it is time to separate them. For those of you who hate seaming, this may be a detractor, but there is a good reason for this decision by the designer. Seamed garments tend to hold their shape better, which is part of what sets this sweater apart. It maintains a structure, which is part of what makes it flattering.
Another feature I really liked about this sweater is the double ribbed neckband. If I were to knit this sweater again, I would also use the double ribbing technique on the sleeve cuffs to help add additional structure to the cuffs. With a few other finishing touches like the neck triangle and side slit, Autumn League is a relaxed classic perfect for weekends.
I knit this sweater in the XS/S size, but did remove a few stitches at the body. I'm petite with a small rib cage and I was trying to maintain that relaxed look without completely losing sight of my figure. Overall I think I succeeded and I'm very happy with the outcome.
I'll definitely be taking the techniques I learned (seaming, double ribbed collars) and applying them to future sweater knits.
---
Featured in this Post