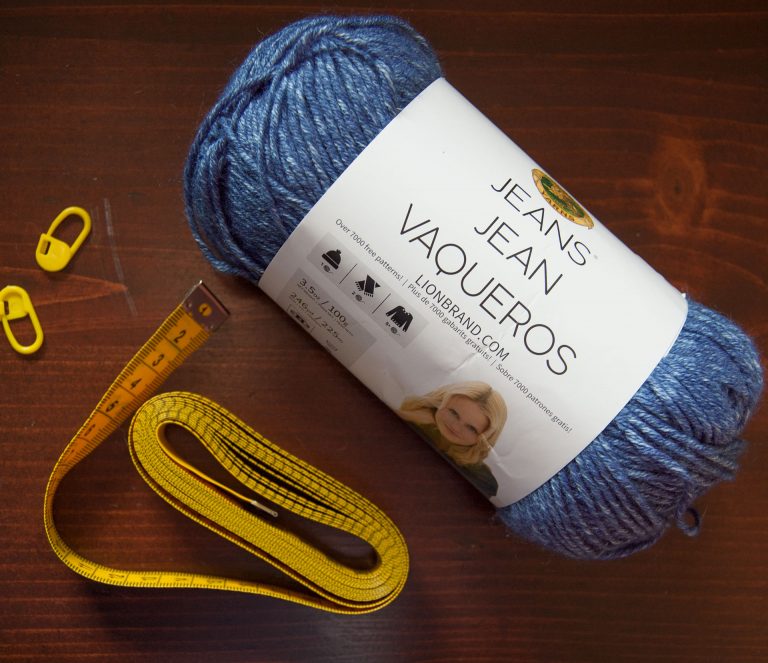 Lion Brand Jeans Yarn
Lion Brand Jeans Yarn
Lion Brand Jeans is a contender in the Ultimate Acrylic Yarn Comparison! Jeans has been chosen because of it's popularity, incredible softness and S on S ply. It is one of the more unique budget acrylics you can find in your local craft stores so I obviously had to include it! Learn more about the yarn comparison here.
Today's purchase of Lion Brand Jeans yarn is going to send you down a rabbit hole about why I usually don't like acrylic yarn.
My experience growing up as a crocheter was that crocheters didn't care as much about fiber types and everyone used whatever acrylic (or cotton – Peaches & Cream baby!) yarn was available at Walmart. And boy did I hate those acrylic yarns. Always splitting. Always getting squeaky as my hands got moist and sweaty. I still have some weird recall of horrible yarn sensations I have partially blocked from memory.
As I started knitting I really, really did not want to use acrylic yarns. I felt I was destined to join the ranks of natural-fibers-only yarn snobbery. Lion Brand's Jeans yarn was purchase that changed my mind rather unexpectedly.
It was at the end of a grocery trip that I was cutting through Fred Meyer's yarn aisle (the fast route from discount/dairy to the checkstands) and spied Jeans. It was the heathered effect that made me stop and look. When I felt it (dare I say, caressed it), I knew I had to learn more. It was so soft! It didn't feel like any acrylic I'd ever used growing up.
I did my research, read some reviews, blah blah blah and I eventually bought (at Joann's) enough of the Stonewash colorway for a sweater.
This is an 100% acrylic yarn. I saw many people posting reviews across the web being disappointed because they thought this yarn was supposed to be made of recycled jeans, but nowhere does the label or Lion Brand make this claim. It is just acrylic, with colorways and heathering designed to be reminiscent of denim jeans. They also have Jeans Colors, with some brighter colorways. Both of these acrylic yarns are not to be confused with Lion Brands LB Collection Cotton Jeans yarn which is an 100% cotton yarn.
YarnSub.com lists Lion Brand Jeans as a worsted weight, S on S plied yarn. The 100g skeins have a whopping 246 yards a piece! Let's price out this budget yarn really quick:
| Yarn | Price | Price/Yd |
| --- | --- | --- |
| 1 Skein Regular Price | $4.99 | $0.02/yard |
| 1 Skein w/ 40% Off Coupon | $2.99 | $0.01/yard |
| Project | Reg. Price | Sale Price |
| --- | --- | --- |
| A Scarf (2 Skeins) | $9.98 | $5.98 |
| Small Sweater (4 skeins) | $19.96 | $11.96 |
| Large Sweater (7 skeins) | $34.93 | $20.93 |
If you're looking to buy this yarn on a steal, consider watching for the following coupons/deals:
BEST DEAL

LionBrand.com offers 40% off Yarns and Kits a few times a year and occasionally does bulk discount packs.
Joann's is getting on board with Buy-Online-Pickup-In-Store discounts that can score you 30% off all skeins in your order when that coupon runs.
Michael's regularly does 40% off all regular price items in your Online or Buy-Online-Pick-Up-In-Store orders, but they currently do not sell the Jeans Colors line.
I'm excited to turn my Lion Brand Jeans yarn into a sweater!  It got a great 4.5/5 stars on Ravelry!
---
Featured in this Post