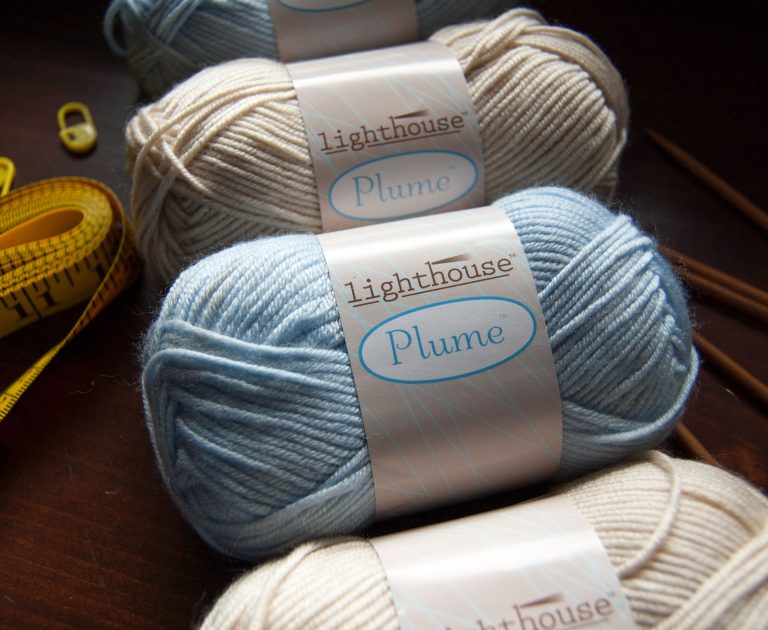 Lighthouse Plume Merino Blend Yarn
Lighthouse Plume Merino Blend Yarn
When I stumble across a yarn I haven't seen before, I get an irresistible urge to purchase it. I want to get to know it, learn how it feels, discover it's strengths & weaknesses. Maybe it's a bit much, but I can start to feel a little obsessive about a new yarn. Often times I'll look at the price tag and put it out of my mind, but when it's a budget merino blend yarn…… the purchase becomes inevitable.
I knew my purchase of Lighthouse Plume would be inevitable. It was dirt cheap ($2 a skein!), it had merino wool in it (50%) and it was available through one of my favorite yarn retailers, Herrschners.
Lighthouse Plume Merino Blend Yarn
I admit, when I saw the price tag I was super, super skeptical that this would be any good. Ravelry had no comments on the yarn, but of all the ratings it was 4.4 out of 5. How could I go wrong? So I ordered three skeins when Herrschners offered a free shipping deal. With a 50% wool content, I can at least make a coat for my dog with it if nothing else.
This merino blend yarn is so off-the-radar that my favorite YarnSub.com doesn't even have it in their database. We'll fill in the details from the Herrschners website, 50g skeins with 109 yards per ball. There is a suggested list price of $5/skein, but I've never seen it more than $2.99/skein so we'll call that regular price!
| Yarn | Price | Price/Yd |
| --- | --- | --- |
| 1 Skein Regular Price | $2.99 | $0.03/yard |
| 1 Skein Typical Sale Price | $1.99 | $0.02/yard |
| Project | Reg. Price | Sale Price |
| --- | --- | --- |
| A Scarf (3 Skeins) | $8.97 | $5.97 |
| Small Sweater (10 skeins) | $29.90 | $19.90 |
| Large Sweater (15 skeins) | $44.85 | $29.85 |
I have only seen this yarn on Herrschners, whom I cannot recommend highly enough. They regularly run some of the cheapest yarn deals I've seen, like the $2/skein gem Lighthouse Plume. This yarn is also sold in a 10 pack for $22.90 for a bit of a discount off the regular price!
I purchased three skeins in the Blue Sky colorway and my impression out of the box is that it's soft and very springy. I'm looking forward knitting with the mysterious Lighthouse Plume yarn!
Lighthouse Plume Updates
October 2018 – After doing some basic swatching of this yarn, I decided to buy a 10 pack in the Navy colorway and make plans for a sweater. The Navy is so dark it's almost sexy, sexy black!
As of January 2020, this yarn is no longer being sold on Herrschners. I kind of wish I bought more before it disappeared, but there's always a new budget yarn out there for me to try!