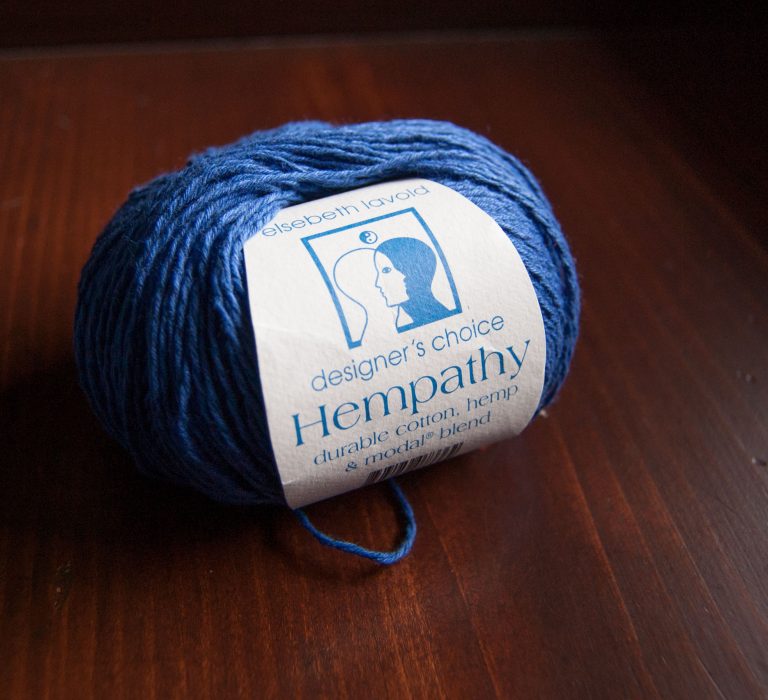 Hemp Yarn Elsebeth Lavold Hempathy
Hemp Yarn Elsebeth Lavold Hempathy
Today I purchased 6 skeins of Elsebeth Lavold Hempathy in Kingfisher Blue at Yarn.com This hemp & cotton blend yarn is going to be perfect for summer knits.
Notes on Hemp
In my quest to try different fibers, it was only a matter of time before I'd come across a hemp yarn. In case you're not familiar, growing hemp was illegal in the United States from 1970 until 2014 (experimentally). According to the 1970 Controlled Substances Act, hemp was just far to similar to marijuana for it's growth to be allowed.
Making hemp illegal was a shame, because hemp is a very very useful plant that can be used for food, textiles (fabric, shoes, yarn, rope, etc), building materials and biofuels. Hemp even has an important place in the history of the United States (the Declaration of Independence is written on hemp paper!). It's about time hemp made a comeback.
Readily Available Hemp Yarn
There are two hemp yarns that I have come across (Hempathy & Hemp for Knitting's Hempton). They are not 100% hemp and typically only contain 30-40%. These yarns are typically a blend, including cotton and rayon to help add softness. Hemp yarn is very very durable, but it takes some time for it to soften (or so I've read), making the blended fiber content critical for comfort.
Elsebeth Lavold Hempathy
Hempathy is a DK weight yarn sold in 50g skeins. With only 153 yards per skein, it will take a few to complete even a smaller project like a summer tank. Summer wear is the perfect use for such a breathable yarn! My favorite website YarnSub.com lists this yarn as a FOUR dollar sign ($$$$) yarn, aka they don't consider it a budget yarn! But I got these skeins on sale – will a sale price make it affordable for the savings savvy?
| Yarn | Price | Price/Yd |
| --- | --- | --- |
| 1 Skein Regular Price | $7.99 | $0.052/yard |
| 1 Skein w/ 30% Discount | $5.59 | $0.036/yard |
| Project | Reg. Price | Sale Price |
| --- | --- | --- |
| A Bandana Scarf (2 Skeins) | $15.98 | $11.18 |
| Small Top (5 skeins) | $39.95 | $24.95 |
| Large Top (7 skeins) | $55.93 | $39.13 |
This is certainly doable….. but if this is still a little too expensive for you, the very similar Hempton from Hemp for Knitting is regularly priced at $7.50 for a similar 50g skein. If you're willing to sacrifice the Rayon content, Paton's Hempster is another hemp yarn fresh on the scene with 55% hemp and 45% cotton. Hempster is running $6.50 for a full 100g at the budget friendly favorite Joann Fabrics. Watch for those yarn sales and coupons!
---
Featured in this Post