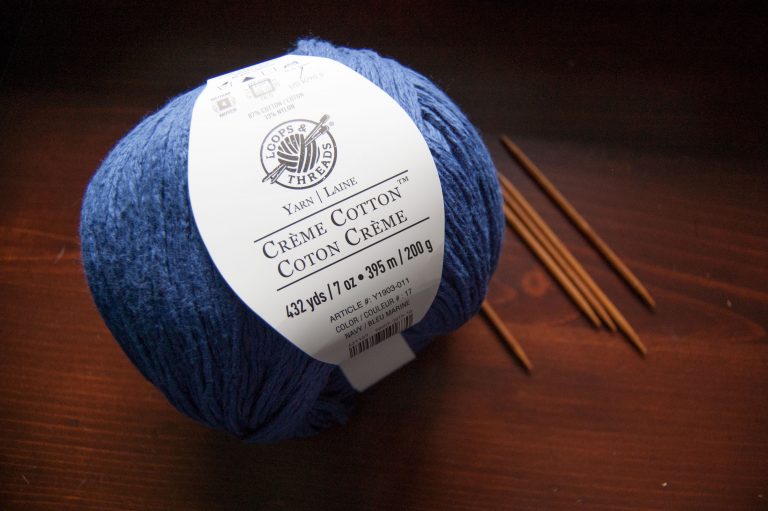 Loops & Threads Cotton Creme Yarn
Loops & Threads Cotton Creme Yarn
Last week when I was browsing Michaels.com, I caught a glimpse of their new cotton yarns for spring. The one that really stood out to me was their Creme Cotton, mostly because it looked like a supersized version of some Elsebeth Lavold Hempathy I purchased a few years back.
Loops & Threads Creme Cotton
This yarn is nothing like Hempathy, even though the product photo looked very similar. Loops & Thread's Creme Cotton is a heavy worsted (I would call it Aran) weight yarn that comes in huge 200g skeins. Yarnsub.com lists it as a "Fuzzy Chain" construction of 87% cotton, 13% nylon. With a cotton/nylon blend, you'd think all 432 yds in each skein would be machine washable, but this yarn is listed as a hand wash, dry flat. My only thought on this could be that the yarn must pill terribly when machine washed? This is not the first Loops & Thread's yarn I've encountered that lists hand washing even though there isn't anything special in the materials list.
Creme Cotton comes in ten bright colors; there's bound to be one to inspire your spring vibes. I decided to keep it simple and bought a skein of Navy, although I was very tempted to buy a skein of Mustard instead.
Affordability of Loops & Threads Creme Cotton
This is the first chunky cotton blend like this I've seen in local stores so when it comes to determining the value of this yarn, I'm going to have to compare it to the yarn on YarnSub that looks the most similar to me – Juniper Moon Farm's Cumulus. Which is a wicked expensive $20/100g skein yarn! If you break it down to price per yard, you're looking at $0.08/yd that makes Creme Cotton's regular price of $0.023/yard look like a total steal.
| Yarn | Price | Price/Yd |
| --- | --- | --- |
| 1 Skein Regular Price | $9.99 | $0.023/yard |
| 1 Skein w/ 40% Discount | $5.99 | $0.013/yard |
| Project | Reg. Price | Sale Price |
| --- | --- | --- |
| A Cowl (1 Skeins) | $9.99 | $5.99 |
| Small Tank (2 skeins) | $19.98 | $11.98 |
| Large Tank (4 skeins) | $39.96 | $23.96 |
Michael's is currently listing Creme Cotton at a sale price of $6.99 (3/9/2020), but you can always wait until the sale is over to buy with their 40% off coupon code.
First Impressions of Creme Cotton
We still have a long ways to go in evaluating this yarn, but we want to give you a few of the insights we have so far.
I've never encountered a cotton yarn that felt so buttery soft before! What is this magic?
The colorways are really bold and vivid. Loops & Threads may not always bring the best quality to the table, but their color game is on point.
I've already done some basic swatching with this yarn and it knits very easily.
The most surprising thing I'm noticing thus far is that it feels incredibly lightweight for a cotton yarn. I don't mean lightweight as in thin (it's aran weight after all), but in literal weight. I have already knit the front of a tank in this yarn and it is so much lighter than I expected. Perhaps this is the fuzzy chain construction at work?
Don't miss this unique yarn before it disappears for the season. Check back soon for a project post – I'm making a summer tank!
Want some Creme Cotton pattern ideas? See my curated list of Creme Cotton yarn patterns recommendations!
Update June 28th – The Loops & Threads Creme Cotton Yarn Review is here!
---
Featured in this Post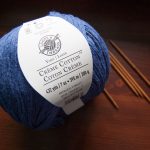 Find this worsted weight yarn at Michael's stores. The cotton nylon blend yarn is perfect for summer knits. Let us know if you try it or the similar Juniper Moon Farm Cumulus!