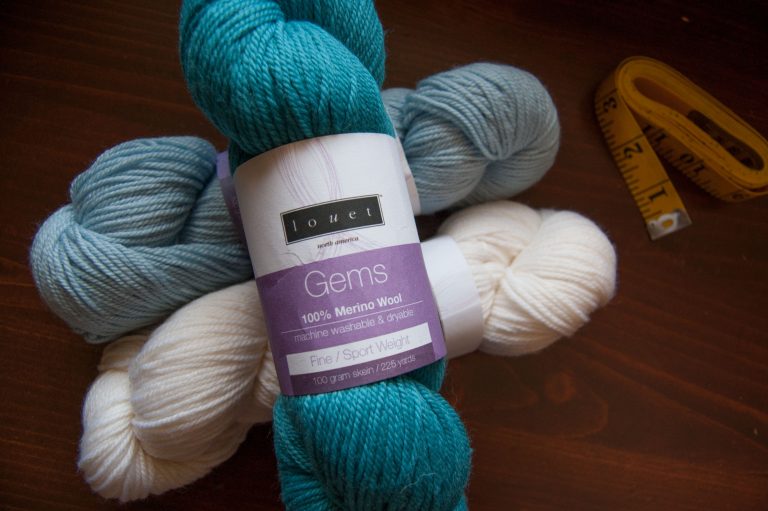 Louet Gems & Gems Opal Yarn Purchase
Louet Gems & Gems Opal Yarn Purchase
In my quest to find non-itchy wool yarns, I've discovered Louet Gems (and it's predecessor Louet Gems Opal). I ordered one skein of Louet Gems several months ago to test out on a hat project. I figured it's time to introduce you all to this washable wool yarn with my recent re-purchase.
Louet Wool Yarns
Louet sources their wool from South Africa and is custom milled in a tight ply designed to reduce pilling while maintaining elasticity. The yarn is considered a "worsted spun". Worsted Spun is a process that involves combing the fibers to remove anything shorter than 3.6″ leaving only the longer staples. This helps to minimize that "prickly" feel you can sometimes get with wool. But Louet didn't stop there. To provide an even softer touch, the yarn is then steamed. The end result is a wonderfully soft yarn with excellent stitch definition, preparing for an epic face off with your washer and dryer.
As the title of this post indicates, we're not only talking about Louet Gems, but it's predecessor Louet Gems Opal. If you compare these two yarns on YarnSub.com, they are both sport/fine weight yarns with very similar gauge. As far as I am aware, the production process is very similar, but the Opal yarn is not a merino wool yarn like it's successor Louet Gems Sport Weight.
You may have noticed the four dollar signs ($$$$) on YarnSub and said, "Wait, this isn't a budget yarn!" To that, I would tell you that on sale, any yarn can be a budget yarn. Particularly when you factor in the overall longevity of superwash wool yarn. Particularly one that resists pilling and continues to look like new.
Purchasing Louet Gems Sport Weight
I was able to find Louet Gems Sport Weight on sale at Webs (also known as Yarn.com) for $6.79/100g skein. The regular price is listed at $13.25/skein; an amazing discount for 225 yards of 100% Merino Wool yarn. I have been seeing discounted prices ranging from $6-$7. And if you're able to find some discontinued Louet Gems Opal, you may find an even better deal. I was able to get 2 cones (525 yards each) for $12 on eBay – a truly amazing deal at $0.011/yard.
Lets do some price breakdowns to give you an idea of how economical Louet Gems Sport yarn can be on a discounted price.
| Yarn | Price | Price/Yd |
| --- | --- | --- |
| 1 Skein Regular Price | $13.25 | $0.050/yard |
| 1 Skein w/ 50% Discount | $6.79 | $0.030/yard |
| Project | Reg. Price | Sale Price |
| --- | --- | --- |
| A Bandana Scarf (2 Skeins) | $26.50 | $13.58 |
| Small Top (5 skeins) | $66.25 | $33.95 |
| Large Top (7 skeins) | $92.75 | $47.53 |
Wait, there's more! Louet makes their Gems wool yarn in worsted and fingering weights as well. With a wide variety of colors, keep an eye out for a great deal on all three of these yarns at Webs – Louet Gems Worsted, Louet Gems Sport & Louet Gems Fingering.
A Cautionary Note About Ordering From Webs
When selecting colors on Yarn.com, do be sure to compare BOTH the color names and numbers to what you can find on Ravelry. When I placed my Webs order I selected the indigo colorway from the purchase options. What arrived was very bright and NOT an indigo. Turns out the colorway number was correct (2163), but the colorway name and photo Webs had was not correct. The actual colorway name is Angelfish Blue and it is several shades lighter and brighter than indigo.
I reached out to Webs about an exchange since they were misrepresenting the consumer friendly parts of the information (photo and color name). They were not willing to make it right saying that buyers should pay attention to the colorway numbers.
To clarify what I mean by "make it right", they were willing to exchange it if I paid for the return shipping. But I believe a retailer should be willing to cover return shipping costs if they misrepresented a product. I am passing this information on to you to save you the frustration I experienced. I now triple check all my color names and numbers when ordering from Webs.