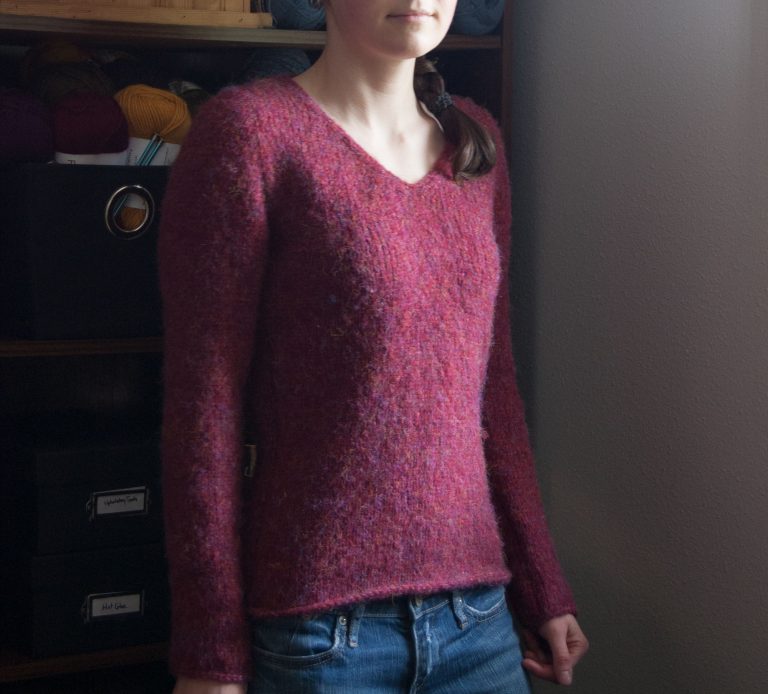 On the Beach Sweater in Two Yarns
On the Beach Sweater in Two Yarns
If you're a knitter on Ravelry, then I'm sure the name Isabell Kraemer means something to you. It is literally impossible to browse through free sweater patterns and not see one or two of her designs. Several of her patterns offer small, petite friendly bust sizes. Even when they don't, they are generally flattering for a tiny, athletic frame like mine. A petite woman like myself can get lost in most oversized sweater patterns, but Isabell's designs are well suited to those of us with smaller statures. One such example is her On the Beach sweater. See the bottom of today's post for a pattern link!
I have yet to buy one of her paid patterns, but I have knit her sweater freebie "On the Beach" twice now. My first iteration I knit with my two cones of Louet Gems Opal and the second iteration I knit with my recently acquired Loops & Threads Plush.
Sweater Construction
On the Beach is a great pattern for those looking to give SusieM's contiguous set-in sleeves method a try. This shoulder construction creates a very nice shoulder that has more of the appearance of a seamed sweater – but with not a single seam sewn! Even though I'm petite I have some athletic shoulders that aren't in normal proportion with my bust. The problem I have with most seamless patterns (raglans) is that in order to make the shoulders large enough, I end up with too much extra fabric in the chest. I'm sure as I get better at customizing patterns for my own needs, I'll figure a way around this. But the contiguous set-in sleeve method Isabell uses in On the Beach is absolutely perfect for my athletic proportions.
On the Beach is designed with stripes and the pattern includes instructions for how to perform the striping, but I chose to make both of my sweaters in a solid color. All you have to do is ignore any of the notes about changing colors and an easy sweater becomes even easier.
Selecting Yarns
Although the pattern calls for a sport weight yarn, if you're willing to do a little math you can make this suitable for any weight yarn.
My first sweater used Louet Gems Opal. Opal is a true sport weight like the pattern calls for. Even though it was the right gauge of yarn, I was not able to get the pattern gauge with the recommended needle size. This is normal when substituting yarns, which is why you should always create swatches!
My second take used Loops & Threads Plush, a thicker worsted weight yarn (advertised as bulky). I bought this yarn because of how light and fluffy it was, thinking it would make a wonderful thick sweater.
Although I used different needle sizes, my gauge for each yarn was identical. This made figuring out minor adjustments very easy. I ended up knitting my second sweater slightly smaller in the bust.
Try this Great First Sweater Pattern
If you haven't yet forayed into the world of sweater knitting, I highly recommend On the Beach as a great sweater to start with. The seamless construction makes it easy to work. Although the sleeve method sounds fancy, it's really quite easy. The simple edgings on the sweater mean you don't have to learn any fancy ribbings or bind offs. The most complicated thing you will do in this pattern is pick up stitches around the neckline, which is totally optional.
---
Featured in this Post