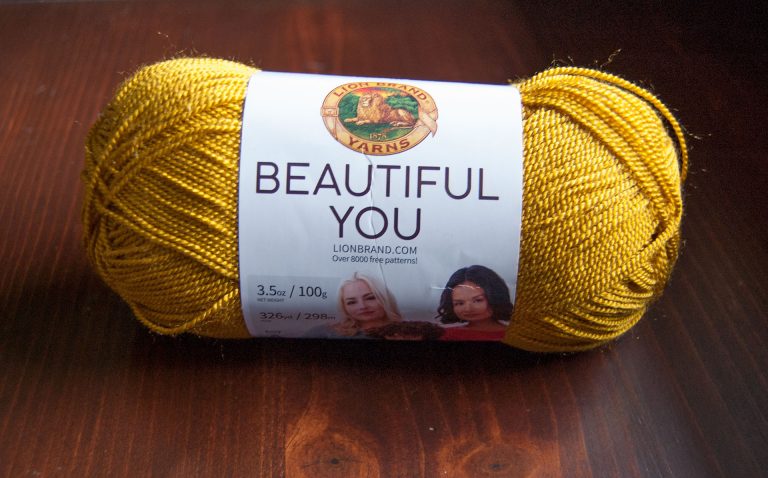 Lion Brand Beautiful You Yarn
Lion Brand Beautiful You Yarn
Today Joann Fabric's offered a rare "Free Shipping on All Purchases" deal. It was the perfect opportunity to try a single skein of an "online only" acrylic yarn I haven't seen in any local stores – Lion Brand's Beautiful You.
Lion Brand Beautiful You Acrylic Yarn
On paper, there isn't anything all that special about this Beautiful You. It's an affordably priced, plied sport weight yarn. Each skein has 326 yards of machine wash/dry acrylic in a ply very similar looking to Lion Brand's Vanna's Glamour, sans the metallic thread. Seriously, compare the photos of Vanna's Glamour and Beautiful You — they look incredibly similar.
What am I so excited about trying then? Overall, I love Lion Brand yarns, but they don't have very many sport weight yarns. Sport weight acrylic yarns aren't all that common in budget stores and you are usually stuck ordering them online. The last sport weight acrylic I tried is the now discontinued Red Heart Fashion Soft. An adequate replacement yarn needs to be identified.
It's hard to beat the gorgeous colorways as well. I'm a sucker for deep, jewel-toned colorways exactly like the colorways Lion Brand is offering with Beautiful You. Finally, Lion Brand advertises this as a "superior acrylic" and I'd really like to put that to the test. Particularly when the few online reviews complain about knots, but not much else.
Affordability of Lion Brand Beautiful You
With a $5.95 MSRP on LionBrand.com, this yarn is getting a little pricier than your average budget skein of acrylic. It seems to be most commonly offered at $4.99 regular price. That is the price we will be using today in our budget yarn value breakdown. My purchase today took advantage of a 30% off Lion Brand Yarn sales, for a sale price of $3.49
| Yarn | Price | Price/Yd |
| --- | --- | --- |
| 1 Skein Regular Price | $4.99 | $0.015/yard |
| 1 Skein w/ 30% Discount | $3.49 | $0.010/yard |
| Project | Reg. Price | Sale Price |
| --- | --- | --- |
| A Cowl (1 Skeins) | $4.99 | $3.49 |
| Small Sweater (3 skeins) | $14.97 | $10.47 |
| Large Sweater (7 skeins) | $34.93 | $24.43 |
If you hurry, you still have time to take advantage of Joann's free shipping promotion before it ends at midnight. If you're reading this post weeks later and you missed it, you can always take advantage of their Free Buy Online Pickup In Store service.
Early Impressions of Beautiful You
We've got a long way to go in evaluating this yarn, but I wanted to share some initial thoughts.
As I've come to expect from Lion Brand, this yarn seems well made.
Beautiful You is soft, but the ply adds a strange textural element. We're curious to see how this translates to the final fabric.
As with some other Lion Brand yarns, the colorway feels a little "off" from what I was expecting. It is more of a true gold than the mustard Superwash Merino, but it still has that slight greenish hue.
This yarn is listed as "sport weight", but it's definitely on the lighter end of that spectrum.
Check back for more information as we use this yarn and write our final review!
---
Featured in this Post