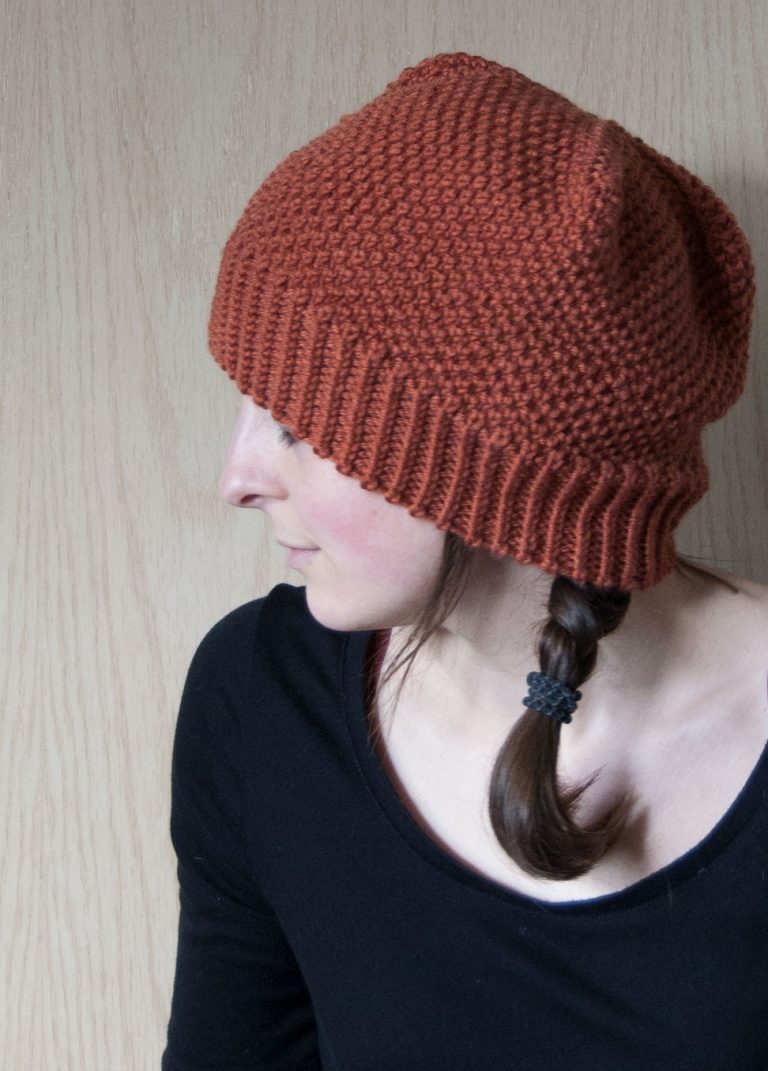 Fluffy Brioche Hat in Premier Yarns Everyday Worsted
Fluffy Brioche Hat in Premier Yarns Everyday Worsted
In an effort to reach my goal of evaluating anti-pilling yarns, I paused all my ongoing projects for the last week in order to make Purl Soho's Fluffy Brioche hat pattern. This free hat knitting pattern calls for a DK weight yarn. You can use any weight yarn as long as you get gauge or adjust the number of stitches as needed. Find a link to the pattern at the bottom of our post!
My yarn of choice for this project was Premier Yarns Everyday Worsted in the colorway Rust. Ravelry lists the Anti-Pilling Everyday Worsted as an Aran weight yarn. I've found it to be closer to a worsted weight, but still thicker than the pattern calls for. I was able to get the pattern gauge with this yarn just fine.
The Fluffy Brioche Hat Pattern
I'd never knit any brioche before this pattern. I will say the Fluffy Brioche Hat pattern was an excellent first brioche pattern for a beginner. The repeat was easy to remember, the stitch created a wonderfully thick and fluffy fabric. Purl Soho's pattern is an excellent choice for charity hats due to the extra warmth this thick stitch provides. But it did take a little longer to work up than other hat patterns I've made.
Take note that the sizing on this hat pattern seems to run large. If you look through many of the Ravelry projects for this hat, you will find the same sentiment from other knitters. In spite of getting gauge, this hat will turn out bigger than you want. I recommend that you knit a smaller size than desired. Additionally, you may want to leave out a few rows of the fluffy brioche before starting the decreases so it is not too long. Instead of knitting to the full 7″ as recommended for the small adult size, I only knitted to 6″. My hat is still quite large!
My final complaint about the Fluffy Brioche hat pattern is purely preference. I don't like the way the decreases are done for the crown. Not being a brioche expert, I do not know how easy it would be to substitute in a different type of decrease. As the pattern is written, you end up with four very defined seams on the top. Personally I do not find this finish to have a flattering look.
Using Premier Yarn Everyday Worsted
Premier Yarn's Everyday Worsted performed like an absolute champ for this project. From the get-go I was very pleased with how the yarn felt. It wasn't "squeaky" as some acrylic can be. As I was working on the ribbing for the hat it really struck me how squishy and soft it was. If I had found an unlabeled ball of this I would have been surprised if you told me it was acrylic.
Trying out a new yarn on a new project requiring a new skill was a bit of a gamble. In spite of needing to do a little frogging, Premier Yarns Everyday Worsted held up without splitting. I'll take this opportunity to say again that the yarn was very soft and squishy. Combine an already thick yarn with an extra thick fluffy brioche stitch and this hat is pretty amazing (with a few minor pattern tweaks).
From here we'll see how the Premier Yarn Everyday Worsted holds up through some washing before giving you our final review!
---
Featured in this Post