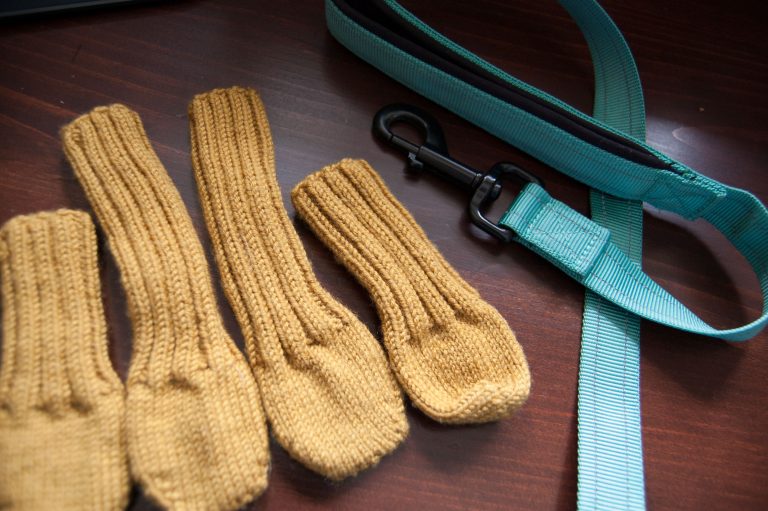 Italian Greyhound Socks in Lion Brand Superwash Merino
Italian Greyhound Socks in Lion Brand Superwash Merino
Call me crazy, but yes, I knit socks for my Italian Greyhound. And she wears them with shoes.
Italian Greyhounds Are Fashionistas
If you're familiar with Italian Greyhounds, you know that they get cold easily. They are one of the few breeds that really truly needs to wear clothes as the weather gets cooler. Italian Greyhounds have no undercoat to speak of and are incapable of staying warm without a jacket.
As the temperatures continue to dip, that means getting out the socks and shoes too. I've got my dog's jacket game mastered, but I'm still figuring out boot situation. Not all boots stay on her skinny little legs, not all boots are waterproof, etc. Even though I'm still working on figuring out the shoes, I have mastered the socks! That brings us to today's project, a quick set of merino wool socks that can be worn underneath boots for some extra warmth.
For this project I used some of my Lion Brand LB Collection Superwash Merino yarn. I love this yarn, but I was not in love with the Dijon colourway I ordered. I can't resist a good mustard colorway, but Superwash Merino had some odd, almost greenish undertones to it. It made me think of something Colonel Mustard would have worn in the 70's, had he been a real person instead of a character in Clue. Anyways, it was definitely a yellow I wasn't going to use for myself and doggy socks seemed like a perfect alternate use.
How to Knit Socks for Your Italian Greyhound
I started the socks by using Judy's Magic Cast-On, commonly used by toe up sock knitters. Judy's Magic Cast-On puts the starting stitches on two needles at a time. This provides two rows of stitches that get knit in the round to start off the toe of your sock. It sounds confusing at first, but I highly recommend this tutorial from Very Pink Knits to get a good visual of this technique.
With the toe of your sock finished, it is time to knit increases on every other row until you reach the width of your dogs foot. Knit for the overall length of your dogs foot pad before doing a few decreases every other round. Next, decrease to an even number of stitches and begin the ribbing to go up your dogs leg. You can make this ribbing as long or as short as you need to, depending on the length of your dog's leg, etc. Finally, bind off with your favorite stretchy method.
Knitting Two at a Time With Magic Loop
All four of these socks were knit two at a time using the magic loop method. You may hear sock knitters talk about "Second Sock Syndrome". Second Sock Syndrome is when you get the first sock done and don't feel like finishing the second. Well, imagine how I felt needing to make four socks total! Knitting my Italian Greyhound socks two at a time helped me get the socks finished quickly and without getting second sock syndrome. If you're interested in learning about knitting two socks at a time, Very Pink Knits has another great tutorial on knitting socks with magic loop. In case you couldn't tell, Very Pink Knits is one of my absolute favorite references for knitting.
Interested in making socks for your pet? I won't judge if you've got a fashion oriented gerbil. Send us a link to your project, we'd love to see your photos!
---
Featured in this Post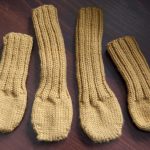 Italian Greyhound Socks
We don't have a pattern available for download yet, but see our guide above for a general idea of how to knit some socks for your pets! We knit ours in Lion Brand Superwash Merino, but any washable wool yarn will do!