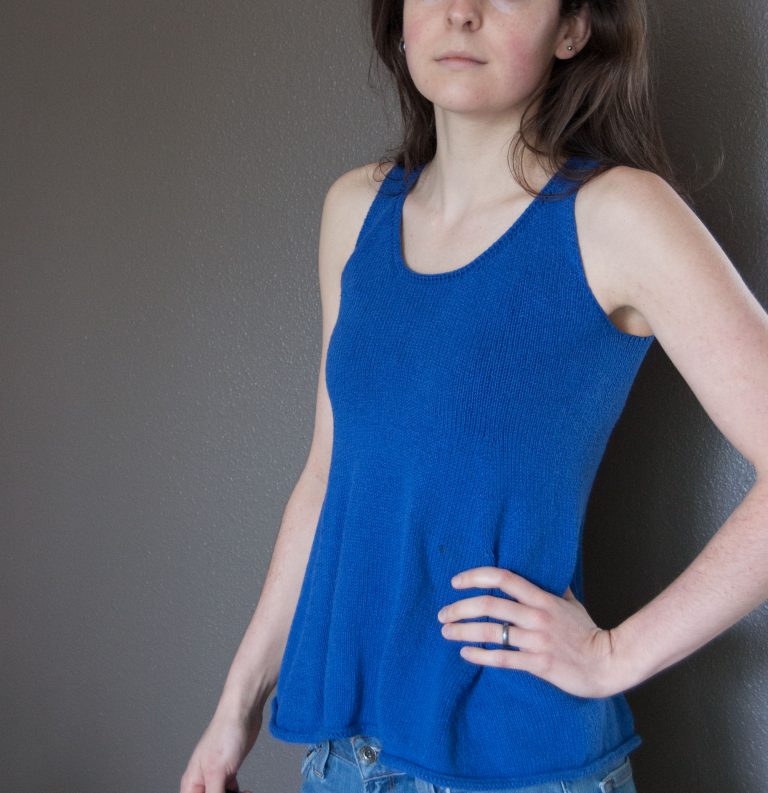 Battleship Tank in Elsebeth Lavold Hempathy
Battleship Tank in Elsebeth Lavold Hempathy
It has been over a year, but you may remember that I purchased some Elsebeth Lavold Hempathy last spring. I was really excited about trying a fiber that had such history. I spent quite awhile searching for just the right project for this yarn, and the Battleship Tank pattern was absolutely perfect. See the bottom of this post for a link to the pattern.
The Pattern Selection Process
When I began my search I had zero – ZERO – experience with garments. I'd mostly knit hats and had made only one previous attempt at a sweater. I wanted something that wasn't too intimidating. My pattern search criteria included:
Summer garment
No Seaming (knit in the round)
X-Small Sizing so I didn't need to make any adjustments
Suggested Yarn an exact match in fiber content
Free Pattern would be ideal
I looked through all sorts of great tank patterns, but I hit gold when I stumbled upon Allison Hendrix's Battleship pattern, #9 in her 50 Shades pattern series. Battleship has a wide variety of sizes, with bust sizes ranging from 28″ to 52″. Battleship is tastefully fitted around the bustline, but develops a "skirt" that is universally flattering.
This tank pattern specifically calls for Hempathy and is worked in the round. Best of all, Battleship is 100% Free. If you don't want to follow the pattern exactly, it is a great starting point for coming up with your own variation on a knit tank. If you take a look at all the Battleship projects on Ravelry, you will see alternate interpretations that may inspire you.
Knitting the Battleship Tank Pattern
It took me two summers to finally complete this project, but not because it was particularly difficult. I was nowhere close to finishing when fall 2018 rolled around. I hibernated the project until this spring. As a total garment noob, I realized I had swapped all my M1L and M1R stitches! I had to frog several inches of work when I resumed the project. Also, the wide skirt on this tank has lots of stitches and turns this into a more time consuming knit than your average summer top. Plan accordingly!
I'm incredibly happy with the finished top, but would I use this yarn again?  Stay tuned for our review of Elsebeth Lavold Hempathy!
---
Featured in this Post