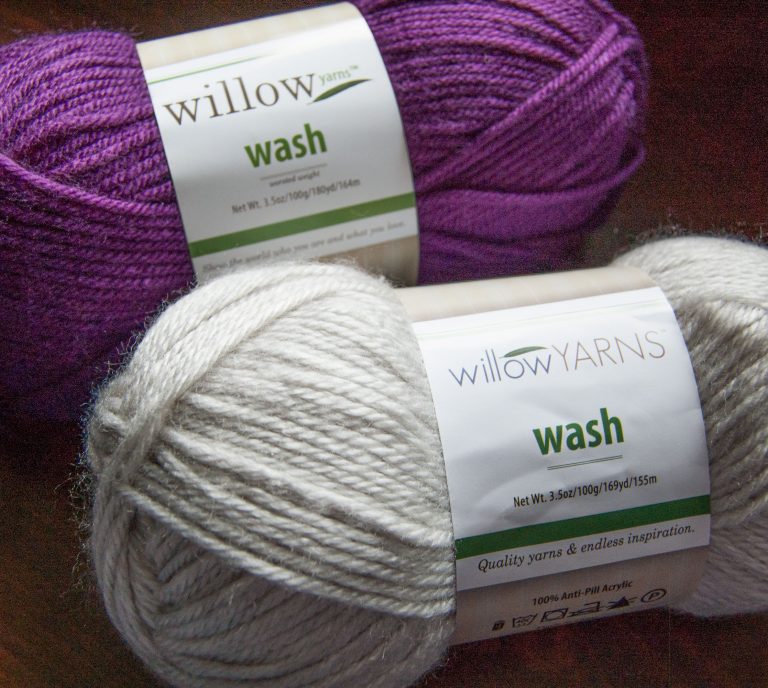 Willow Yarns Wash Worsted
Willow Yarns Wash Worsted
Willow Yarns Wash is a contender in the Ultimate Acrylic Yarn Comparison! Wash has been chosen due to it's anti-pilling technology at an affordable price. Not to mention it's offered in 3 different weights (dk, worsted & bulky) and as many as 45 colors! Learn more about the yarn comparison here.
Have you heard of Willow Yarns? Willow is a store brand yarn from Herrschner's. Providing crafting supplies for over 100 years, not everyone has heard of them. My grandmother is from Wisconsin, so I have fond recollections of browsing through her Herrschner's catalogue looking at all the colorways of Red Heart Super Saver. But today's post isn't about Herrschner's. It's about Willow Yarns Wash Worsted!
Details of Willow Wash
Although Wash is available in dk, worsted and bulky weights, today I'll be focusing on the worsted weight yarn. Why? It has the widest color selection! With as many as 45 colors, you'll find an amazing selection for those multi color afghan projects.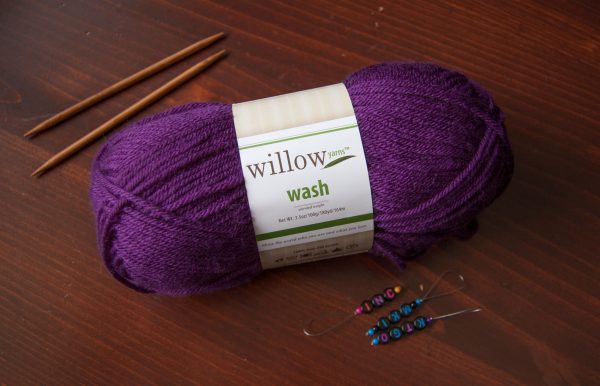 If the name didn't clue you in, Wash is safe to machine wash and dry. The anti-pilling qualities of this yarn make it a great yarn for heirloom afghans, to keep them looking like new wash after wash. But don't think Wash is just an afghan yarn! It is soft enough for garments worn next to the skin.
Each 100g skein contains either 180 yards or 169 yards. I bought my skeins last fall and received one of each, so I'm not quite sure what to expect if I ordered again!
Affordability of Willow Wash
At a regular price of $3.99/skein, Wash is affordably priced and in line with pricing of brands like Lion Brand and Red Heart. Willow Yarns offers bulk pricing for purchasing more than 10 skeins ($3.49/ea), and I regularly see sale prices of $2.79/skein.
| Yarn | Price | Price/Yd |
| --- | --- | --- |
| 1 Skein Regular Price | $3.99 | $0.022/yard |
| 1 Skein Discount Price | $2.79 | $0.016/yard |
| Project | Reg. Price | Sale Price |
| --- | --- | --- |
| A Scarf (2 Skeins) | $7.98 | $5.58 |
| Sweater (5 skeins) | $19.95 | $13.95 |
| Blanket (7 skeins) | $27.93 | $19.53 |
If you're able to score a sale price, the price per yard will be similar to your regular priced store brand value yarn. But you'll get so much more with an amazing softness and those anti-pilling properties!
First Impressions of Willow Yarns Wash Worsted
The first thing I noticed was that the quality of each skein I ordered appeared to be different. It took me a lot longer to notice that the yardages and manufacturing location were different too! The 169 yard skein(gray) is made in China, whereas the 180 yard skein (purple) is made in Turkey. The purple skein is less fuzzy and appears to be higher quality.
In reference to the purple skein, my first impression of Willow Wash is that it is a slightly higher quality version of Hobby Lobby's I Love This Yarn. Wash is very soft. It is easy to knit and not stiff. I didn't experience any of the usual annoyances like splitting or squeaky, although the ply is a little looser than some of the other yarns I've been knitting lately.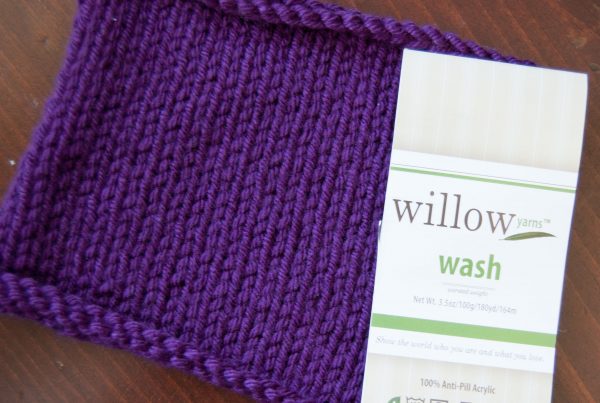 Overall, Wash looks and feels like a high quality yarn. I swatched the same strand of purple yarn three times and it held up wonderfully to all the frogging as well! I haven't yet worked up the gray skein (made in China). It still feels soft, but the fuzz and slight differences are prompting me to reach out to Willow to ask about quality changes. I'll update this post when I hear back from them.
I'm looking forward to making a hat in this yarn to test the wearability. Because it gets full marks for affordability and workability!
Have you used Willow Yarn's Wash? Share your Wash creations in the new Budget Yarnaholics group on Facebook!
---
Featured in this Post