Red Heart Soft Acrylic Yarn
Red Heart Soft Acrylic Yarn
Red Heart Soft yarn is a contender in the Ultimate Acrylic Yarn Comparison! Doing a comparison without representing Red Heart would just be wrong. But I went with the higher priced Soft over the polarizing Super Saver. With almost fifty thousand projects on Ravelry, Soft is still a great representative of this popular brand. Learn more about the acrylic yarn comparison here.
It is impossible to knit or crochet without hearing of Red Heart yarns. They are best known for their Super Saver, which is one of the longest running staple yarns in needlework! But Red Heart is also known for releasing innovative yarns like Hygee and Scrubby. They've even added a great wool yarn to their lineup with Chic Sheep! Today's post is about one of their popular acrylics, Red Heart Soft.
Details of Red Heart Soft Yarn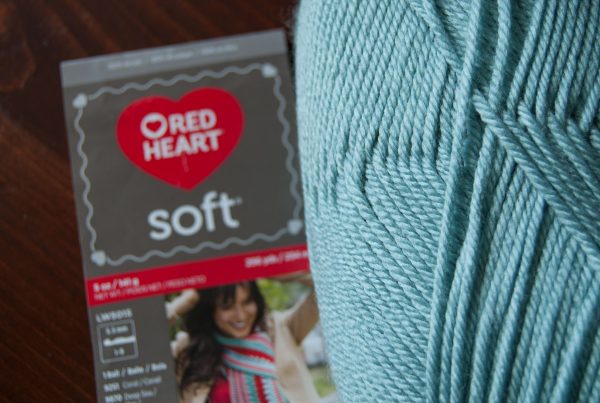 Red Heart prides themselves on having several yarns made in the USA. Soft is one of them, with imported fibers spun into yarn at an American facility. This yarn is a no dye lot yarn (fiber is dyed before spinning). I have no data on whether the dying is also done overseas or if that is done at US facilities as well.
Soft is safe to machine wash and dry. This yarn label is one of the few labels that has additional care instructions on the reverse. These additional instructions advise that you should machine wash GENTLE and not overdry this yarn. I'm pretty sure I have not followed those instructions!
The solid colorways are sold in 5 oz skeins containing 256 yards of yarn. The heathered and print colorways are sold in only 4 oz skeins and you get 212 & 204 yards respectively. With a combined total of 48 colorways, Red Heart promises you are sure to find the right one for your next project.
Affordability of Red Heart Soft
The typical price for a skein of Soft is $5.79 at Michael's, $5.99 at Joann's and $5.39 at Yarnspirations. I'll use the Michael's price for today's breakdown, along with their common sale price of $2.99.
| Yarn | Price | Price/Yd |
| --- | --- | --- |
| 1 Skein Regular Price | $5.79 | $0.022/yard |
| 1 Skein Discount Price | $2.99 | $0.011/yard |
| Project | Reg. Price | Sale Price |
| --- | --- | --- |
| A Cowl (2 Skeins) | $11.58 | $5.98 |
| Small Sweater (4 skeins) | $23.16 | $11.96 |
| Baby Blanket (6 skeins) | $34.74 | $17.94 |
Red Heart Soft's affordability is right in line with contemporaries like Lion Brand Basic Stitch Premium or Willow Yarns Wash. But with the added bonus of not having a dye lot!
First Impressions of Red Heart Soft
I really fell in love with several of the colorways offered by Soft. I ended up purchasing a single skein of Seafoam to give it a try. The yarn has a bit of a luster, but without as much shine as Caron Simply Soft.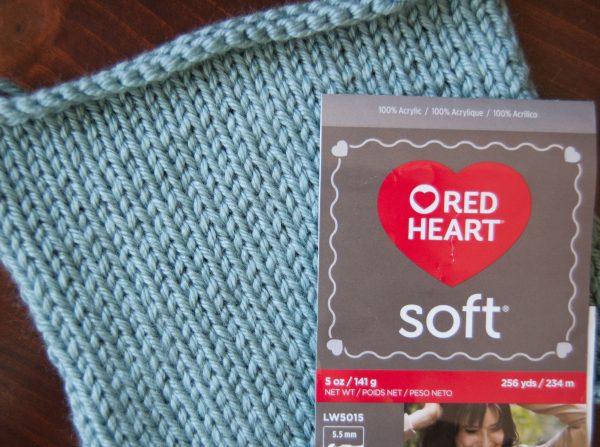 When I swatched this yarn, I found that it has very little give and elasticity. It is impossible to expect the same stretch in an acrylic yarn that you would find with a natural fiber like wool. But many acrylics are spun such that you get a small amount of stretch, making knitting easier.
Soft was the first contender in my acrylic yarn comparison that squeaked terribly. To mitigate this problem, you can always wax your needles or switch from aluminum to wood. But some acrylics are more prone to this phenomenon than others, and Red Heart Soft is definitely one of them.
But Soft held up fine to being frogged and worked up 3 times in a row – twice in knitting and once in crochet. This yarn splits the most when crocheting or when knitting with fine point knitting needles. I would experience a split stitch about once per row, but was able to reduce this slightly when knitting with my blunt tip needles. Something about the way the yarn is plied, this small change improves the workability!
Have you used Red Heart Soft? Share your projects and thoughts on this yarn in the new Budget Yarnaholics group on Facebook!
---
Featured in this Post