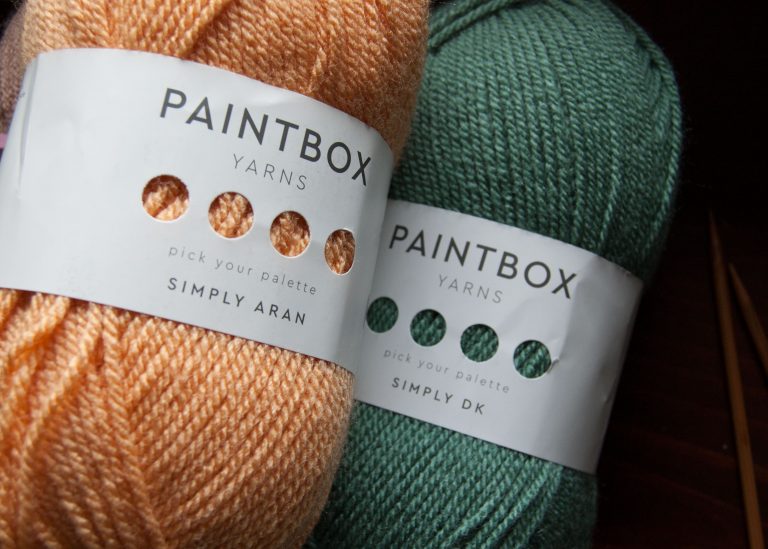 Paintbox Yarn Simply Aran
Paintbox Yarn Simply Aran
Paintbox Yarns Simply Aran is a contender in the Ultimate Acrylic Yarn Comparison! I chose Paintbox yarns because of the incredible number of positive reviews on Ravelry. It's sold at a very affordable price and has SIXTY amazing colorways. Learn more about the yarn comparison here.
If you're a regular shopper at LoveCrafts, you've likely seen Paintbox yarns on sale. Paintbox offers affordable and vibrant cotton and acrylic yarns. They recently added a worsted wool to their lineup too! But let's not get sidetracked. Today we'll talk about their acrylic yarn Simply Aran, also available in bulky and dk weights.
Paintbox Simply Aran Details
The labels on Paintbox yarns are so cute and modern! The four peep holes to highlight the yarn is totally on point for the brand. If you turn the label over you'll find all the important details.
Paintbox is essentially the LoveCrafts store brand. Right below where it says "Made in Turkey" are the words Lovecrafts Inc. Each 100g skein contains 201 yards – be sure you buy enough for your project when purchasing, because this acrylic yarn is dyelotted!
Safe to machine wash and dry, you can knit this yarn with US 8 knitting needles. Normally I don't bother making mention of the gauge on the label, but the gauge has the most unique representation I've ever seen on a yarn label. Check it out!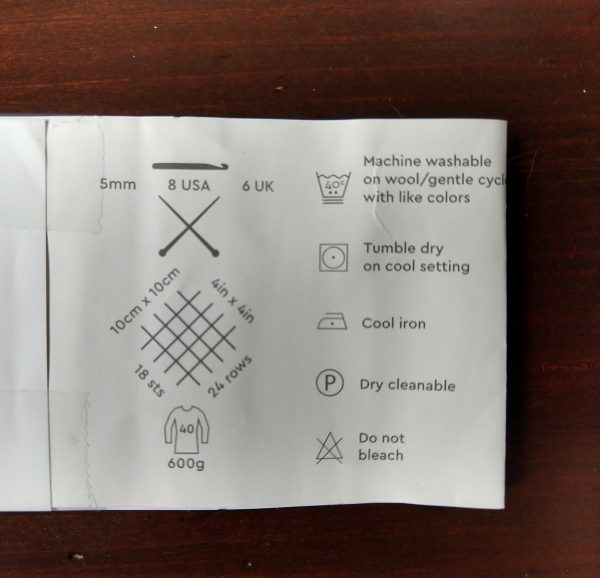 Affordability of Paintbox Simply Aran
This Paintbox acrylic is priced regularly at $3/skein. This is an incredible price! When it goes on sale, I have seen it as low as $2.40 a piece. At this price, it sells like hotcakes.
| Yarn | Price | Price/Yd |
| --- | --- | --- |
| 1 Skein Regular Price | $3.00 | $0.014/yard |
| 1 Skein Discount Price | $2.40 | $0.011/yard |
You may notice that Paintbox sells their yarn in value packs. Normally value packs provide extra affordability, but in this case the packs simply extrapolate the already low price out for the appropriate number of skeins – a pack of 5 for $15 and a pack of 10 for $30 – still $3/skein. These packs only provide additional affordability if you can find one on sale! And there are times the single skeins are not on sale, but the value packs are.
First Impressions of Paintbox Simply Aran
There are SO MANY amazing colors of Paintbox yarn that I had choice paralysis. I'm not sure whether to call that a pro or a con! If you're very selective about your colors, definitely check out the Simply Aran color selection.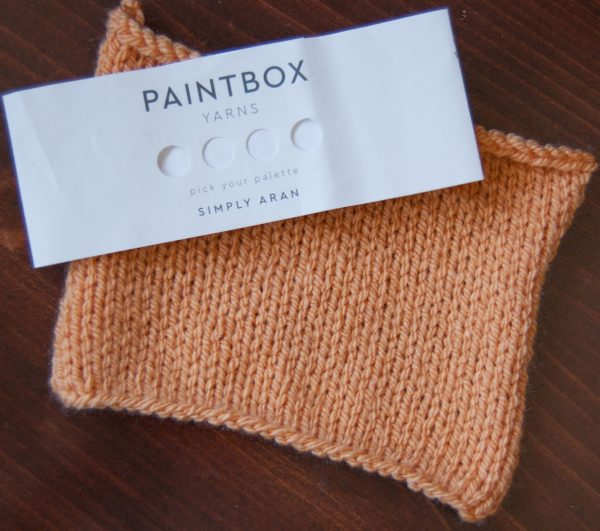 One of the first things I noticed about Simply Aran was the rustic looking ply. I unwound the end, and I discovered this is a three ply yarn. Many of the acrylic yarns we've been discussing this far are four ply. If you read my previous post on Lion Brand Basic Stitch yarns, you know 3 Ply Paintbox is a better choice for lace knitting than your standard 4 ply acrylic.
Simply Aran is very soft and appears to be well made. Sometimes when you buy acrylic yarns, the skein has a halo from the get-go, but not this yarn. For the price, this is definitely a high quality acrylic!
One of the best complements I can give to any acrylic yarn is to say the swatching experience was unremarkable. I would compare the workability of Paintbox Simply Aran to the likes Hobby Lobby I Love this Yarn. Both of these yarns are nice and easy to knit, with no splitting, squeaking or general annoyances.
Have you knit with Paintbox Simply Aran or the sister weights? Share your projects and thought on this yarn in the new Budget Yarnaholics group on Facebook!
---
Featured in this Post