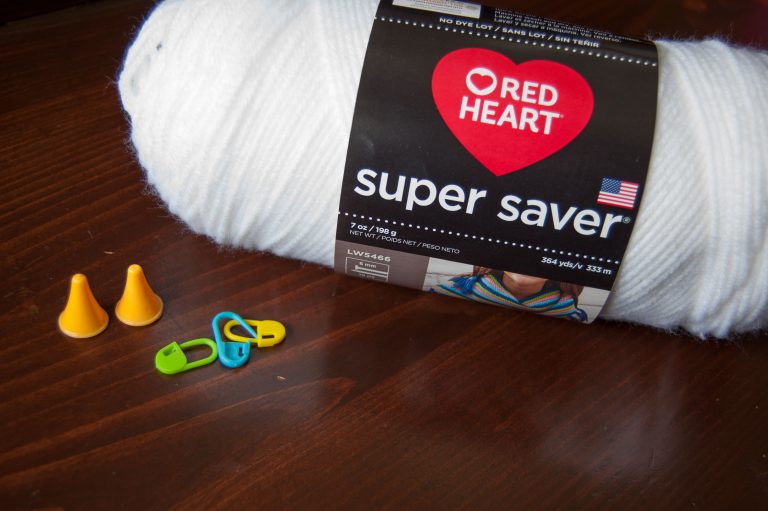 Red Heart Super Saver Yarn
Red Heart Super Saver Yarn
Red Heart Super Saver Yarn is a contender in the Ultimate Acrylic Yarn Comparison! It has been chosen as a "fast-follow" after my initial reaction to not include it. Why? Only recently has it been given OEKO-Tex Certification. Learn more about the comparison here.
Many of you may be wondering… why did I never include Red Heart Super Saver in my Ultimate Acrylic Yarn Comparison (UAYC) from the beginning? Well, having grown up with the yarn, I had a bit of a distaste for it. I enjoyed the wide color selection that Red Heart offered, but I was not a fan of the feel of the yarn AT ALL.
Having learned more about acrylic fibers recently, I decided that half of my distaste for Red Heart may have been related to chemicals involved in the yarns production. So when I checked labels this summer and saw it recently became OKEO-TEX Standard 100 certified, I decided I should give it another try.
So today let me give you an overview of Red Heart Super Saver, the latest UAYC fast follow.
Red Heart Super Saver Yarn Details
Red Heart Super Saver is offered in two sizes, regular and jumbo. For the purpose of this blog post I am going to be discussing the regular size. The regular size skeins have an expansive range of colors; there are over 120 colorways on Yarnspirations, from solids to stripes and ombres.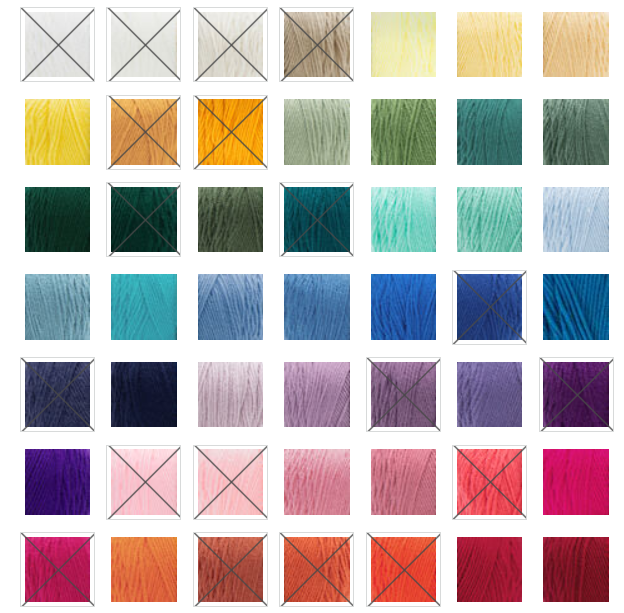 Depending on the colorway you choose, you're going to get different yardages. All colorways are 100% acrylic, except for the "flecks" colorways that will include 4% of other fibers. Solid colors are offered in 7oz skeins with 364 yards. Prints, Variegates & Stripes are only available in 5oz balls with 236 yards. The Flecks and Heathers are also sold in 5oz balls, but you get a bit more yardage with 260 yards.
All skeins are safe to machine wash and dry.
Affordability of Red Heart Super Saver
With a name like "Super Saver", this yarn is obviously a budget yarn. But how affordable is it compared to our other value yarns? Today's price breakdown will give you an idea. I will be using the standard $4.49/skein pricing and yardage for solid colorways and will be using a regular Joann sale price of $3.49 as the discounted price.
| Yarn | Price | Price/Yd |
| --- | --- | --- |
| 1 Skein Regular Price | $4.49 | $0.012/yard |
| 1 Skein Discount Price | $3.49 | $0.009/yard |
| Project | Reg. Price | Sale Price |
| --- | --- | --- |
| A Cowl or Scarf (1 Skeins) | $4.49 | $3.49 |
| Small Sweater (2 skeins) | $8.98 | $6.98 |
| Large Cardigan (4 skeins) | $17.96 | $13.96 |
With a regular price per yard HALF the cost of many mid-line acrylics, you are certainly getting your money's worth. But believe it or not, Super Saver is not the cheapest regularly priced value yarn.
First Impressions of Red Heart Super Saver Yarn
As I said above, Super Saver is not actually the cheapest value yarn out there, at least regularly priced. Yarns like Big Twist Value from Joann, Brava from KnitPick's and even Stylecraft Special DK from Lovecrafts are cheaper if buying regular price. Determining the true cost effectiveness is going to come down to durability and that's what I aim to find out by including Red Heart Super Saver in the Ultimate Acrylic Yarn Comparison.
Just going by the in-skein feel, my new OKEO-TEX certfied skein of Super Saver is definitely softer than I recall it being in the past. It is also much less stiff than the Loops & Threads Impeccable and Caron One Pound.
I started using my new skeins of Super Saver in the Nya Mosaic Blanket (pattern by Lilla Bjorn Crochet) I am making for my sister's baby due in December. So far the crochet workability is just as good as all the other acrylics (not splitty, moderately squeaky), but I have yet to do a knit swatch. More details on this to come!
Is Red Heart Super Saver your favorite budget acrylic? Share your thoughts on this yarn in the new Budget Yarnaholics group on Facebook!
---
Featured in this Post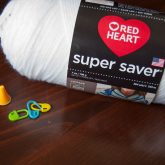 Find Red Heart Super Saver at your local Joanns or online at retailers like LoveCrafts and Yarnspirations! One of the best things about Super Saver is the variety of colorways…. so don't forget to check out the prints and ombres!