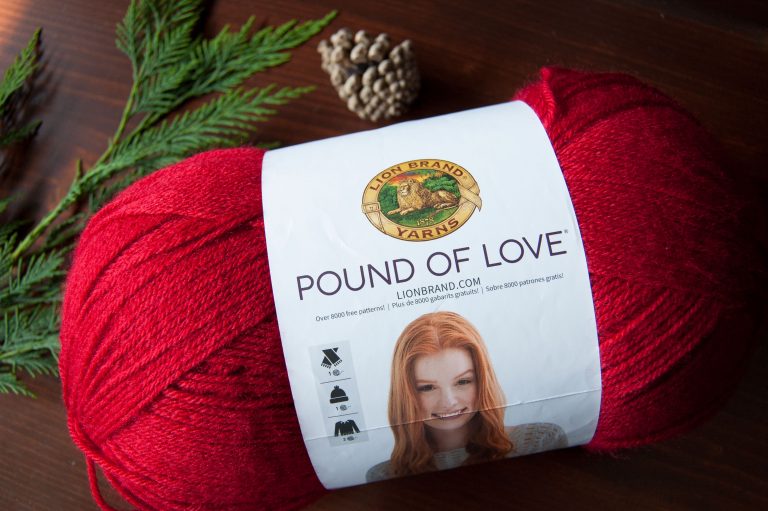 Lion Brand Pound of Love Yarn
Lion Brand Pound of Love Yarn
Lion Brand Pound of Love yarn is a contender in the Ultimate Acrylic Yarn Comparison! It has been chosen as a fast-follow because of the incredible yardage and overall high quality of Lion Brand yarns. Learn more about the comparison here.
It's no secret — I'm a pretty big fan of Lion Brand Yarn. One of my biggest struggles when starting the Ultimate Acrylic Yarn Comparison (UAYC) was finding yarns OTHER than Lion Brand that I wanted to compare. In the end, I limited myself to three Lion Brand yarns (Basic Stitch Premium + Anti-pilling and Jeans). But the entire time, I kept wondering if I should have included Lion Brand Pound of Love.
When choosing yarns for the UAYC, I didn't want to have too many big ball economy yarns in the comparison. My goal was to go for a wider range of yarn and include premium acrylics. But hindsight is 20/20. Today is the day I go back and correct my mistake of passing over Pound of Love.
Lion Brand Pound of Love Details
Lion Brand's massive economy ball contains 1,020 yards of worsted weight acrylic yarn. Pound of Love initially only offered lighter pastels and traditional baby colors. Now you're able to find 24+ shades including a bright "Cherry" red, a rusty "Pumpkin Spice" and even a mustardy "Maize" yellow. If you can't find these colors, check around at different retailers. I found different color options everywhere I looked!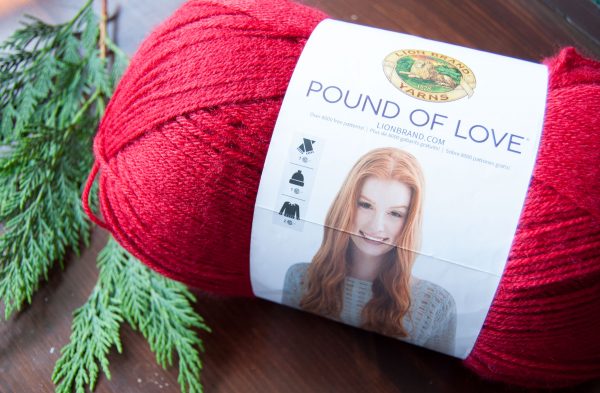 Like many budget acrylic yarns, Pound of Love is machine washable. The label cautions that the initial water temperature should not be too hot (max recommended is 40C). Many yarns in the UAYC so far instructed that machine drying was safe on low. The Pound of Love label says it can be regularly dried on the hottest setting! This has me wondering if this Pound of Love yarn is going to be more durable? I can't wait to find out!
Affordability of Pound of Love Yarn
As an economy big ball, I am obviously going to say Pound of Love is affordable. But how affordable is it compared to other value yarns? That's what we'll find out in today's price breakdown. This yarn is available regular price from $9.99 to $11.99 depending on the retailer. I'll use the most common $10.99 price and a 40% discount (regularly available at Joann & Michael's) for our sale price today.
| Yarn | Price | Price/Yd |
| --- | --- | --- |
| 1 Skein Regular Price | $10.99 | $0.010/yard |
| 1 Skein Discount Price | $6.60 | $0.006/yard |
| Project | Reg. Price | Sale Price |
| --- | --- | --- |
| 4 Scarves (1 Skein) | $10.99 | $6.60 |
| Small Sweater (1 skeins) | $10.99 | $6.60 |
| Large Afghan (3 skeins) | $32.97 | $19.80 |
The regular price of this yarn isn't as affordable as a contender like Big Twist Value. But if you can catch a 40% off discount on Pound of Love, you will find a price cheaper than most of the other value yarns! Big Twist really takes the cake for affordability though, particularly when Joann has it on sale for $1.50/skein.
First Impressions of Lion Brand Pound of Love
Allow me to start out with an obvious detractor. If you need a whole pound of yarn, Pound of Love isn't going to give you the color selection of Caron One Pound or Red Heart Super Saver Jumbo (14oz). This is actually a downside of many Lion Brand Yarns. Unlike Red Heart, Caron and other brands, many of their yarns have a limited color selection.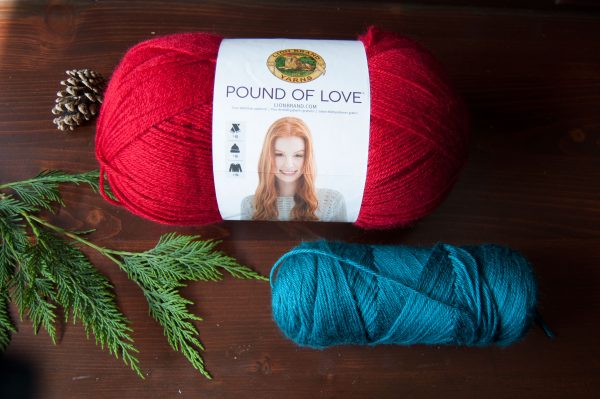 Personally, I feel like Lion Brand makes up for this in their quality. Just feeling Pound of Love in the skein, it already feels much softer and less stiff than Caron One Pound. It may be a slightly lighter weight. But I care so much about softness and workability that I will be very pleased if Pound of Love surpasses the other value yarns on those points.
Is Pound of Love your favorite economy yarn? Share your projects and thoughts in the new Budget Yarnaholics group on Facebook!
---
Featured in this Post