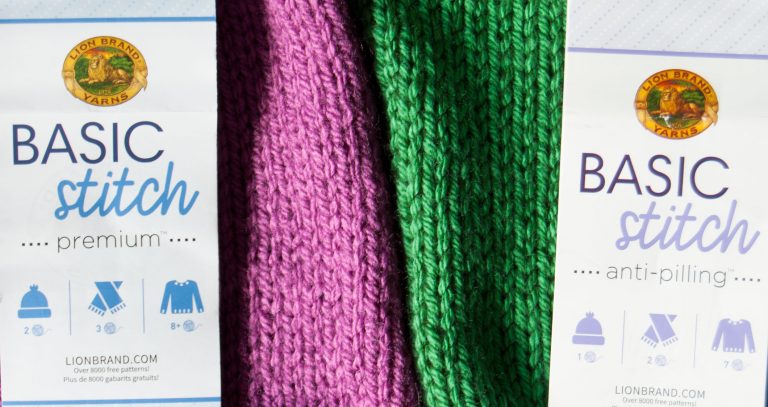 Lion Brand Basic Stitch Yarn: Premium vs Anti-Pilling
Lion Brand Basic Stitch Yarn: Premium vs Anti-Pilling
The Lion Brand Basic Stitch yarns are contenders in the Ultimate Acrylic Yarn Comparison! These yarns are being included because Lion Brand is marketing them as the crafter's new go-to yarns! I could have chosen just one, but not knowing what the difference was between the two…. I obviously had to do both. Learn more about the comparison here.
If you've found this blog post, then maybe you've been wondering about Lion Brand's Basic Stitch yarn. What is the difference between the Basic Stitch Premium and the Basic Stitch Anti-Pilling?
When I first started seeing these yarns at Joann last December, I was very confused. Premium sounds like it should be higher quality. But does it also have the anti-pilling properties like the other one? Both skeins were priced identically so did premium actually mean premium? I went to the Lion Brand website, hoping to find some clarification, but I left even more confused.
| Yarn | Price | Price/Yd |
| --- | --- | --- |
| Basic Stitch Premium – 219 yards/skein | $4.99 | $0.022/yard |
| Basic Stitch Anti-Pilling – 185 yards/skein | $4.99 | $0.026/yard |
As a result, I bought both yarns and decided to do a comparison. Let's find out what the differences are!
Basic Stitch Yarn On Paper: Comparing Labels
First, let's delve into the yarn labels. Yarn labels can be your best friend. Not sure what needle size to use? The label has a recommendation. From care instructions to gauge, the label has the info.
If you compare the labels on Basic Stitch Premium vs Anti-Pilling, both are 100% Acrylic and safe to put in the washer and dryer. Both are listed as a medium (4) weight yarn and should be knit with size US 8 knitting needles. See the chart below for the yardage and gauge details.
| Data Point | Premium | Anti-Pilling |
| --- | --- | --- |
| Skein Yardage | 219 yards | 185 yards |
| Crochet Gauge | 11sc x 14r on J-10 (6mm) | 16sc x 18r on H-8 (5mm) |
| Knit Gauge | 16sts x 22r on US 8 (5mm) | 18sts x 26 r on US 8 (5mm) |
Yarn label specifications for Premium vs Anti-Pilling
If you swatch regularly, you know that thin yarns will often end up with more stitches per inch than a thick yarn. Running with this assumption, the ball band gauge implies Premium is a heavier weight yarn than the Anti-Pilling. But if that is the case, how can there be more yards per skein for the Premium Yarn? Which is the lighter weight yarn?
Basic Stitch Yarn In Reality: Actual Gauge
With the gauge and the yardage giving me different data about the weight of these yarns, I knit both yarns on the recommended needle size to see which was thinner.
My gauge when knitting on the recommended needle size.
Since I'm a tight knitter, I got a more stitches in my swatch for both yarns. The correct thing to do in this scenario is to go up a needle size to get gauge. But regardless, the takeaway is that unlike the yarn label, I got more stitches per inch with the Premium yarn on US 8 needles.
Gauge specification on a yarn label is typically a recommendation. I've been told that the inclusion of gauge on a label gives you a clue as to how manufacturers/designers INTEND a yarn to be knit. If that's the case, it looks as though Basic Stitch Premium should be knit into a looser fabric than the Anti-pilling.
The desired crochet hook for Premium is much larger than the desired crochet hook for Anti-pilling as well. So I feel good about this hunch. Your pattern will have it's own gauge, but think about your desired thickness and drape when choosing Premium vs Anti-pilling.
To conclude the gauge discussion, the yardage per skein correctly implicated that Premium is slightly lighter weight than Anti-pilling. But not by much.
Unraveling the Mysteries of Basic Stitch Yarn
Before I even began my swatches, I unraveled a bit of both yarns to see if there were differences in construction.
On the Lion Brand website, it identifies the Basic Stitch Anti-Pilling yarn as a 4 ply acrylic. There was no ply specification for Premium. When I pulled the plies apart, I confirmed that the Basic Stitch Anti-Pilling did indeed have four plies. I had initially assumed that Basic Stitch Premium would be identical, but I was wrong! Basic Stitch Premium has only THREE plies.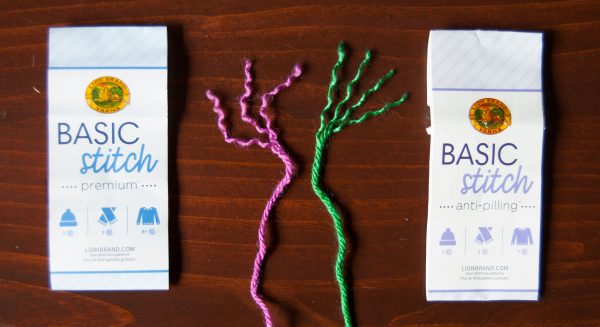 Why is the number of plies important? Knowing about the yarn construction can help you decide how to best use a yarn. In the book Yarn Works: How to Spin, Dye, and Knit Your Own Yarn, it says "If the knitting project needs good individual stitch definition, such as in lacework, spin a two-ply yarn. Consider spinning three of four plies for less-defined stitch work."
On the Lion Brand website, these two Basic Stitch yarns are called out for having great stitch definition. At first glance, this is a contradiction to the book quote above. The key is that the book says LACEWORK. Different yarn construction provides better definition for different stitches.
Modern Daily Knitting has a great blog post on "The Why of Ply" that goes into the effects of ply on stitch types in more detail. To condense it all for you, if you want LACE stitch definition, choose the 3-Ply Basic Stitch Premium. If you want CABLE or TEXTURE stitch definition, you'll find the best results with 4-Ply Basic Stitch Anti-Pilling.
Finally, Swatching Lion Brand Basic Stitch
The biggest visual difference I noticed was that Basic Stitch Premium had a more rustic look than it's Anti-Pilling sibling. Individual stitches appear to be less defined and overall have a softer look. If you're talking about stitch definition, this is the most basic way to define such criteria.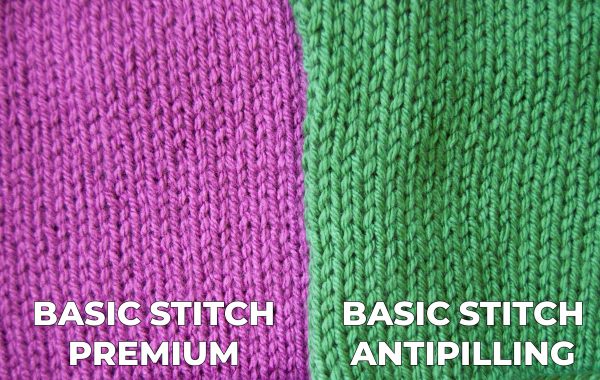 As makers, softness is a very important yarn criteria. Both yarns are quite soft, but Lion Brand's Basic Stitch Anti-Pilling appears to be slightly softer.
Lion Brand Basic Stitch Yarn – Conclusions
To wrap up – Lion Brand Basic Stitch Premium is NOT identical to Lion Brand Basic Stitch Anti-Pilling. I initially thought they were because the names were so similar and they didn't look/feel all that different in skein form.
If you've been on my blog long, you know I love Lion Brand yarns. But these two yarns were confusing to me as a consumer standing in the yarn aisle. I think their marketing team needs to re-think the branding a bit. I don't feel there are enough similarities between these two yarns for them to share the name "Basic Stitch".
Regardless of how these yarns are marketed, I enjoyed working with both "versions" of Basic Stitch thus far. As always, this is only step one in the journey to evaluate a yarn. Stay tuned for the final Basic Stitch yarn review!
Have you used either of these Basic Stitch yarns? Share your projects and comments with me on Facebook! Let's get a group discussion going!
---
Featured in this Post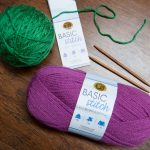 This "Premium" acrylic yarn has fewer plies than it's "Anti-Pilling" sibling. The more rustic look and feel would be great in basic sweaters! Find at LionBrand.com and Joann stores.
The "Anti-Pilling" Basic Stitch has more plies for additional stitch definition, softness and reduced pilling. Use this yarn for heavy wash/wear baby and kid items! Buy at LionBrand.com and Joann stores.