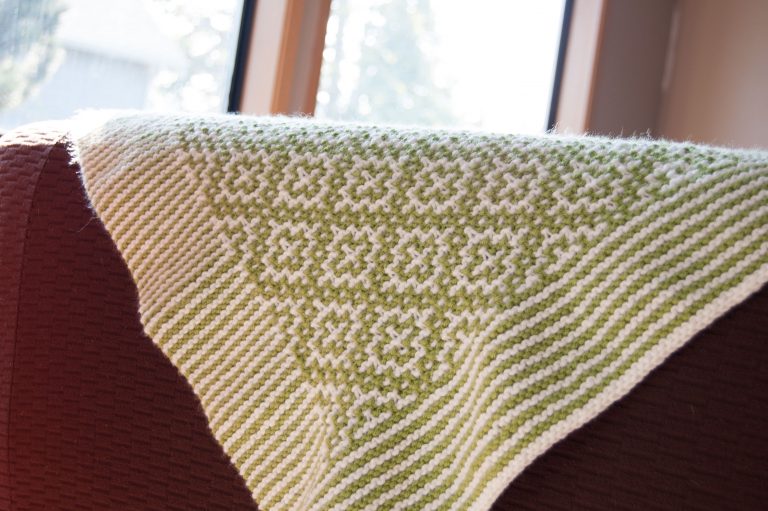 Mosaic Knitting Blanket in Big Twist Value
Mosaic Knitting Blanket in Big Twist Value
Today I'd like to share my first mosaic knitting project! If you haven't heard of mosaic knitting before, it's a surprisingly simple technique for two color knitting. But more on that later! First let me tell you about the Grey Tiles Mosaic Baby Blanket by Nancy Lekx. A link to the pattern is available at the bottom of today's post!
The Stunning Grey Tiles Mosaic Baby Blanket
Nancy Lekx has generously shared her baby blanket pattern for FREE to Ravelry members. This knitting pattern offers three sizes for you to choose from: 18″ x 24″, 32″ x 32″, and 32″ x 42″. I chose to make the smallest of these sizes as a car seat blanket for my sister's baby girl.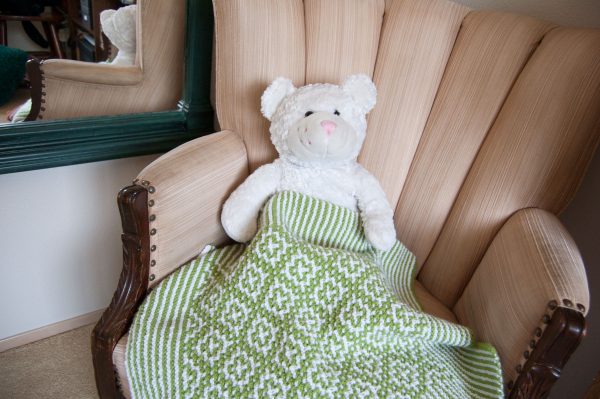 The mosaic design is provided in chart form. If you've never worked from a chart before, don't let that deter you. The chart uses only knit and slipped stitches and is an excellent introduction to chart reading if you have never done so before!
One of my favorite things about blanket patterns like these is it's not the end of the world if you can't get gauge. Your blanket won't match the exact sizes listed in the pattern, but as long as you're close it should turn out just fine!
The Surprisingly Simple Mosaic Knitting Technique
Like I briefly mentioned above, mosaic knitting is a very easy two color knitting technique.
Unlike your typical knitting colorwork, mosaic knitting uses only one color per row. You will not have to worry about carrying two yarns across the entire row, catching floats or maintaining tensions on two different yarns. At the beginning of each row, you will switch to the desired color before knitting the right side. You turn your work and continue the wrong side in the same color and then switch again on your new right side row! This carries the yarn up the side cleanly.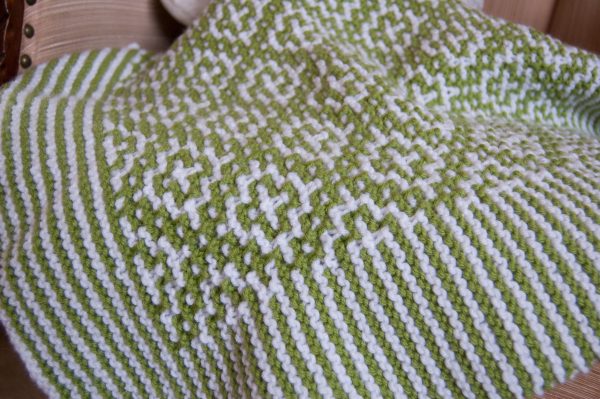 How then do you get the amazing two color designs if you only use a single color per row? This is where the slipped (also called skipped) stitches come in! By slipping a stitch with your yarn held in back (wrong side), you pull color from the row below into your current row. The result is a beautiful mosaic pattern!
The only downside to mosaic knitting is that it is not completely reversible. Since there are no floats, the back side doesn't need to be concealed. But the beautiful patterns are not continued on the back.
My Rendition of the Mosaic Blanket in Big Twist Value Yarn
For my blanket, I used white Red Heart Super Saver with the Light Green Big Twist Value yarn I purchased for the Ultimate Acrylic Yarn Comparison. The pattern technically calls for a DK weight yarn, but worsted weight works just fine as well! These two yarns weren't exactly the same weight (RH Super Saver is heftier), but the combination worked out just fine.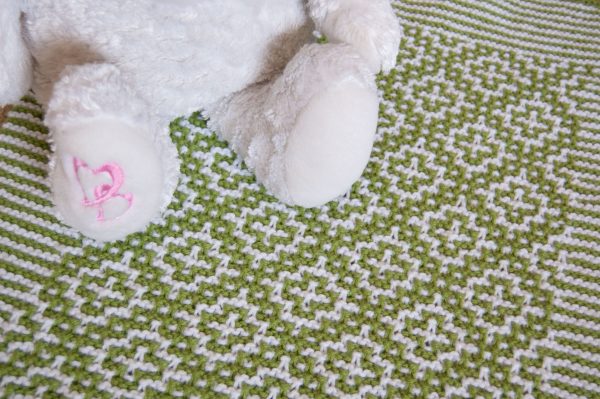 Big Twist Value is more flexible and less stiff than Red Heart Super Saver. As I alternated between these yarns I found it affected my tension. This may only be a problem for tight knitters or continental knitters. I am both so I am not sure which was the primary contributor! Thankfully this didn't affect the outcome of the project.
Overall, I think I chose the perfect introduction to mosaic knitting. Nancy's pattern is very easy to follow and turns out beautifully! Have you tried mosaic knitting before? Share your favorite patterns in the Budget Yarnaholics group on Facebook!
---
Featured in this Post