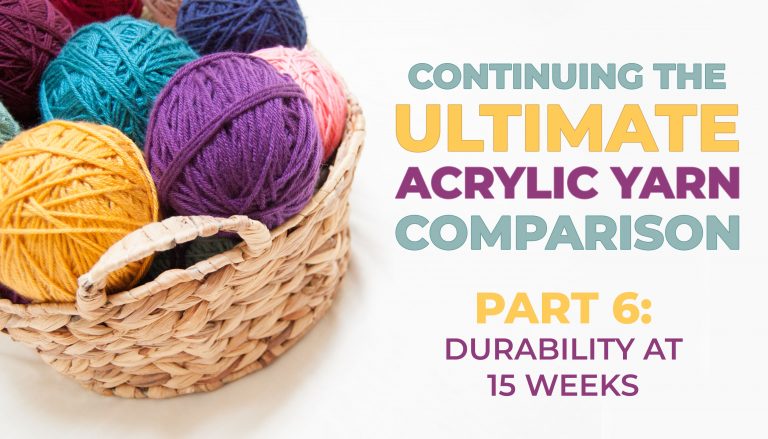 Durable Yarn at 15 Weeks- Ultimate Acrylic Yarn Comparison
Durable Yarn at 15 Weeks- Ultimate Acrylic Yarn Comparison
Today's post will be short and sweet. I'll be sharing with you a short update on the most durable yarns in the Ultimate Acrylic Yarn Comparison. I first showed off my swatches at 5 weeks, with 7 washes. It was exciting to see which yarns were showing signs of wear and which were not. But have the same trends continued? That's what we're going to find out today!
15 Wash Comparison of Durable Yarn
I have a video of all the yarns after 15 washes — this is DOUBLE the number of washes since I last showed you all the swatches. I encourage you to watch the video below to see the swatches for yourself. But I'm providing a general summary and some thoughts below.
Because so many of these yarns started wearing similarly, I created general groups rather than a full 1-20 ranking. The groups are as follows:
The Clear Winners: Premier Yarns Everyday Anti-Pilling Worsted, Loops & Threads Joy DK, Loops & Threads Impeccable, Lion Brand Basic Stitch Anti-Pilling, Willow Yarns Wash
The Runners-Up: Schachenmayr Soft & Easy, KC (Knit & Crochet) Smooth, Cascade Yarns North Shore, King Cole Cherished DK
Average Wear Yarns: Lion Brand Jeans, Bernat Softee Chunky, Stylecraft Special DK, Caron Simply Soft, Red Heart Soft, Knit Picks Brava Sport, Lion Brand Basic Stitch Premium, Paintbox Simply DK
The Premature: Caron One Pound, Big Twist Value Yarn, Hobby Lobby I Love This Yarn
Yarn Pictures are Worth 1,000 Words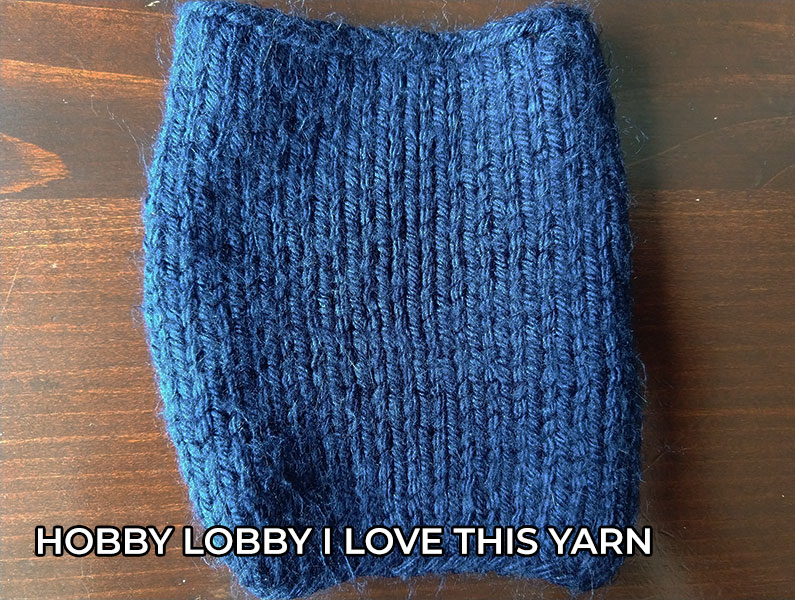 Primary Takeaways on Yarn Durability
First, I was really disappointed to see that Hobby Lobby's I Love This Yarn didn't maintain it's lead over the other value yarns. I had really high hopes for it to be the most durable value yarn, but that win goes to Loops & Threads Impeccable.
Second, when a yarn says do not machine dry, I would say it is generally for a reason. The fast wear on Big Twist Value compared to the other yarns is likely due to me ignoring that directive. But KC Smooth has done incredibly well even though it's not supposed to be machine dried either!
Finally, it should be crystal clear that buying the anti-pilling yarns is absolutely worth the higher prices! They continue to look nice and fresh compared to their basic acrylic counterparts.
So what's next in the yarn comparison?
Fifteen washes may not seem like a lot, but it is pretty comparable to a full season of wash and wear for your average sweater (depending on what part of the country you live in). For me, this feels like enough data to go ahead and provide official rankings and wrap up the comparison.
Next week I will provide my official summary! I'll have a video with my general thoughts and feelings as well as a chart with all the yarns sortable by data point — softness, durability, price, you name it. This way you can choose yarn based on the data point that is most important to you.
But that does not mean this is the end of the Ultimate Acrylic Yarn Comparison! I will provide an update again when I reach 30 washes on the swatches (a couple seasons of washing).
Additionally, I will also do what those in tech call a "fast follow". I'll be introducing some additional yarns that I excluded from the initial list of 20 – namely Lion Brand Heartland, Red Heart Super Saver & Premier Yarns Basix. Additionally, I am going to do a re-evaluation of Willow Wash with the other skein I have that is manufactured in China. The one that has done so well throughout this process is from Turkey; and I don't know which is being manufactured from here on.
I'll see you next week for the exciting conclusion to the Ultimate Acrylic Yarn Comparison!
---
If you found this post helpful, please consider supporting my blog by buying yarn through one of the affiliate links below or by buying me a coffee on Ko-Fi!