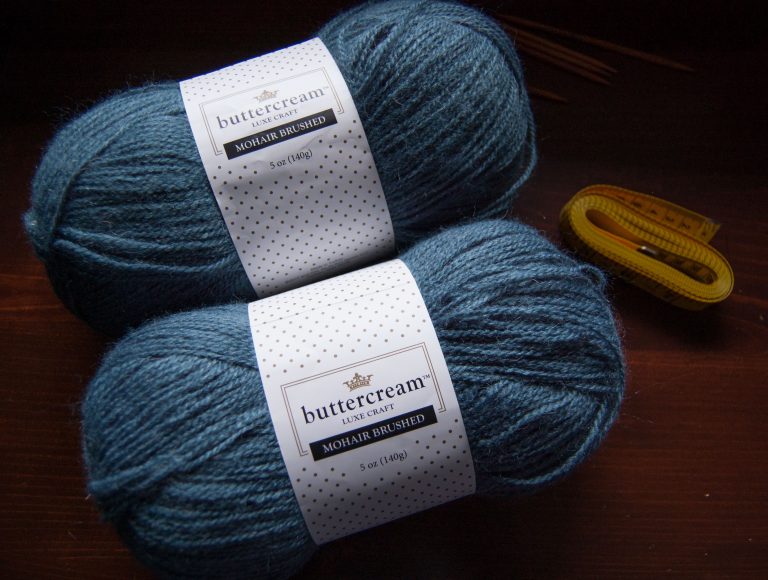 Buttercream Luxe Craft Mohair Blend Yarn
Buttercream Luxe Craft Mohair Blend Yarn
Update April 2021: Buttercream Luxe Craft's Mohair Blend yarn has been discontinued for some time now. But I believe that Premier Yarns Chamonix may be an EXACT substitute. Not only does it have the say 80% acrylic, 10% nylon, 10% mohair blend, but it has the same crimped look as well.
If you hadn't already figured out by now, I do lots of my yarn shopping from my desk. My evaluation process for purchasing yarn requires checking reviews, looking up information on materials and trying to figure out the best price. All of which is best done from a keyboard rather than on my phone in a store where I may not get great reception.
However, I do go into my local stores regularly to check clearance items, buy fabric remnants and the like. I always, without fail, run through the yarn aisles to see if there is anything new and squeeze a skein or two. If I find something that's irresistible, sometimes it comes home with me right then and there. If I find something intriguing I will go home and research it before placing an order online.
Buttercream Mohair Blend Yarn
Buttercream Luxe Craft Mohair Brushed from Joann was a tough purchase decision to make. It's primarily an acrylic yarn, but it's technically a mohair blend yarn, containing 10% nylon and 10% mohair. I was going through a phase where I was getting tired of high stitch definition yarns and loving some of the fuzzier fibers that provide a nice halo. I resisted and went home to research before purchasing.
In the end, I did purchase. In the store the yarn looked like it would provide more of a halo than I was seeing in the end projects on Ravelry. There was basically no halo at all from what I could see and I had clearly misjudged. However there was a softer look to the stitches and no major complaints from reviewers. I decided I should buy the mohair yarn, largely because I really loved the outcome of a single project I saw by ItsReallyRelle. Her botanical yoke pullover turned out beautiful!
Affordability of Buttercream Luxe Craft Mohair Brushed Yarn
Sold in large skeins, you get 5oz of Mohair Brushed for a regular price of $7.49/skein. It's a sport weight yarn, each skein contains a whopping 630 yards of yarn. That price sounds better now, doesn't it? It gets better, because Buttercream yarns are Joann store brand and go on sale for 50% off a couple times a year. For our price breakdown I'll use the standard 40% off price you can get any day with a coupon.
| Yarn | Price | Price/Yd |
| --- | --- | --- |
| 1 Skein Regular Price | $7.49 | $0.0118/yard |
| 1 Skein w/ 40% Discount | $4.49 | $0.0071/yard |
| Project | Reg. Price | Sale Price |
| --- | --- | --- |
| A Cowl (2 Skeins) | $7.49 | $4.49 |
| Small Sweater (2 skeins) | $14.98 | $8.98 |
| Large Sweater (4 skeins) | $29.96 | $17.96 |
When a sales price gets you a less than $0.01/yard, you know it's a budget yarn.
First Impressions of Mohair Brushed
Although we didn't find this mohair blend yarn to be itchy, it is not silky soft like many acrylic yarns are these days. It's always interesting to see how these types of traits translate from yarn to fabric. I hope you continue to check back and see how this yarn works up in a project; don't forget to come back to see our final review either!