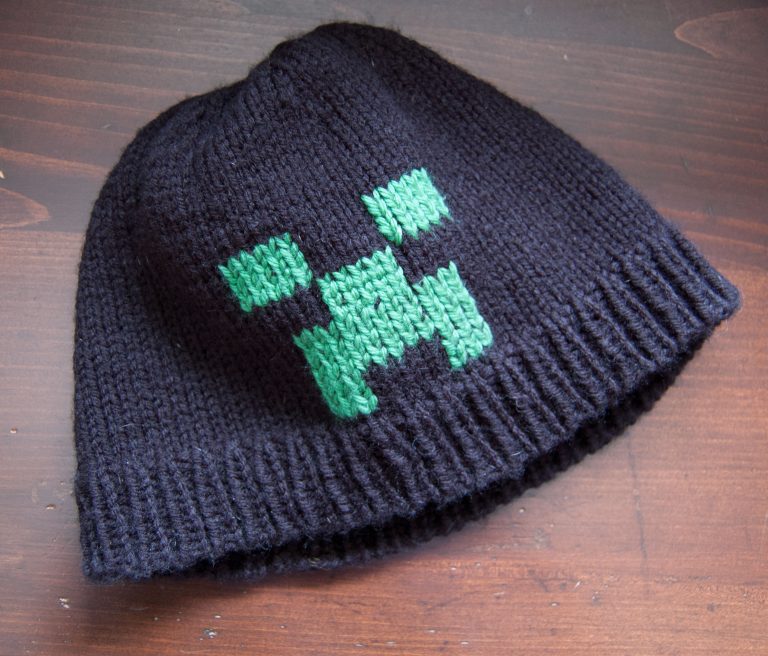 Creeper Beanie in Red Heart Heat Wave
Creeper Beanie in Red Heart Heat Wave
Ten years ago, the world of Minecraft was very different. Visually it hasn't changed much, but it wasn't being played on Xbox, on cell phones and it only came in one "flavor." My husband was an early player during his college days, long before it was purchased by Microsoft. After the purchase, the game went mainstream and fan base expanded significantly. Some statistics say nearly half of children aged 3-12 now play the game.
That said, I think you'd have to live under a rock to not have at least one Minecraft fan in your life. And that one Minecraft fan you do know would probably love a "Creeper Beanie". I know my husband loves the one I made for him. See the bottom of this post for a link to the pattern!
The Creeper Beanie Knitting Pattern
Alexandra Davidoff has put together a free knitting pattern (with a chart) for a Minecraft creeper themed beanie on Ravelry. Don't let the photos deceive you, this is not a colorwork pattern. The creeper face is stitched on after the beanie is completed. Alexandra has a great video outlining this technique, but it's essentially overstitching. I was reminded of my cross stitching days. Alexandra calls it the duplicate stitch technique.
The most accurate reproduction would be to have a green beanie with black stitching for the face. As an almost 30-something, I chose a more "mature" implementation for my husband by swapping the colors — black base, green stitching. I used my black Red Heart Heat Wave and some green Lion Brand Basic Stitch I had.
Knitting the Creeper Beanie
I have a recommendation for you when choosing your yarns. It may seem fine to pair whatever green and black yarns you have lying around. Double check to make sure your yarns are exactly the same weight. I don't mean both of them having a "4 – Medium" written on the label. Actually do your own gauge calculation with wraps per inch on a pencil and make sure they look identical.
Why am I making such a big deal about this? I learned first hand that if the yarn you are using for overstitching is thinner than the base yarn, the base hat color comes through. It looks a little sloppy. If your yarns are different weight, definitely use the thicker one for the duplicate stitches. You'll have much better results than I did.
My husband was still very pleased with the hat, and didn't notice the less than optimal stitching. But I will forever look at it and think I could have done it different. If I ever have a better green yarn come through my stash I will probably re-do the duplicate stitches. Since the stitching done after the beanie is complete, it is easy to re-do this should I choose to do so.
The Creeper Beanie is a very simple and straightforward free beanie knitting pattern, I hope you'll check it out and make one for the Minecraft fan in your life!
---
Featured in this Post