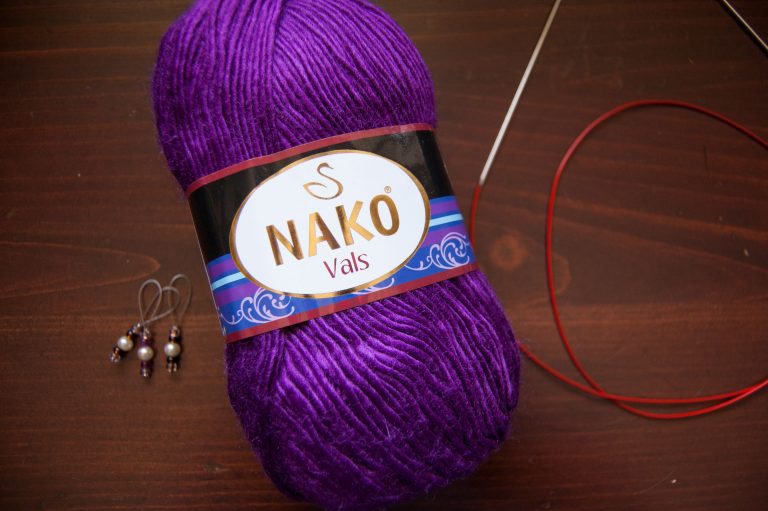 Nako Vals Lightweight Yarn Purchase
Nako Vals Lightweight Yarn Purchase
Before we get to talking about today's budget yarn, Nako Vals Lightweight, lets diverge a bit to current events.
You'd have to be living under a rock these days to be unaware of the novel coronavirus rapidly spreading throughout our country. As a resident of Washington state (where cases have been spreading since January) I've been self isolating since I myself fell ill on March 1st. Knitting, crocheting and shopping for yarn have been keeping me relatively sane as I only leave the house for necessary grocery trips (now that I've recovered – not spreading germs, promise).
PSA: Please, Stay At Home! COVID-19 Sucks
I want to make sure readers are aware that as I continue to post about yarn purchases, I am not actively out and about in my local craft stores. As of a week ago, all non essential retail stores are closed for browsing and you're only able to do curbside pickups or online orders. I recommend that everyone across the country, regardless of the number of cases in their states, utilize pickup methods that are already available through Michael's and Joann's to help minimize the spread of the coronavirus. You have no excuse to not utilize pickup methods when both stores offer special discounts just for pickup orders!
Joann even went so far as to offer flat rate $2.99 shipping two weeks ago, following it up with FREE shipping on any order over the weekend. Obviously I took advantage of this and got my yarn fix without having to leave the house.
Nako Vals Lightweight, New At Joann
I perused Joann's new arrivals in yarn and found Nako Vals Lightweight. Nako yarns is headquartered in Turkey and their "Vals Lightweight" is a DK weight acrylic yarn that looks like a roving. Vals Lightweight is the only Nako yarn Joann has, selling regularly for $4.99. I happened to find it on sale for 50% off so I had to try it, even if the Joann rating was an incredibly low 2.5 stars. The Ravelry rating is higher at 3.8 out of 5 so it was certainly worth evaluating.
Each skein of Nako Vals Lightweight has 262 yards, giving you a good amount of yardage for a lightweight cowl or scarf in a single skein. I ordered one skein in the "Damcon" colorway, which is a deep purple. Overall the colorways as they appear on Joann.com are quite vivid and lovely, so here is hoping the yarn ends up being a good budget buy.
| Yarn | Price | Price/Yd |
| --- | --- | --- |
| 1 Skein Regular Price | $4.99 | $0.019/yard |
| 1 Skein at 50% Off | $2.49 | $0.009/yard |
Project
Reg. Price
Sale Price
A Cowl (1 Skeins)
$4.99
$2.49
Scarf (2 skeins)
$9.98
$4.98
Small Sweater
(4 skeins)
$19.96
$9.96
First Impressions of Nako Vals Lightweight
Vals is so shiny and beautiful. The sheen gives it a metallic look that is so elegant. I hope it stays even after blocking/washing!
In the skein the yarn feels smooth and sleek. I think it will feel soft when worked up, but it is hard to say until I cast on those first stitches.
Vals is definitely a unique yarn. It don't think I've ever seen an acrylic with a roving look before, and definitely not one that looked metallic!
There is no doubt this yarn is affordable, but how will it perform? Check back to see how we use this yarn in a project and be sure you don't miss our final review!
Finally, stay healthy. Knit, crochet & craft and support your friends, family and neighbors during this monumental trial we are all going through as a nation.
Nako Vals Update April 2020:
I bought several more skeins of Nako Vals when Joann offered an amazing $1.50/skein price! Take a look at these gorgeous colorways.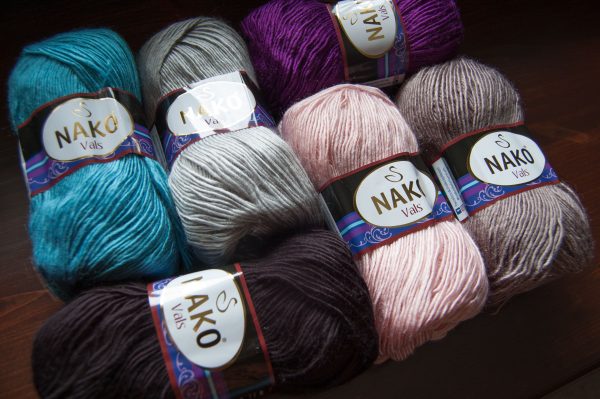 I think my Joann store is overwhelmed by all the online and pickup orders! My pickup was fast but my skeins were a bit squashed. They fluffed up just fine, but the ball bands didn't. 🙁
I've started a hat with this yarn (project post is coming soon!) and have been happy enough thus far. I bought these new skeins to knit some two color brioche cowls!
---
Featured in this Post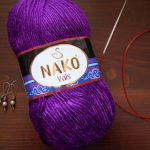 Vals is a roving style acrylic yarn perfect for those one skein hat projects. Find this yarn online at Joann.com!