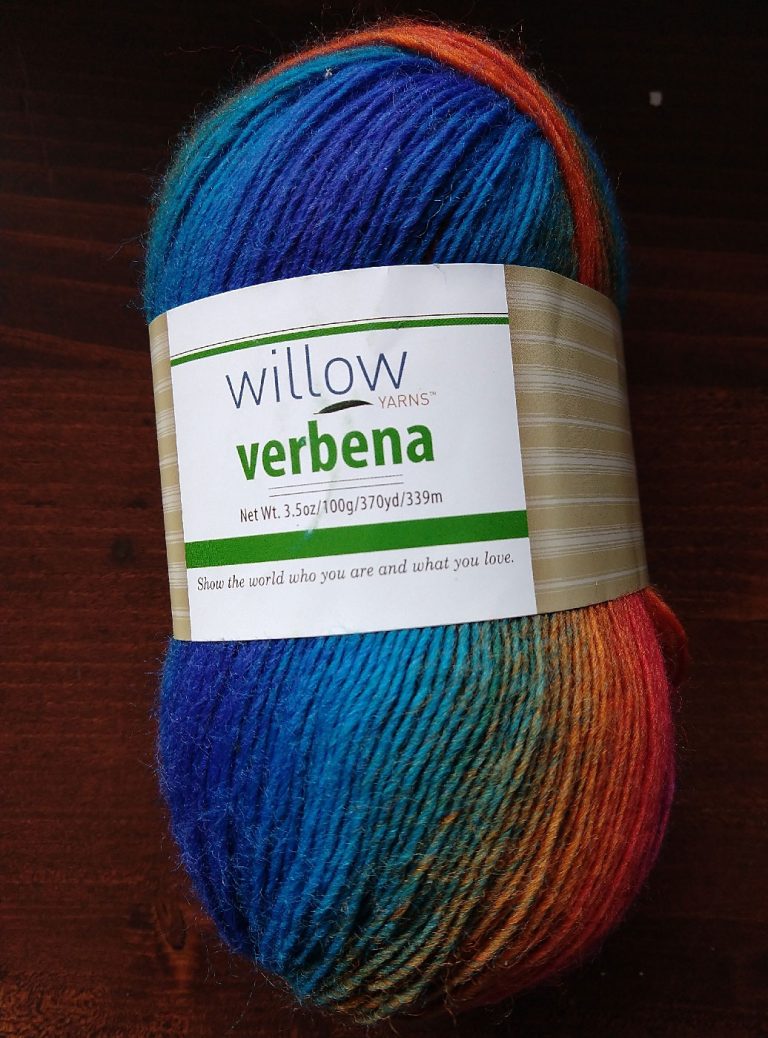 Willow Yarns Verbena Wool Yarn
Willow Yarns Verbena Wool Yarn
For Christmas this last year, I made my little brother a couple of beanies with some beautiful alpaca yarns from Blue Sky Fibers and Cascade yarns. Unfortunately the styles were not to his liking, so I offered to knit them up again in a style he would prefer. My brother (Zeke) is in love with alpaca and I wanted to make the hats work out.
As part of re-knitting his hats, I sent Zeke pattern links to gauge what he might like. One of the patterns I singled out, thinking I could re-use the sport weight Blue Sky Fibers Baby Alpaca, was the Alaska Hat by Camille Descoteaux. My brother loved the pattern. I just needed a similar sport weight gradient yarn to complete the pattern.
Finding Affordable Wool Gradient Yarn
The Alaska Hat pattern called for Knit Pick's Chroma Fingering. Not only was this not the right yarn weight, but I wasn't going to place an order at Knit Pick's just for a skein of Chroma. Not to mention Chroma was $12! Surely there was a budget pick out there.
I started by search by reviewing the sport weight yarns other Ravelers had used for the Alaska Hat. Jawoll Magic Degrade was gorgeous, but also expensive at $17/skein. Liberty Wool Light by Classic Elite Yarns, Nordly's by Viking of Norway — everything I was seeing was either too expensive for me or unavailable.
My next step was to search every retailer I could think of – Joann, Michael's, Webs, LoveKnitting and Herrschners – for gradient yarns. I was disappointed in the selection either because of price or materials. But then I found Willow Yarns Verbena yarn on Herrschner's.
About Willow Yarns Verbena
Verbena is a 75% Wool, 25% nylon yarn Herrschners classifies as a lightweight (3) yarn. Each 100g skein has 370 yards, retailing for a very budget friendly regular price of $5.99. The colorway Zeke selected (Jovial) is beautiful. It is brighter and more unnatural looking (for a sunset) than I would have chosen for myself, but I am excited to see how it plays out.
Instead of doing the usual price break down with project prices, I'm going to compare Verbena to similar gradient yarns. Since these yarns aren't all that common yet, I think this is a more valuable data point to consider.
| | | |
| --- | --- | --- |
| Willow Yarns Verbena | Price | Price/Yd |
| 370 yards/100g | $5.99 (Willow Yarns) | $0.016/yard |
| Knit Picks Chroma Fingering | Price | Price/Yd |
| 396 yards/100g | $11.99 (KnitPicks) | $0.030/yard |
| Lang Yarns Jawoll Magic Degrade | Price | Price/Yd |
| 437yds/100g | $16.99 (LoveCrafts) | $0.038/yard |
| Classic Elite Yarns Liberty Wool Light | Price | Price/Yd |
| 200yds/50g | $9.95 (LoveCrafts) | $0.049/yard |
Willow Yarn's Verbena is half the price of the other gradient yarns. I cannot say if this drastic discrepancy is due to the dying process, the wider variety of colorways or the quality of materials. We will evaluate this in our final review.
First Impressions of Verbena Wool Gradient Yarn
Now that the yarn has arrived, I'm able to tell you the yarn is lighter weight than Herrschner's says. I would consider it very very close to a sock or heavy fingering yarn. Verbena is certainly thinner than my sport weight alpaca yarn so I will have to find a different pairing. Verbena is loosely plied and more like a roving yarn. However, I am happy with my purchase of Verbena thus far and will report back as to it's quality. Stay tuned to see how our Alaska Hat turns out!
Update January 2020:
Since my quest for a gradient yarn, Michael's has jumped on the bandwagon and made some gorgeous wool gradient yarns available in their online store (they do not appear to be carried in stores). Marketed under store brand Loops & Threads, they are offering multiple sizes with their Washable Wool Blurred Lines, Striped Wonder Wool and Washable Wool Stripes.
---
Featured in this Post