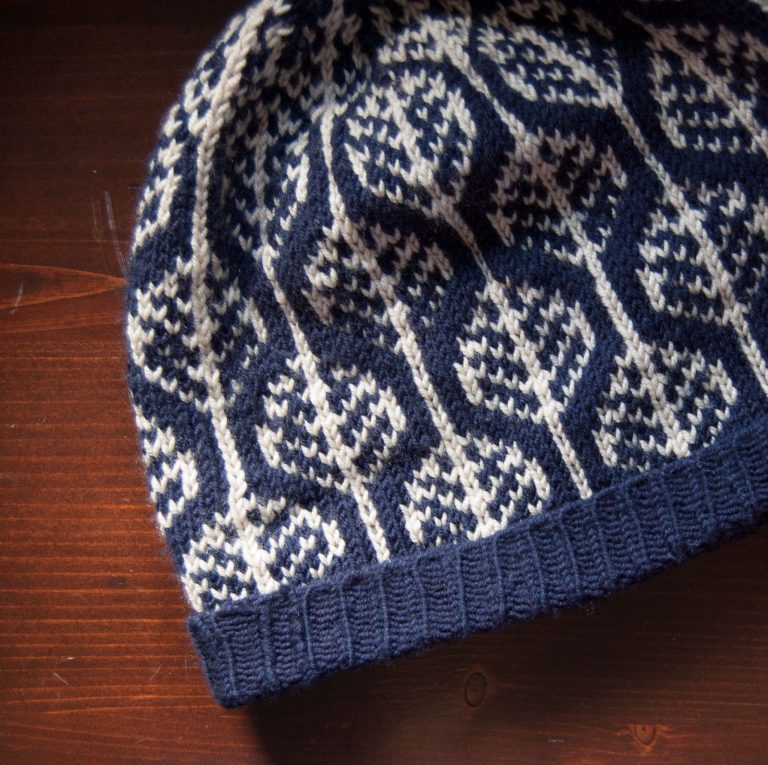 Colorwork Hat in Lion Brand Superwash Merino and Lighthouse Plume
Colorwork Hat in Lion Brand Superwash Merino and Lighthouse Plume
It's no secret that I purchase yarn faster than I use it. I bought some Lighthouse Plume six months ago and never thought I'd be pairing it with the Lion Brand Superwash Merino I bought last month. I mention to be clear that the colorwork hat pattern we knit was not planned in advance. This may not have been the perfect combination of yarns.
Don't get me wrong, I am very pleased with this colorwork hat, but as with everything in life, there is always room for improvement. Take this opportunity to learn my from limited colorwork experience!
Picking Your First Colorwork Knitting Pattern
Mastering colorwork has long been a goal of mine, but my love for sweaters has taken priority in my knitting life thus far. With a new year beginning, I decided it was time for that to change and I started reviewing candidates for my first colorwork project.
The easiest way to start with colorwork would have been to use a worsted or aran weight yarn. With any knitting you want to learn, starting with a bulkier yarn is going to be the easiest introduction. Your projects will move more quickly and it is often easier to see the position of your stitches. Being visually OCD, I don't like the look of many worsted weight colorwork projects. The decreased detail of worsted colorwork designs just don't appeal to me.
And I digress into a rant on colorwork detail…
If you'd like an example of how yarn weight affects detail, think of the evolution of digital photographs. Older cell phones and digital cameras had lower resolutions which had fewer pixels per inch. These photos probably looked great on your device, but started to look pixelated on larger screens like your computer. As photo resolutions got better (more pixels per inch), everything started looking more crisp and clear. In the case of colorwork, the yarn is like your pixel. The larger the pixel (yarn), the more grainy the image would appear. As your pixels (yarn) get smaller, the photo becomes crisp and clear.
If you're not a technical person, that example may hurt more than help so I apologize. Point is, I wanted to find a beginner colorwork project with a finer yarn because I've got standards. But I was fully aware a fingering weight yarn would be far too ambitious for my first project. Sport or DK weight yarn became a primary criteria.
… Now back to colorwork hat pattern selection!
There are colorwork projects that utilize three, four and even five colors at a time, which is too ambitious for a beginner like me. I targeted two yarn colors and found the amazing, free pattern "as the leaves begin to fall" by Eliza Jarvi. See the bottom of this post for a link to the pattern. If you look through projects on Ravelry you can see all the gorgeous implementations of this pattern – gradient yarns for the leaves, heathered yarn backgrounds, etc.
After identifying which projects spoke to me, I decided to make a hat with solid colors in a high contrast. I didn't want anything too bright or out of the ordinary for such a natural, elemental pattern. I settled on the tan Lighthouse Plume for the leaves on a background of navy Lion Brand Superwash Merino.
Yarn Selection for Colorwork Patterns
You may recall from my posts of these yarn purchases that the Lion Brand Superwash Merino is 100% Superwash Merino. It's soft, squishy and overall a lovely yarn. The Lighthouse Plume is 50% wool, 25% acrylic, 20% nylon and 5% other. It's an equally lovely yarn, but the differences in fiber content made a difference in the end result of my colorwork hat.
As I was knitting the hat, I was aware that the differences in fiber content was having an effect on the fabric. I'm a tight(er) knitter, and I realized that my yarn choices meant I had to be extra conscious of my tension. To keep the fabric from bunching, I had to err on the loose side with the Lighthouse Plume because it had more stretch and less resistance. For my first colorwork project, I think I handled the differences well, but as a result you can see where some of my tan stitches just aren't as defined and even as they could be, even after blocking.
When at all possible, try to use the same yarns when doing colorwork. At a minimum, make sure you are working with the same fiber contents and similar ply.
I highly recommend this pattern to both colorwork experts and novices. It's beautiful, straightforward and easy to follow.
---
Featured in this Post