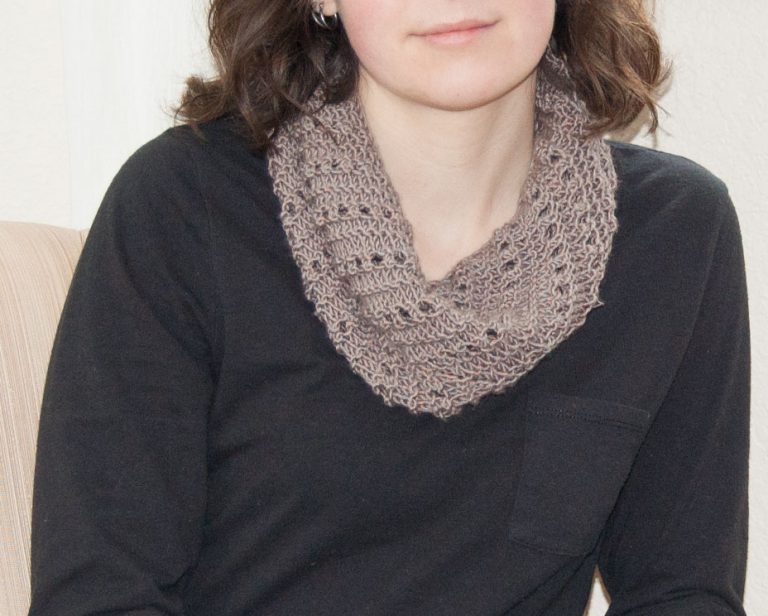 Free For All Cowl in K+C Smooth
Free For All Cowl in K+C Smooth
Ever since the day I bought my K+C Smooth acrylic yarn, I'd been puzzling over the perfect project to test it out. I wanted to fully utilize the (2) skeins that I bought. Unfortunately, you can only do so much with 426 yards of acrylic yarn. Well, before my sister had her baby that is. After much searching, I found the Free for All Cowl by Jennifer Peck, designed to use as much of a single skein of worsted weight yarn as possible. You can find the link to this pattern at the bottom of today's post!
About the Free for All Cowl
As I mentioned above, the Free For All Cowl is designed to use as much of a single skein of worsted weight yarn as possible. This same design feature also allows you to use a single skein of fingering weight yarn held double. Only one size is available for this pattern, but it is definitely easy to customize. Want to make it wider? Just cast on additional stitches in multiples of four.
Looking at this cowl, you might guess that it was worked in the round. But then you'd look at the "arrow" like shape of the pattern and wonder how! The secret is that this cowl is worked flat and seamed together. By using a provisional cast on at the beginning of the project, you complete the cowl by joining live stitches with the Kitchener stitch.
For this same reason, it would be very easy to use this pattern to make a scarf. In fact, you could convert this to a wide variety of items that are generally worked flat. The back side isn't as gorgeous as the front, but it is certainly attractive enough to be a scarf!
Jen did a great job creating a well written pattern. Honestly, the quality of the end product and detail of the directions are worth paying for! But surprise, this pattern is 100% FREE. If you like this pattern, you can support Jen's work as a knitwear designer by buying her coffee on Ko-Fi.
Knitting the Cowl with K+C Smooth
I loved the texture and drape I saw in all the pattern photos for the Free For All Cowl. Looking at other project photos, I could see that all the cast ons worked in basic acrylic yarns just didn't quite have the same look. They were all lovely, but the texture was just different.
After swatching K+C Smooth for my durability testing in the Ultimate Acrylic Yarn Comparison, I knew that Smooth had a much better drape than your standard acrylic yarn. As a micro-acrylic, it was also supposed to be more breathable than most acrylic yarns. Both these characteristics seemed just right for making the Free For All Cowl.
There were lots of k2tog, kfb & ssk's in this pattern. If I had been using a roving style yarn for this project, I probably would have been cursing. I tend to experience the most splitting during these types of stitches. It immediately clues me in to how much I am going to like working with a yarn. Much to my satisfaction, K+C Smooth handled every stitch that came it's way.
Support Jen & Knit the Free For All Cowl!
I highly recommend this pattern to anyone looking for an eye catching, yet simple cowl. The most challenging part of this project was hands down the Kitchener stitch join at the end. If you've not yet tackled the Kitchener, there is no need to be intimidated! The directions for doing so are clearly written within the pattern. And there are many YouTube videos to help you out as well.