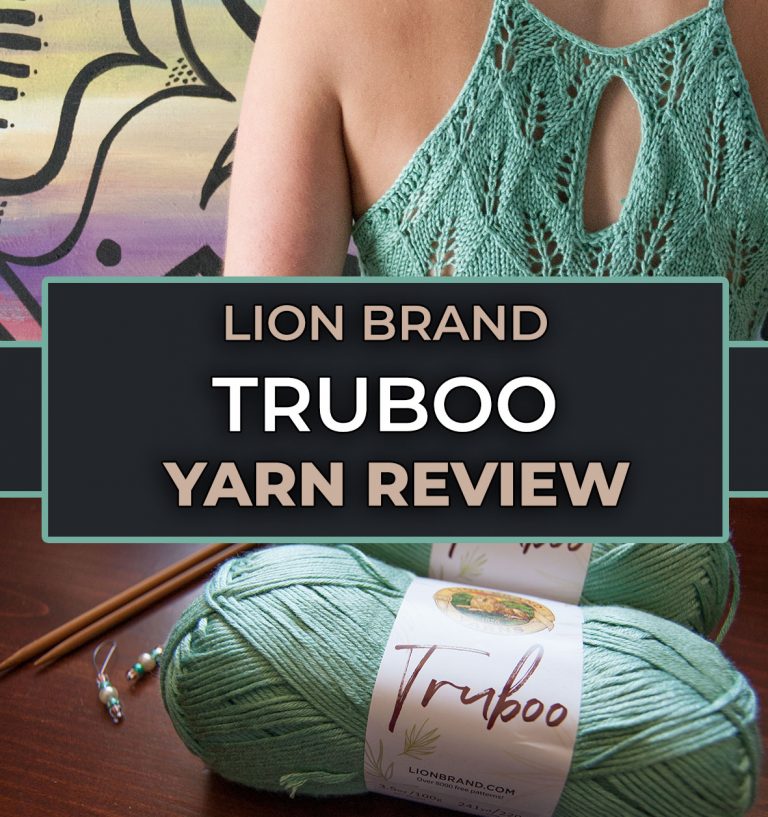 My Complete Lion Brand Truboo Yarn Review
My Complete Lion Brand Truboo Yarn Review
I'd like to interrupt all of my regularly scheduled yarn comparison posting to bring you the long overdue Lion Brand Truboo yarn review! Yarns often get discontinued so fast, but this super soft bamboo yarn is still going strong. Introduced in spring of 2020, Truboo has survived to a second summer. Lion Brand even released a new variation, Truboo Sparkle! But is it worth buying? Let's find out.
Availability of Lion Brand Truboo
Lion Brand Truboo achieved enough popularity in the last year that it is quite easy to find! Not only can you find it at your go-to craft stores, but even Walmart sells 3 skein value packs on their website. These value packs generally run about the same price per skein as a 25% off sale at your craft store. If you can't find a sale at Joann, then check Walmart before paying full price!
If you read Lion Brand Truboo yarn reviews on Michael's or Joann's website, you'll see that there are lots of complaints about this yarn being splitty. Additionally, the slippery nature of Truboo was another common complaint. Combining my own experience and the reviews of others, I will say that Truboo is definitely workable with the right tools and some patience.
Truboo Bamboo Yarn Workability
I knit my Wheat Top in Lion Brand Truboo using my trusty stainless steel Chiaogoo Interchangeable Knitting Needles. I did drop a few more stitches than I normally would because of slipping and sliding. But I personally did not think it was unbearable. If I hadn't left plenty of room for all of my stitches, I might have felt differently! If you buy this yarn and decide it is too slippery for you, trying wood or bamboo needles will certainly help with this problem.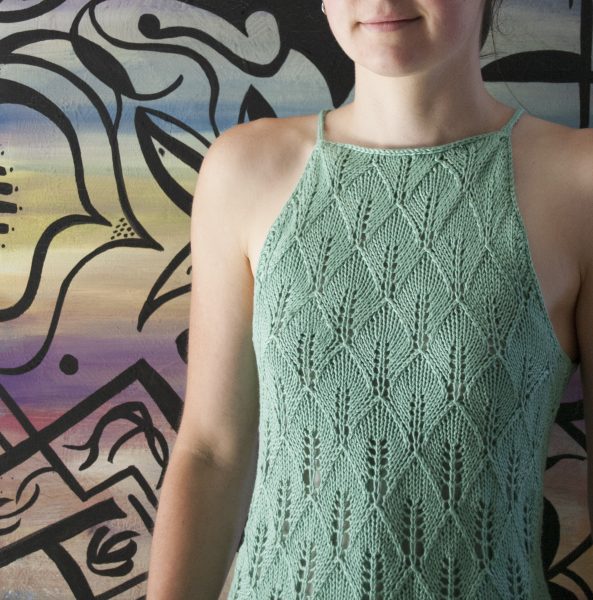 When it came to splitting, I had zero issues. But Chiaogoo tips are very pointed which may have alleviated this problem for me. I would highly recommend using a really high quality set of knitting needles like Chiaogoo when knitting with Truboo. As with any yarn, the right needles can make a world of difference!
Oh, and you aren't going to win any knitting races using this yarn. One of the reasons I may have had little issue working with this yarn is I was taking my time, paying close attention to the lace pattern in my knitting project. I by no means was going at a turtle's pace (I knit continental style after all), but I definitely wasn't practicing my speed knitting. Lion Brand Truboo survived many yarn overs, k2tog's and plenty of frogging to fix mistakes!
I didn't crochet with Lion Brand Truboo. However, I can absolutely imagine this yarn being difficult to crochet, especially when wrapping for double crochet, etc. Choosing the right crochet hook style (read up on Bates vs. Boye style hooks) may make all the difference.
Before we move on, I will say that this yarn will NOT be easy for a beginner to use. Once you are very comfortable holding your yarn and managing the "coordination" of your craft, then give Truboo a try.
How soft is Lion Brand Truboo?
The softness is what really sells Lion Brand Truboo to the average crafter. You have plenty of people who are all over this yarn because of the sustainable nature of bamboo fibers. But the plain hard truth is we can't resist how soft this yarn is!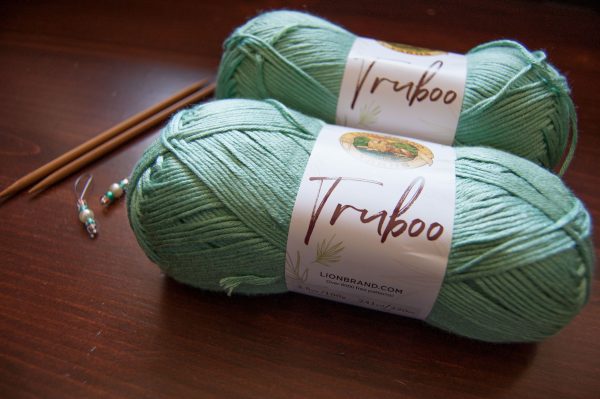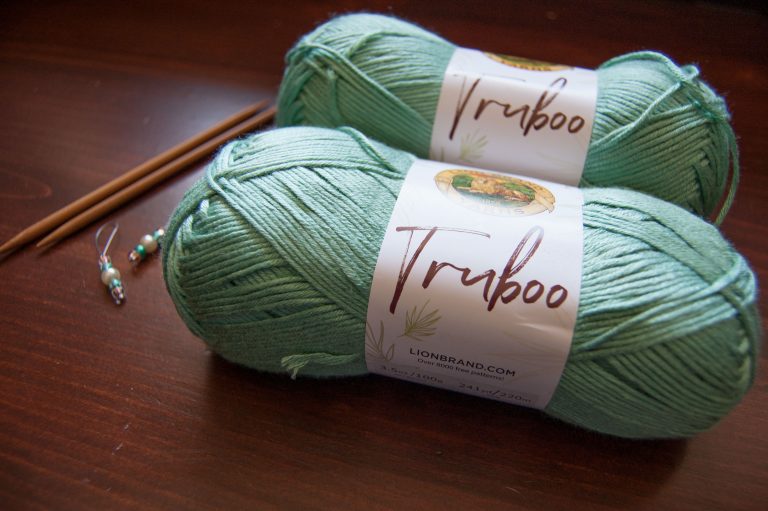 I happened to buy this yarn during the early stages of 2020 COVID restrictions. I did not have the pleasure of feeling Truboo before buying. It's a good thing I didn't, or I would have bought far more yarn that I should have! Already soft in the skein, this bamboo yarn feels even softer after you've knit it up. And that's the point where you will see the amazing drape and start swooning over that next. Spoiler alert: the outcome of the Truboo Yarn Review is DEFINITELY favorable.
Durability of Truboo Yarn
My biggest concern when I bought Truboo was it would not be durable. I saw the end of my skein beginning to fray from the beginning and assumed the worst. After performing the same wash test I used in the Ultimate Acrylic Yarn Comparison, I was pleasantly surprised!
My wash test requires knitting a swatch and tossing it in my laundry week after week. I don't give the swatch any special treatment. It gets washed loose with all my other clothes and even goes through the dryer. Once the swatch has been laundered 15 times (approximately one season of normal washing), I make a judgement.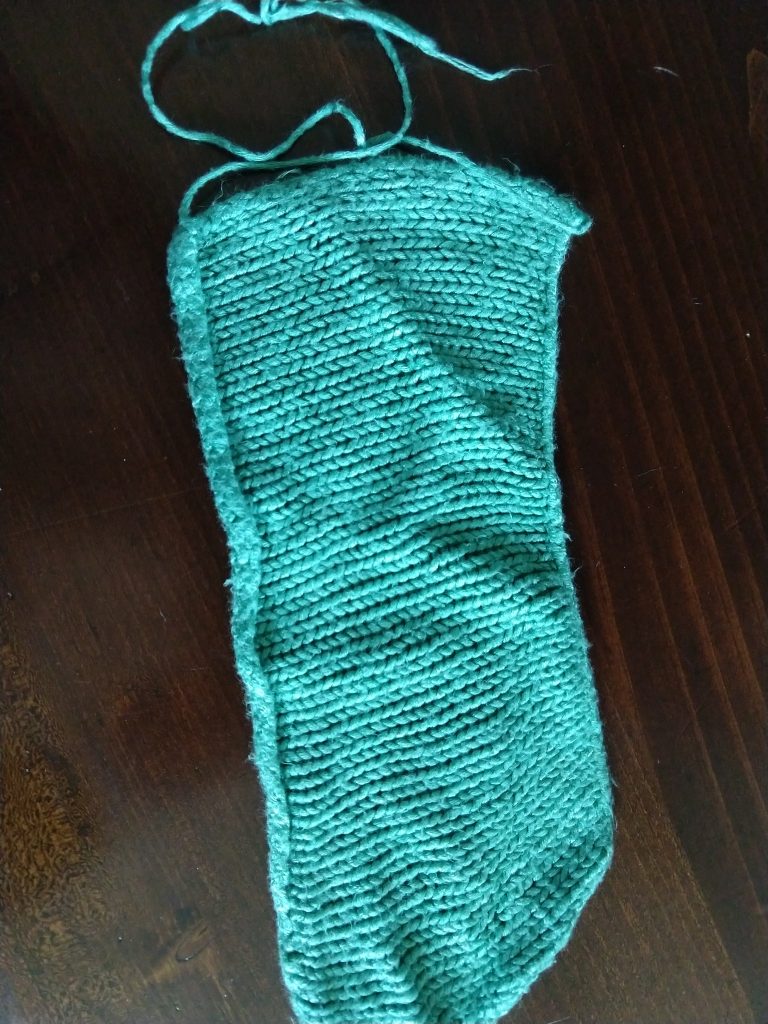 In the case of Lion Brand Truboo, it held up better than I expected! It actually looks quite fresh! You can click on each image to view a larger version. The edges of my swatch fared the worst and small pills did begin to form across the surface. With proper laundering in a garment bag and drying flat, I expect Truboo to hold up for some time.
Update February 2022: After being contacted by a lovely Budget Yarn Reviews reader, I would like to mention that I knitted my Truboo swatch with stainless steel knitting needles. If you are using bamboo or wood needles that don't have such a smooth surface, this may create additional wear on the yarn. I feel it is important to mention this since I have called out Truboo as a slippery yarn that may be easier to work if using wood or bamboo needles.
It is impossible to know how this may affect long term durability, but my reader stated that the appearance of her project was fuzzier than the photo above. As always, there are a wide variety of factors that can contribute to your experience with a yarn… from the shape of your needle tip to whether or not you pre-wind your yarn and use a yarn bowl. I try to make readers aware of as many of these factors as I reasonably can, and appreciate hearing about your own personal experiences.
Concluding the Truboo Yarn Review: Would I Buy Again?
The easy answer to this question is: Yes. I actually have bought it again already! Not a significant amount, but I did just buy two skeins of the new Truboo Sparkle. I plan on frogging my Wheat Top (due to a fit complaint), and knitting a basic striped tee with my reclaimed Truboo yarn and the new Sparkle.
It's really hard to say no to the softness and the drape of Truboo. And the durability isn't half bad either.
The only thing preventing me from buying this yarn in mass quantity is the price per skein. It's actually quite reasonably priced, but it's not cheap enough for me to buy just for the sake of having. Once I have the perfect project picked out I will absolutely be buying more.
Have you tried Lion Brand Truboo? Share your own short Lion Brand Truboo yarn review, workability tips & tricks and more in the Budget Yarnaholics group on Facebook!
---
Featured in this Post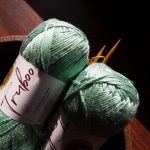 You can find Truboo and the new Truboo Sparkle at LionBrand.com, Joann, Michael's and more! Looking for a Truboo knitting project idea? Check out the gorgeous Wheat Top I made and check back soon for a pattern curation post.