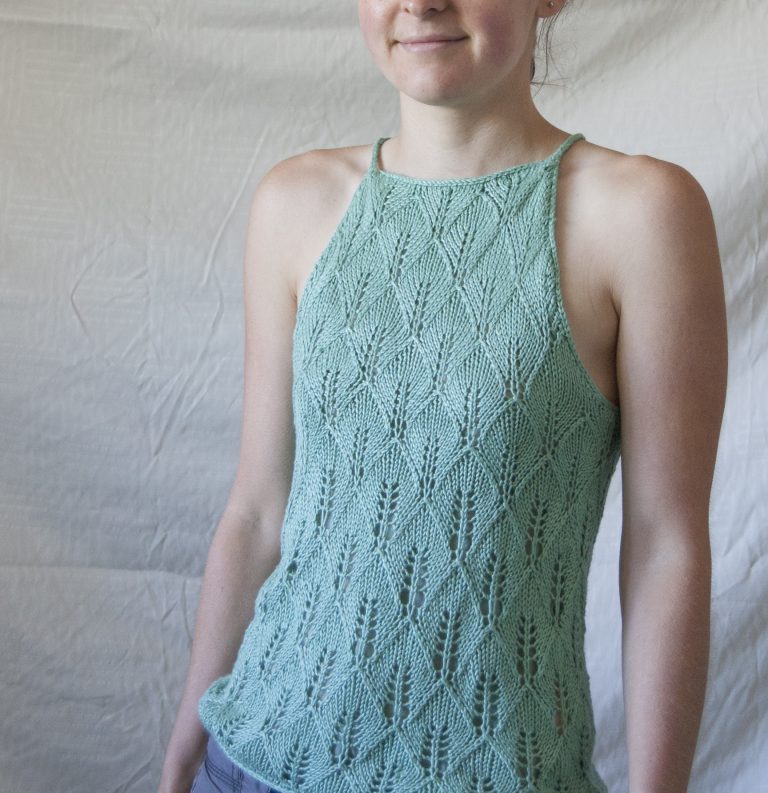 The Wheat Top: A perfect Lion Brand Trueboo Knitting Pattern
The Wheat Top: A perfect Lion Brand Trueboo Knitting Pattern
After about five and a half years living in the Seattle area, I've just about had it with humidity. Yes, I know there are more humid places I could live. But as a Colorado native, I am used to surviving dry summers. Even when it gets hot, your clothes rarely stick to you and you never feel drenched unless you're performing a hard day's work.
I've decided the only way to survive the PNW weather is to wear fewer clothes and lighter weight clothes. When I found Lion Brand Trueboo, it seemed like the perfect opportunity to knit up something lightweight and breathable to survive yet another humid summer.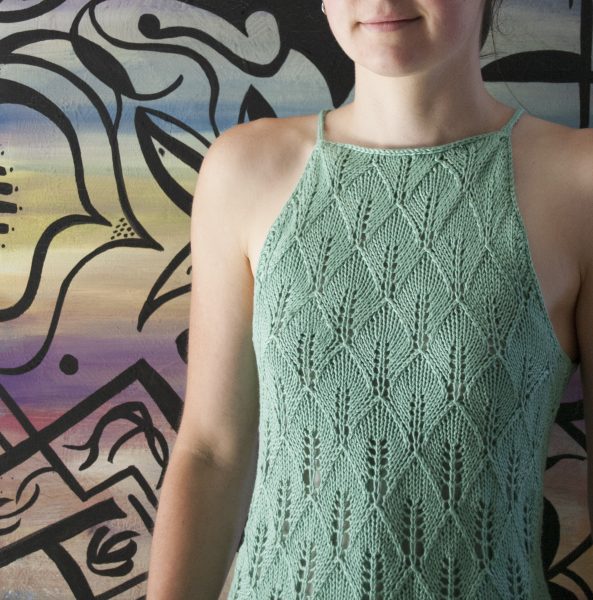 As icing on the cake, I found the Wheat Top by Lina Lovdal – a super cute summer tank pattern. If you'd like to try simple lace knitting, this might be a great project for you this summer. And as far as I'm concerned, this is the perfect Lion Brand Trueboo knitting pattern! A link to the pattern is available at the bottom of today's post.
The Wheat Top is the PERFECT Summer Lace Knitting Pattern
Before I get into the actual project, I wanted to give you an overview of the pattern as a whole. I stumbled upon it as it was being revised to have a tighter lace pattern over the front bust area. The change from the regular chart is so very simple that Lina (the pattern designer) honestly didn't have to include extra charts, but she did. The pattern is very well organized and is well laid out. There are even charts for transitioning between each variation at the underarm!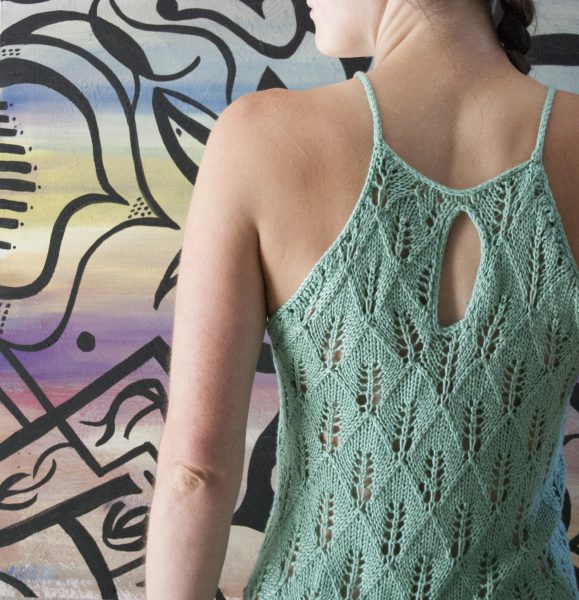 Wheat was originally written in Norwegian, and the English translation is just fine, with only a few places that read a little funny. One of the most confusing parts of the translation was the comma notations! In case you didn't know (I always forget), most of Europe uses a comma as a decimal separator. Those of us in the U.S. use a period instead. In the pattern where it is said to repeat the pattern for 1,5 (2) 2 (2) 2 times, an American designer would typically write that as 1.5 ( 2, 2, 2, 2) instead.
And for those of you who are having a hard time finding #sizeinclusive patterns with busts less than 32″, you are in luck. The size x-small is a petite 29″ around! You will have do a little math once you have your gauge figured out to make sure the top will fit as you hope. I shot for a very small amount of negative ease at the bust and tried to knit between sizes x-small and small.
Modifying the Wheat Top Lacework
After working a single pattern repeat of the Wheat Top as written, I frogged it and started over. I felt that the eyelets created by the yarn overs were a bit too large for my taste. How could I make them smaller?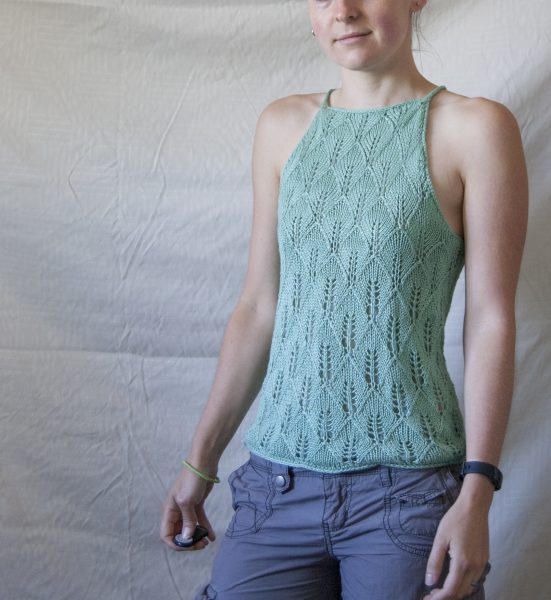 As I mentioned above, Lina had already come up with a way to make the eyelets smaller around the bust area. Her solution was to knit the yarn overs through the back loop. I could have made this simple change for the entire top, but I did want to keep the visual differentiation. Not to mention I had no idea how a global change like that would affect my required yardage! I already knew I was going to play yarn chicken with this top, targeting a size between XS and S with only 482 yards of yarn!
After some quick googling on lace knitting tips, and I learned that you can make yarn over eyelet's a bit smaller by wrapping your yarn from back to front instead of font to back. I repeated the first few rounds a second time with this simple change. Voila! The eyelets were much smaller and more to my liking. I kept with this method of "yarning over" for the entire top, even when knitting through the back loop for the bust area. It worked perfect!
The top is gorgeous as designed, but for extra modesty I also chose to sew a fabric panel inside the front of the top.
Lace Knitting with Lion Brand Trueboo yarn
From the git-go, I'll tell you that if you don't like slippery yarn, Lion Brand's Trueboo may a yarn to avoid. I personally didn't mind it, even on stainless steel needles. But I did find myself accidentally dropping stitches a bit more than usual.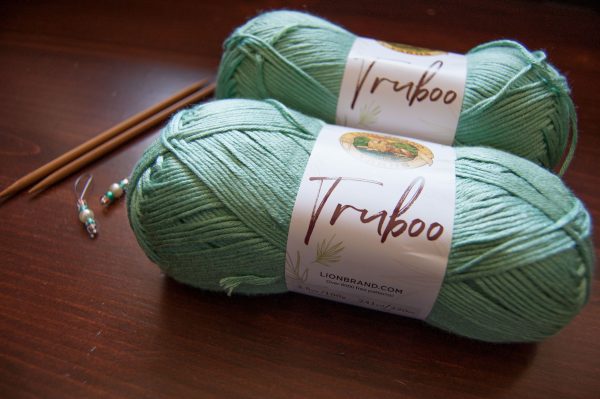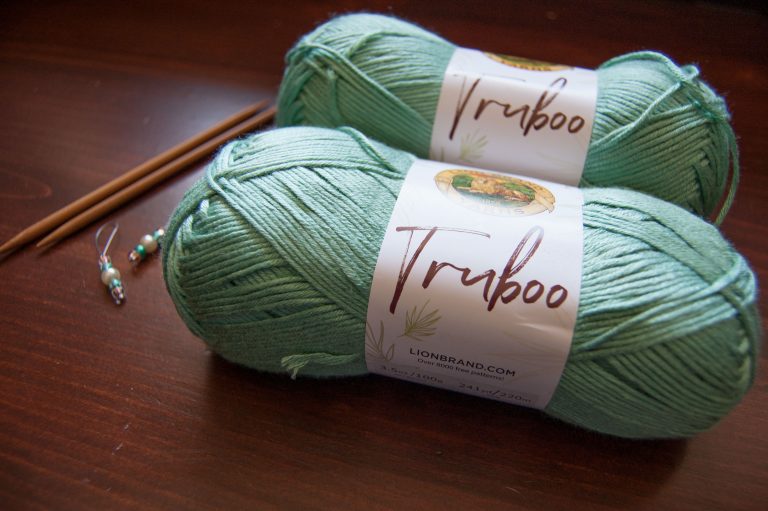 A simple solution to dealing with slippery yarns is to switch to wood or bamboo needles. The few I do own (straights & dpns) frustrate me so much I've never bothered to buy an interchangeable set. As a tight knitter, it's just too much extra resistance. I'll take slippery instead.
When I started knitting the top for the second time, the yarn started shedding small fibers for a little while. I had a very lightweight fuzz that was sticking to my hands, although it wasn't incredibly visible. I'm not entirely sure if it was just one part of the skein that had some residue on it. I also wondered if the fiber dusting was the result of my frogging.
I haven't noticed any shedding since, but I am curious to see what happens when it comes time to wash my top. Stay tuned for the final Lion Brand Truboo yarn review to find out how it goes!
---
Featured in this Post