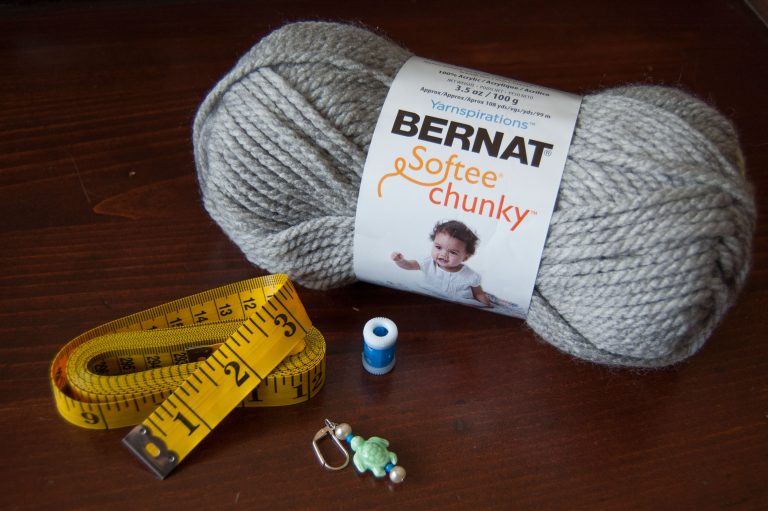 Bernat Softee Chunky yarn
Bernat Softee Chunky yarn
Bernat Softee Chunky is a contender in the Ultimate Acrylic Yarn Comparison! Bernat is primarily known for their polyester blanket yarn, but the acrylic Softee Chunky is also a well loved chunky yarn. It seemed like an appropriate candidate to include! Learn more about the yarn comparison here.
Most of my readers will probably be familiar with Bernat's ultra popular Blanket yarn. The soft polyester, chenille yarn is absolutely amazing for cozy blankets. But Bernat has another bulky weight yarn that is great for home decor projects as well: Bernat Softee Chunky. Today we'll dive into the details of this bulky acrylic yarn!
Details of Bernat Softee Chunky Yarn
Each 100g skein of Softee Chunky contains 108 yds of acrylic goodness. This super bulky yarn is recommended for knitting on US 11 needles or crocheting with a US L crochet hook. But if you look closer at the label (where a free pattern is included), you'll see this yarn works up nicely on even larger US M/13 needles too.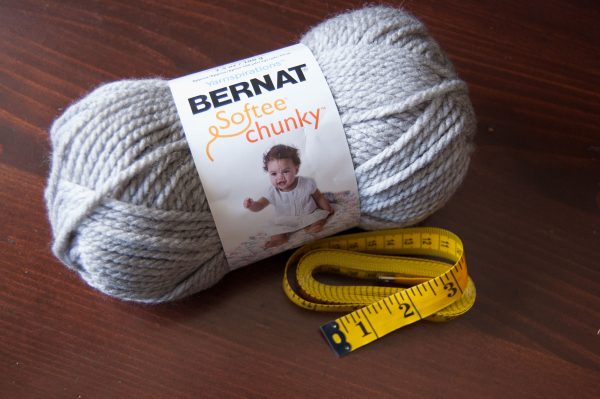 Many of the acrylic yarns I've been posting lately are no dye lot yarns, but Softee Chunky is not one of them. This yarn is dye-lotted so be sure to buy enough for your project from the get-go! Once you've turned your yarn into a blanket (or chunky sweater, or oversized scarf….), it is absolutely safe to machine wash and dry your finished piece.
Affordability of Softee Chunky Yarn
Bulky yarns don't have the greatest price per yard, for the obvious reason that you get less yardage in your 100g skeins. With only 108 yards, a regularly priced skein costs as much as $0.046/yard! Fortunately it is very easy to find this yarn at a sale price. I've often seen it sold for $2.99/skein at Michael's stores and this is the price I'll be using in today's breakdown.
| Yarn | Price | Price/Yd |
| --- | --- | --- |
| 1 Skein Regular Price | $4.99 | $0.046/yard |
| 1 Skein Discount Price | $2.99 | $0.027/yard |
| Project | Reg. Price | Sale Price |
| --- | --- | --- |
| A Scarf (2 Skeins) | $9.98 | $5.98 |
| Bulky Sweater (6 skeins) | $29.94 | $17.94 |
| Blanket (10 skeins) | $49.90 | $29.90 |
This is still pretty expensive, so allow me to let you in on a little secret. They have started selling Bernat Softee Chunky in an economical big ball! There are only a few colorways, but Michael's sells 400g skeins (431yds) for only $9.99! That is a REGULAR price of $0.023/yd and if you use a 40% off coupon you can pay as low as $0.013/yd. Talk about a steal!
First Impressions of Bernat Softee Chunky
I first bought Softee Chunky last fall. So bear with me as I try to recall my true first impressions and reconcile them with my thoughts comparing this yarn to other popular acrylics.
I ordered my skeins online because I REALLY wanted to take advantage of a sale price (huge deal when you're making a blanket!). I was not able to feel the yarn before purchasing. When the yarn finally arrived, I distinctly remember thinking that for being called "Softee" the yarn isn't very soft. It is soft enough that I was not deterred from buying additional skeins to make a Chistmas sweater for my foster dog, Albus. But by comparison to something like Bernat Blanket or any of the other yarns in my Ultimate Acrylic Yarn Comparison, it ranks low on the list for softness.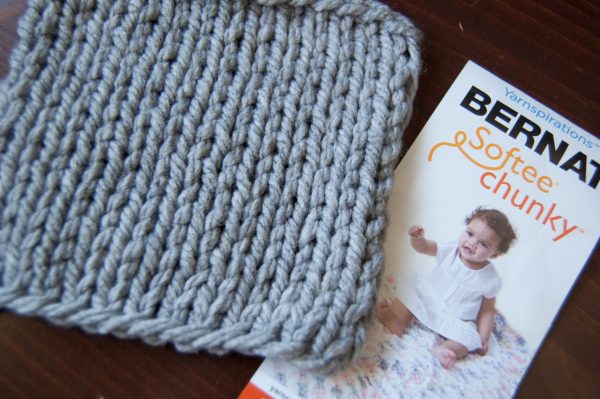 Bernat Softee Chunky is a good yarn for beginning knitters. It is easy to knit and does not split. But I would caution makers who struggle with hand fatigue like I do. I have yet to finish the blanket I began with Softee Chunky. It only a takes a few rows before I can't go any further, but I plan to try using wood needles to see if this alleviates the pain.
If you crochet, you won't have to worry so much about any pain or fatigue. Softee Chunky is great for crochet, working up extremely quickly and easily. Just make sure you have the right size crochet hook! Thanks to the pandemic, it took me awhile to find the right size crochet hook for this yarn.
Have you used Bernat Softee Chunky? Share your experiences in the Budget Yarnaholics group on Facebook!
---
Featured in this Post