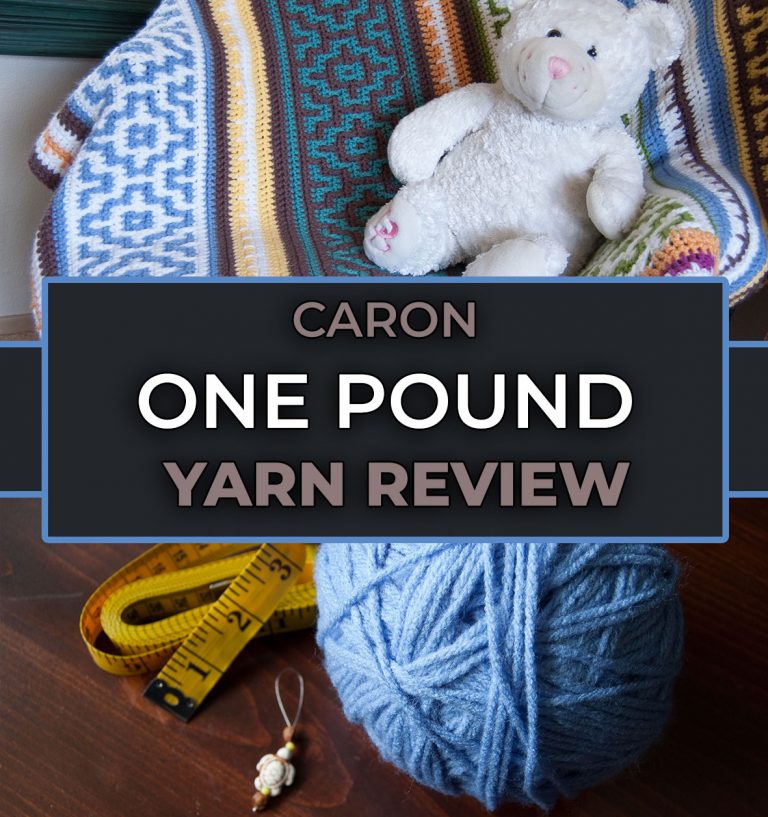 Caron One Pound Review – My Official Conclusion
Caron One Pound Review – My Official Conclusion
Even though the charted results of the Ultimate Acrylic Yarn Comparison are in, I feel it is important to write a detailed review of each yarn after I've had a chance to use a significant amount of it in a project. Even though I did a significant amount of swatching for the comparison, sometimes you just have to use a yarn in a project to really know what the verdict is. So today I have the official Caron One Pound review for you!
Availability of Caron One Pound
One of the nicest things about Caron One Pound yarn is how easy it is to find! This yarn is available online from Yarnspirations, LoveCrafts and your local craft stores. But it is just as easy to find in store at both Michael's and Joann's. When ranking the availability of this yarn in the Ultimate Acrylic Yarn Comparison, I gave it the maximum 10 out of 10 because of how easy it is to find. Not to mention you'll see sales on this yarn regularly! Click any of the logos below to find this yarn at your favorite store.
Workability in Knit & Crochet
If you've been on my blog before, you know that I have hand fatigue and pain when working with budget yarns. Anything even remotely stiff or bulky will have me setting down my needles after only an hour. Normally I can knit for hours at a time without issue.
I regret to say that Caron One Pound is one of those thicker, stiffer yarns I do not enjoy knitting. It's also not very soft compared to many other acrylic yarns. These are a few of the reasons that I gave Caron One Pound a 4/10 score for workability.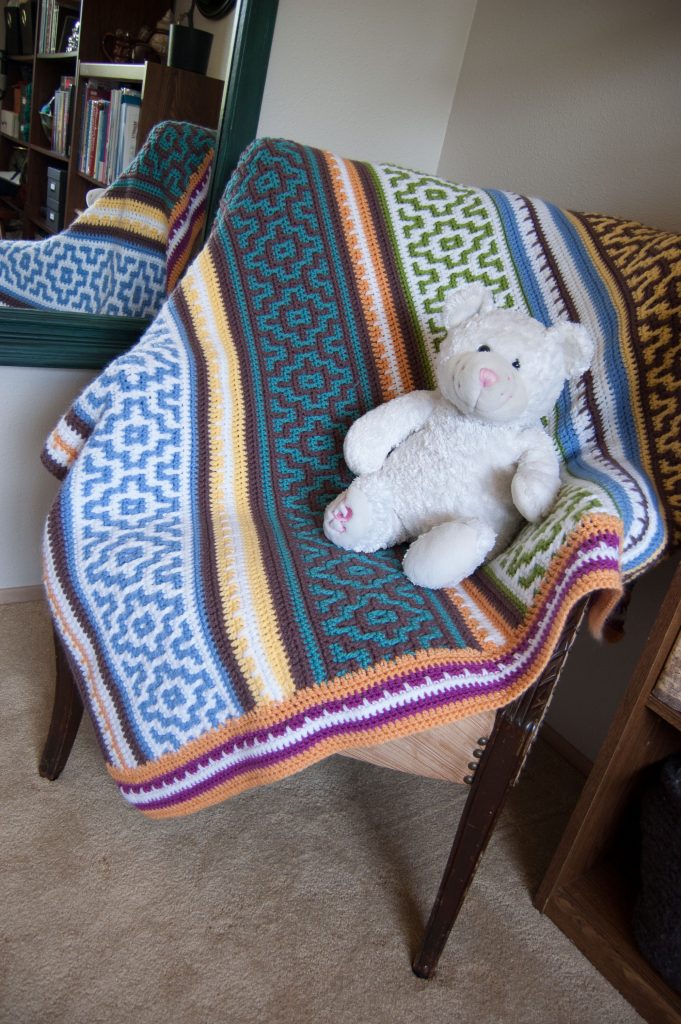 With a full project under my belt, I will say that the fatigue and workability isn't as bad when crocheting. Knitting is a different story. I used my partial skein of One Pound (which is a LOT of yarn….), in the Nya Mosaic Crochet Blanket. If I had to provide an explanation for why it is easier to use when crocheting, it would be because crochet keeps just a single stitch on the needle at a time. When knitting, you have multitudes of stitches on your needles. This creates extra weight and tension that absolutely contribute to the low workability.
Although I still stand by my overall score 4/10 for workability, I will say that if you are a crocheter you will find this yarn acceptable to use. But I'm sure if you tried other yarns in the comparison with a higher score, you will like them more!
Softness (or Wearability)
I briefly touched on softness in the above paragraph, but lets talk about this in a little more detail. I gave Caron One Pound a 3 out of 10 for yarn softness, which is the lowest rating I provided in the comparison. This is a tie with Loops & Threads Impeccable, which I also found to be rougher when compared with other acrylic yarns (even after washing).
Although washing does soften both of these yarns to an acceptable level, they are nothing special. You may have used Caron One Pound before and thought that it was plenty soft. However, when comparing side by side with other acrylic yarns, you come to see EXACTLY what this yarn is lacking. And trust me, this is not an opinion that is just my own — my husband agrees! He assisted me in ranking all yarns for softness and he too was not a fan of Caron One Pound.
Softness is a personal preference. If you have used Caron One Pound before and found it met your standards, then do not let me deter you! But I would recommend you try the yarns I ranked as being softer, because you will LOVE how they feel.
Is Caron One Pound Yarn Durable?
Durability was one of the most interesting metrics in the Ultimate Acrylic Yarn Comparison. To test durability, I washed every swatch for 15 washes (about one full seasons worth of wear for a sweater). At the end, I compared to see which had the most fuzzing or pilling. Some yarns would pill faster than others, but other yarns would often catch up quickly, within a wash or two.
Caron One Pound was one of the yarns that showed wear early on and continued to show wear throughout. For this reason, I gave Caron One Pound a 5/10 ranking. Which doesn't sound that bad, but it was the lowest durability score I provided. One Pound shared this ranking with Big Twist Value yarn and Hobby Lobby's I Love This Yarn.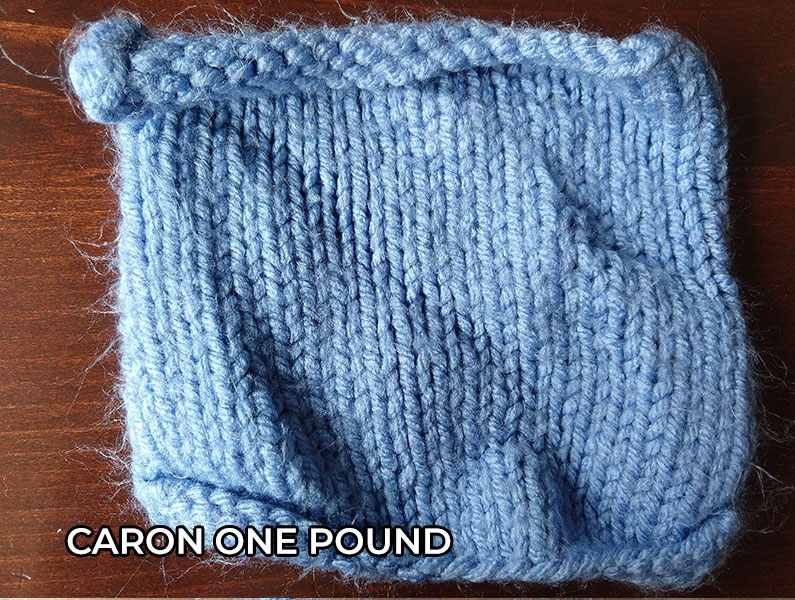 In addition to showing lots of fuzzy haze, Caron One Pound always seemed to wrinkle. Regardless of what I washed it with, whether it got tangled with my jeans or not, it nearly ALWAYS ended up wrinkled when most swatches didn't. I have no idea why this would be. If you'd like to see the Caron One Pound review swatch in comparison with all the Ultimate Acrylic Yarn Comparison swatches, you can view them in durability review post.
Concluding the Caron One Pound Review – Do I recommend it?
Before straight up provide a yay or nay, I will provide a caveat. My partial skein of Caron One Pound was on the older side, older than any of the other yarns I used in this comparison. Is it possible that quality has improved since I purchased this skein sometime around 2016? Yes, it is absolutely possible. Would I consider trying a newer skein of this yarn to compare? Yes, I would. But the quality would have had to change SIGNIFICANTLY for me to actually want to buy this yarn in the future.
I would only recommend Caron One Pound for non wearable projects where longevity is not a main goal. If I were to crochet blankets for use in animal shelters, I would totally consider Caron One Pound. It's often on sale and most animal shelter blankets do not need to look nice. Would I use it for an heirloom blanket or a sweater? No, I wouldn't. The Ultimate Acrylic Yarn Comparison taught me that not all acrylics are created equal and they each have their uses.
So although I do not recommend Caron One Pound for most knitting or crocheting, I would not discourage you from buying it. But I would definitely recommend you try many of the other yarns in the comparison depending on which features are most important to you!
If you have thoughts on this Caron One Pound review, feel free to contact me!
---
Featured in this Post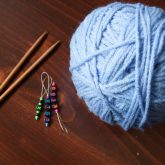 Interested in trying Caron One Pound Yarn? You can find it online at Yarnspirations, Joann, Michael's AND LoveCrafts? Oh, and don't worry, you can find this in your local Joann store too.