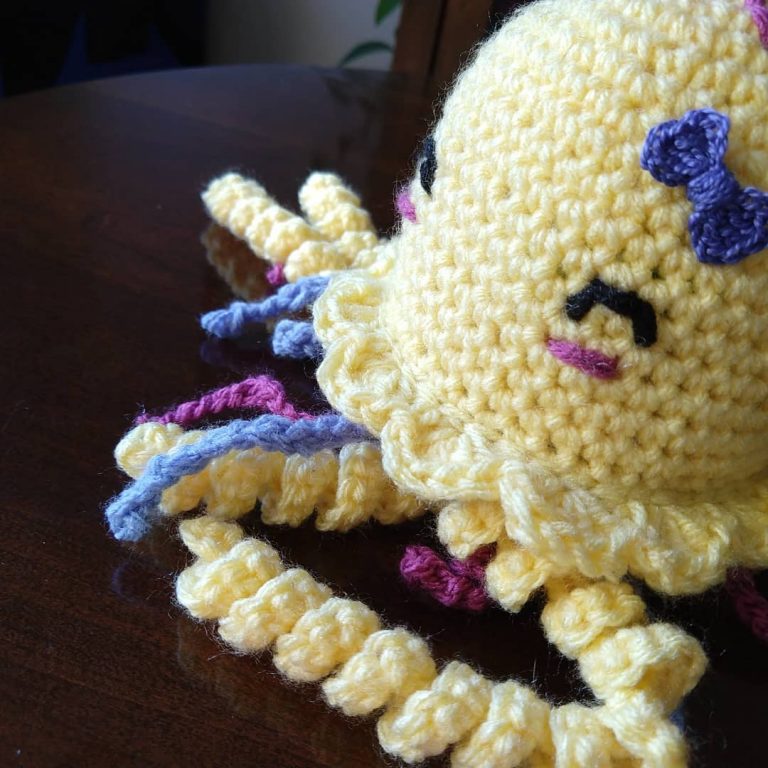 Adorable NICU Crochet Amigurumi Jellyfish
Adorable NICU Crochet Amigurumi Jellyfish
It has been nearly four months since my last regular blog post! Let's just say moving long distance during the pandemic is not something I would recommend doing unless you have to. Even though the blog has been stagnant, I have still been knitting (and crocheting). We have a lot to catch up on! Let me start with an easy project to share – the adorable crochet amigurumi jellyfish I made for my niece Noelle!
My Very First Crochet Amigurumi – Nicky the NICU Jellyfish
Before this project, I had NEVER crocheted an amigurumi before, even though I've been crocheting my entire life. I had knit an amigurumi before (my mother in law's christmas gnome!), but never crochet. For my first project, I chose the tried and true amigurumi jellyfish from Chrisette Designs.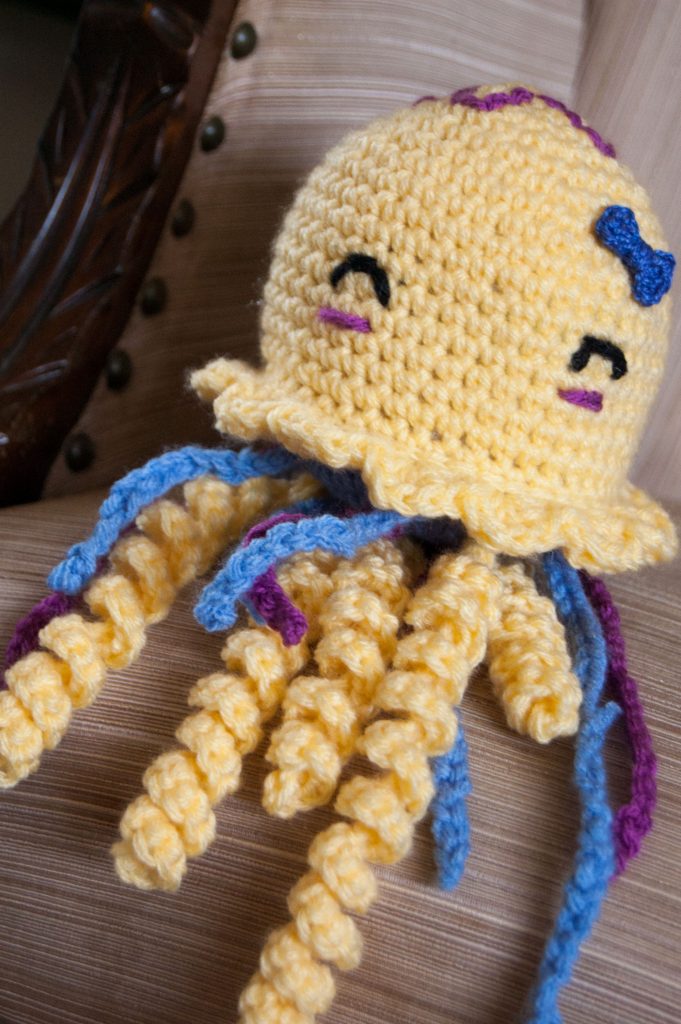 Believe it or not, amigurumi jellyfish are very neat. Kind hearted crocheters make them for NICU (neonatal intensive care unit) babies because the jellyfish coils remind them of umbilical cords. The coils are calming and provide something for the babies to grab onto. This prevents them from pulling at all the wires and tubes they may be hooked up to.
I crocheted this jellyfish just in case my niece was born early and was placed in the NICU. My sister and I both suffer from Polycystic Ovarian Syndrome (PCOS), and I had no idea if her pregnancy would have complications. But I also figured that if everything went fine, it might help calm a fussy newborn anyway!
Thankfully Noelle's birth went just fine, minus my sister needing a c-section after being in labor for several hours.
The Chrisette Designs Jellyfish Crochet Pattern
First of all, I just have to point out all the wonderful detail Lizette put into this pattern. Nicky the NICU Jellyfish has blush, a bow and a beautiful floral detail on the top of her head too.
If you've never made a crochet amigurumi before, this is a great one to start with. The pattern has step by step photos demonstrating exactly how to construct the fine details and complete the final assembly. Oh, and did I mention there is even a YouTube tutorial? I completed my Jellyfish using only the pattern photos, but I knew that if at any point I got stuck, the video tutorial would save the day.
The icing on top of the cake is that you can sell any amigurumi jellyfish you make with this pattern! Lizette is currently allowing this as long as you credit/link to her pattern and use your own photos.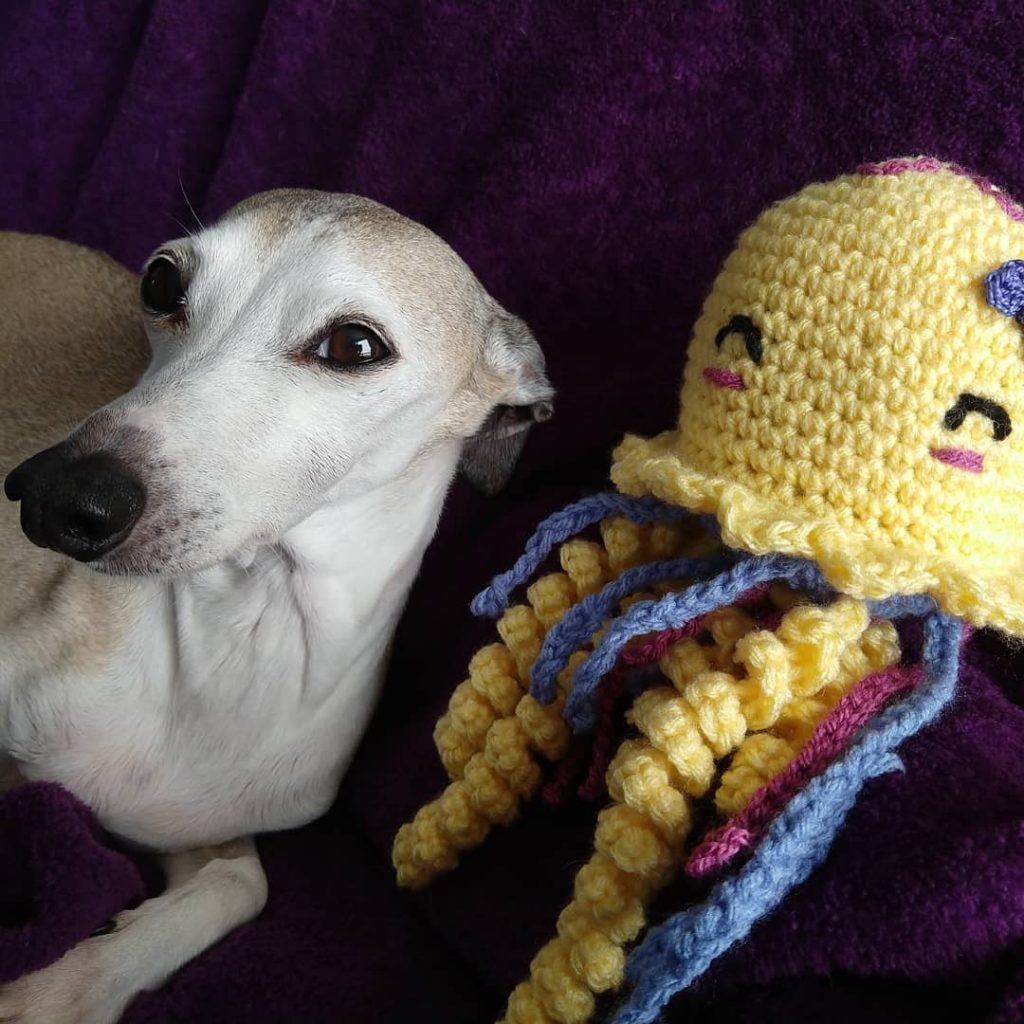 The Acrylic Yarns I Chose for My Jellyfish (I named Kate)
Although this pattern calls for cotton yarn, you can absolutely create a jellyfish with any stash yarn you have at home. This crochet jellyfish was one of the projects I chose for testing yarns in the Ultimate Acrylic Yarn Comparison. But in the end it became more of a stash buster than a test of any of the comparison yarns.
I constructed Kate's body with a yellow mystery acrylic I have had for YEARS…. and I mean at least 10 years or more. I stitched the straight "tentacles" in the light blue Caron One Pound and pink Lion Brand Basic Stitch premium. By some miracle, I even had some blue embroidery thread that matched for the bow! That has been in my stash of craft supplies for almost 20 years! Overall, I LOVE this color combination and think it is perfect for a little girl without being overly feminine.
After this project, I'll definitely consider making more amigurumi for my niece Noelle in the future. What's your favorite amigurumi pattern for baby? Share your pattern recommendations in the Budget Yarnaholics group on Facebook!
---