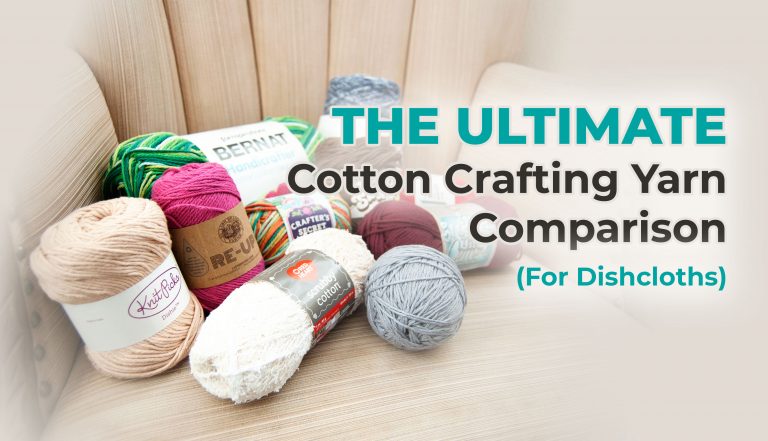 The Ultimate Cotton Crafting Yarn Comparison (for Dishcloths!)
The Ultimate Cotton Crafting Yarn Comparison (for Dishcloths!)
Yes, you read that right. I am starting a cotton crafting yarn comparison! Specifically, I am evaluating which basic cotton yarns make the best dish cloths. The Ultimate Acrylic Yarn Comparison is still in progress, with project posts, fast follows, and more to come. But comparisons take time. I have to wait for durability testing results, complete knitting projects, and deal with the chaos that is my new house. How better to fill our time while we wait than by starting a new comparison? Read on, or watch a (maybe?) condensed version on my Youtube channel:
Available Cotton Crafting Yarn Comparisons Online
If you google cotton yarns, you can find one or two other blog posts comparing basic cotton yarns. They are a little older and unfortunately a little incomplete (by my data-driven standards).
Other comparisons of cotton dish cloth yarn will tell you that most basic cotton crafting yarns are generally the same. I would like to submit the hypothesis that basic cotton yarns are not all the same! Perhaps I will be proven wrong, but that is the purpose of my yarn comparisons. I strive to provide measurable data rather than just opinion.
Cotton Crafting Yarns are Not the Same! The reasons behind my hypothesis.
Most skeins of your basic cotton crafting yarn are rough, cheap 2.5oz skeins of 100% cotton. How can they be different?
To explain my reasoning, I will start with the example of bath towels. When I moved out of my parents' house years ago, I had two thrift store towels to my name. They were wonderful. But then came the time I was forced to replace them (because my brother used them to absorb a torrent of water that randomly overflowed from the toilet!) My first apartment had serious plumbing problems.
When I replaced these towels, I chose a few cheapies off the shelf when I was in Walmart. My 19 year old self assumed (incorrectly) that all towels are created equal. They weren't absorbent, and they left me covered in fuzz. When I used them on the next toilet overflow, I didn't bother trying to save them afterwards. Since then, I have been on a search for the perfect towels. And you wouldn't believe how many options there are!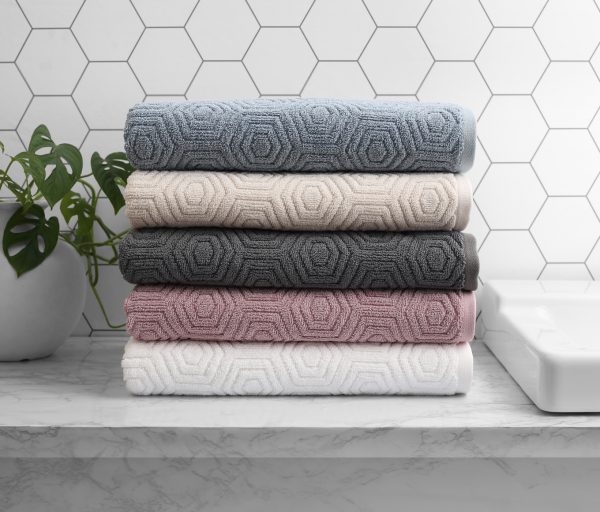 You have long staple, short staple, Pima, Supima, Turkish, Egyptian, Low Twist, Zero Twist — phew! There are so many adjectives to describe the cotton and towel construction. Each type of towel has varying levels of absorption, durability and softness. If bath towels are different because of their construction and cotton source, shouldn't cotton crafting yarn also be different?
Reason #1: Cottons from Different Regions Have Different Characteristics
I'm a yarn blogger, not a scientist. So I'll keep this section short and sweet. Even within the United States, you can have differences in the cotton crops. As an example, Cotton Incorporated measured staple length, strength, uniformity and more across US cotton crops in 2019-2020. Their resulting Cotton Fiber chart shows cotton in the Far West was stronger than cotton grown elsewhere in the US.

The staple length of cotton is considered to be an excellent indicator of absorbency, durability and softness. Even if there may not be data to back it up, some believe long staple Turkish Cotton is superior. Turkey isn't a major producer of long staple cotton like the United States and India. But some claim that "Long-staple Turkish cotton has a reputation for being the longest, strongest and finest cotton fibers in the world."
I'm convinced that there may be differences in cotton crafting yarns simply because of where the cotton was grown! Next, lets talk about construction.
Reason #2: Cotton Construction Affects Absorbency and Strength
I'll plagiarize a little of my own work, from a blog post that has been sitting unpublished in my queue. Yarn construction can have a huge effect on strength & absorbency!
The obvious example will be with mercerized cottons. The process of mercerization increased the strength of the cotton yarn SIGNIFICANTLY. But guess what? It decreases absorption! In my upcoming review of Lion Brand 24/7 Cotton (that I wrote forever ago), I go into detail.
A less obvious example will go back to towel construction. Low Twist and Zero Twist cotton towels are typically considered more absorbent. Part of this is because of the inherent nature of long stable fibers used in these style of towels. But some still say that the act of spinning the cotton fibers too tightly decreases the absorption. Which explains all the love for Zero Twist towels.
If the spin of the threads used in a cotton towel affect absorption, surely the yarn ply will affect the absorbency of our cotton yarn?
The Cotton Crafting Yarns I am Comparing
Let's start with the most important detail of my ultimate cotton yarn comparison — the yarns I will be comparing!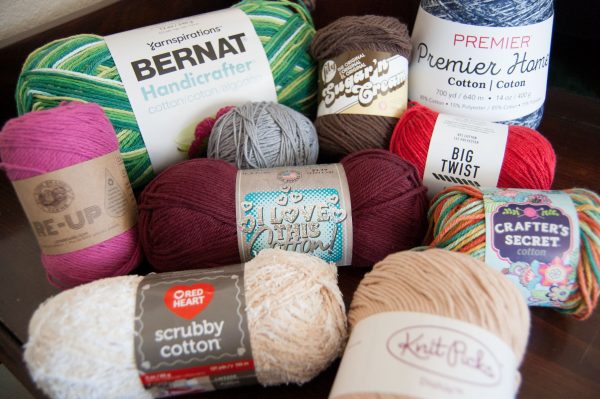 The yarns in the Ultimate Cotton Crafting Yarn Comparison are:
Let me address the two cotton/poly blend yarns. Although I prefer to compare yarns that are identical in fiber type, the goal of my comparison is to figure out what truly makes the best dishcloth. And the marketing for Premier Home Cotton claims it is "Better than your grandma's dishcloth cotton, this blend of cotton with polyester produces softer, more durable and more colorfast projects" (Copied from Michaels.com, March 2021). Does the addition of the polyester truly make a better dishcloth? I want to find out!
Where These Cotton Yarns Come From
To provide a rebuttal to those who claim most cotton crafting yarn is all the same…. just look at the label. The very obvious difference is that these yarns do not come from the same place! Even if these are all cotton yarns (or a blend), I believe that there may be differences in absorbency, softness, etc, simply based on where the cotton came from. My labels specify: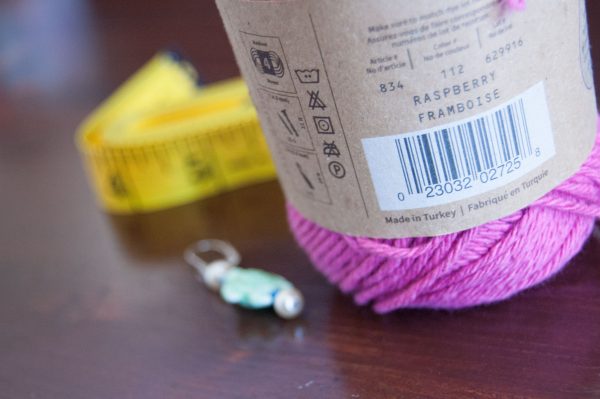 Manufactured in Turkey from an unspecified fiber source. We have Big Twist Cotton, Premier Home Cotton, Crafter's Secret Cotton, Red Heart Scrubby Cotton, Lion Brand Re-Up, and Lion Brand 24/7 Cotton.
Manufactured in India from an unspecified fiber source, we have Knit Pick's Dishie.
Manufactured in Canada, we have Bernat Handicrafter Cotton. This label does not specifically say where the cotton is from. But it has the Cotton Inc. logo on the label, making me think it is USA Cotton.
Manufactured overseas, but from USA grown Cotton, we have Hobby Lobby's I Love This Yarn and Lily Sugar n' Cream cotton yarn.
Now, can you imagine USA cotton being imported to Turkey or India for manufacturing these yarns? You certainly couldn't sell them at such a low price point if you did! Surely they use cotton grown closer to the region, which may have completely different characteristics than the USA sourced cotton.
Cotton Yarn Construction
The photos show very similar construction for each yarn, except for the mercerized Lion Brand 24/7 Cotton and the fuzzy Red Heart Scrubby Cotton. Every other yarn in the list is a four ply yarn, with varying amounts of spin.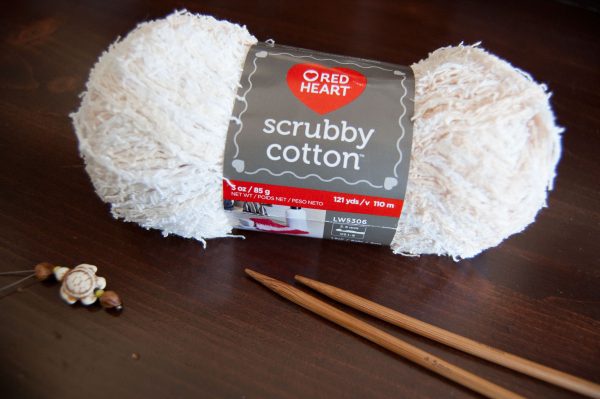 So let us over-analyze the spin of these four ply yarns. Premier Home Cotton, Knit Pick's Dishie and Hobby Lobby's I Love this yarn have the tightest spin in our sample set. The cotton yarn with the loosest ply is definitely Bernat Handicrafter Cotton, with Lily Sugar n' Cream not far behind.
If the reasoning of zero twist and low twist fiber towels is the same when applied to yarn, then Bernat Handicrafter and Lily Sugar n' Cream may be more absorbent yarns in the final testing due to the looser ply. But can they beat the fuzzy Red Heart Scrubby Cotton that will have more surface area like a textured bath towel?
How I will Be Comparing Cotton Crafting Yarns
With all that introductory info out of the way, here's how the Ultimate Cotton Yarn Comparison (for Dishcloths!) is going to work.
Workability (and Softness
For each of the 10 yarns in the list, I will knit a single dishcloth. Unlike my acrylic yarn comparison, I will not be crocheting the swatches as well. I don't foresee there being differences in the workability of these cotton yarns that cannot be identified by knitting only. Because lets be honest, the usual complaint is that cotton yarns are rough, not that they are splitty, squeaky, etc. Workability and softness will be a combined metric in this comparison.
Because spin and texture will have an impact on absorbency, all cloths will be knit in the same style seed stitch dish cloth. Even the Red Heart Scrubby Cotton.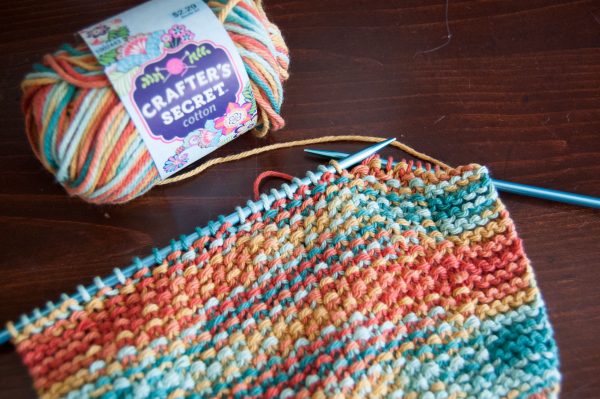 Shrinkage
Before I wash each cloth, I am going to measure them to see if and how much each shrinks. Dishcloths grow when wet too, so this is an exercise in "how true to size will your washcloth remain?" This may seem like a silly metric, but I saw shrinkage as a concern in a few very old forum threads on cotton yarns. Do they now pre-shrink cotton yarns like they do with shirts? Let's find out!
Absorbency
After washing the completed dishcloths (to remove any residue that may affect absorbency), I will conduct a "paper towel commercial" style absorbency test. How quickly and how well will each dishcloth absorb a specified amount of water? I will test absorbency after the first wash and after 10 washes. This will determine if the absorbency improves at all with additional washing.
Durability
When it comes to durability, a true measure will not be as easy as washing swatches like I did for the Ultimate Acrylic Yarn Comparison. Cotton is generally is way too durable for washing alone to show any measurable differences. This means it will take much longer to determine durability. I will have to use them in my own kitchen on rotation. It could be well over a year before I have any significant data to share! If you have suggestions on speeding up durability testing, please let me know! But in the meantime, I will rely on the trusty wash test to rule out very obvious flaws in durability.
Until Next Time, I'll be Knitting Dishcloths!
I'm very excited to learn which cotton yarns are best for dishcloths. Maybe even more excited than I was for my acrylic yarn comparison! Stay tuned for more posts and in the meantime you can check out my YouTube Channel. There you'll find all the videos from the Ultimate Acrylic Yarn Comparison and some updates that aren't on the blog!