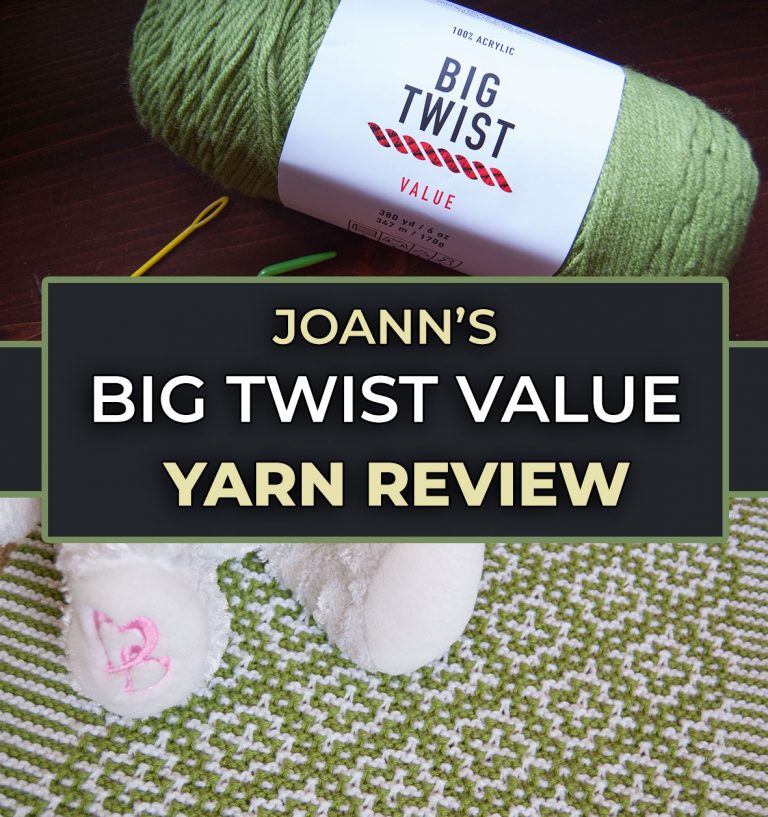 My Official Big Twist Value Yarn Review 2021
My Official Big Twist Value Yarn Review 2021
For this week's blog post, I'd like to present another official, complete yarn review based on the results of the Ultimate Acrylic Yarn Comparison. Although the comparison provided most the data you need, I like to write up a final review after completing a project with a particular yarn. The excessive swatching of the comparison taught me alot, but a final project helps confirm each data point. So let's get on with it…. here is the Big Twist Value Yarn Review!
Availability of Big Twist Value
Just in case you didn't know, Big Twist is a Joann store brand. There are a few Joann store brand yarns, but Big Twist is the budget yarn brand, featuring Classic, Soft & Value. Value was the most popular on Ravelry when I made my selections for the Ultimate Acrylic Yarn Comparison. Although it is readily available in Joann stores, you won't be able to find it anywhere else. For that reason, I gave Big Twist Value an availability ranking of 6/10. This is the same ranking I applied to other store brands that could be found both locally and online.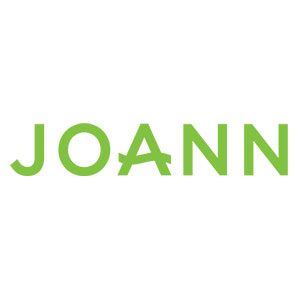 Workability of Big Twist Value Yarn
Unlike the other ULTRA budget yarns I compared, I gave Big Twist value a relatively high workability score at 7/10. The reason for this is that compared to similar acrylics it is very soft and easy to knit! I used it for a small car seat size knit mosaic baby blanket. With so many stitches on the needles, any workability flaws would have been very noticeable. My only complaints were with the white mystery yarn I paired!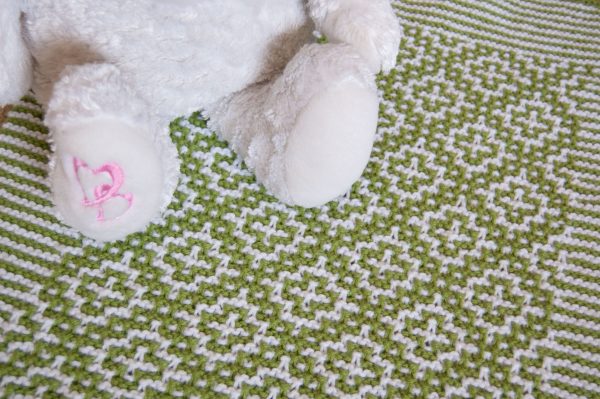 If thinking about price and availability, Value is most similar to Loops & Threads Impeccable or Caron One Pound. And both of those are stiffer and rougher than Big Twist value. If I had to make a choice on workability alone, I would be heading to Joann instead of Michael's.
Oh, and did I mention that I didn't experience any squeaking with Big Twist Value? Bonus!
Softness and Wearability
As I touched on above, Big Twist Value is much softer than some of it's competitor yarns. But in the grand scheme of things, Big Twist still only scored a 5/10 for softness. Of all the data points I measured, softness may have varied the most. This created quite the spectrum on my rankings. Even though Big Twist just gets a 5 out of 10, I would consider this yarn to be soft enough for a variety of garment and accessory projects.
Because I made a baby blanket with Big Twist Value, I cannot speak directly as to it's true wearability. But if you need an affordable yarn for a sweater or hat, I would try Value over other ultra budget yarns.
How Durable is Big Twist Value Yarn?
Unfortunately, durability is the one data point that prevents me from raving about Big Twist Value. You won't see immediate pilling after one wash or even two, even if you throw it in the dryer. But the way the Ultimate Acrylic Yarn Comparison works, we find out how durable a yarn is compared to it's peers. Even if on it's own it may seem acceptable.
You can find videos on YouTube saying it is safe to put Big Twist Value in the dryer. It's true it doesn't shrink or immediately look awful. But I still personally would not recommend it if you are optimizing for the durability of your project. When compared side by side with all of the other yarns I selected, Big Twist got hazier than many of the other yarns. I ignored the ball band instructions and put this yarn in the dryer which *could* be the reason why it started "aging" faster!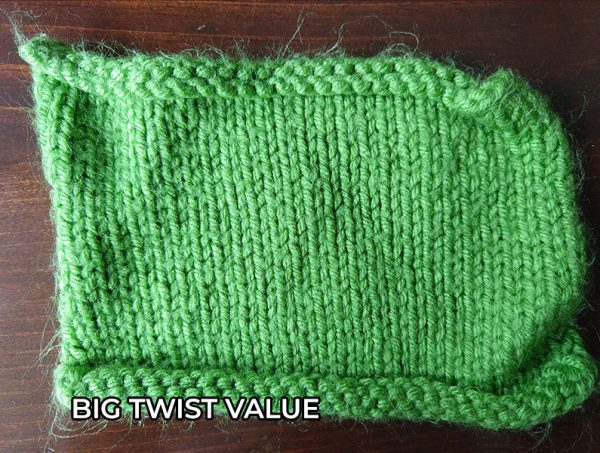 I cannot say for sure that avoiding the dryer would improve the overall durability of the yarn. But that is where I would start if trying to make optimizations. You can see exactly how this swatch compared to the others in the yarn durability posting.
The Conclusion to the Big Twist Value Yarn Review: To Buy or Not to Buy?
I provided overall ratings to each yarn by doing a weighted average of each data point. The overall rating for Big Twist Value is 6.1, with softness and durability bringing down the availability and workability scores. You can choose which metric is most important to you, but I definitely value workability and softness, with durability being optional depending on the project.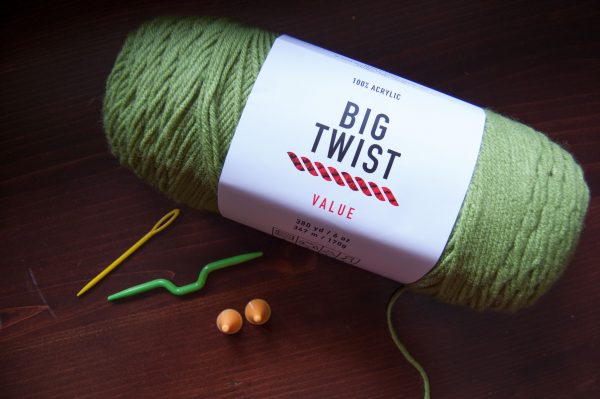 For that reason I would recommend Big Twist Value in a pinch when overall durability isn't a key requirement. I would reach for a different yarn for heirloom blankets. But I would absolutely choose Big Twist Value for a child's sweater that will be grown out of before it wears out.
I've said it before and I'll say it again. The best part about the Ultimate Acrylic yarn comparison has been identifying which yarns are perfect for each project. Every yarn has it's use!
What do you think of this Big Twist Value Yarn review? Let me know and send me a message!
---
Featured in this Post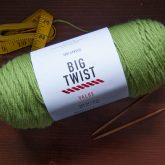 Big Twist Value Yarn is available only at Joann! Whether you buy online, in store or opt for curbside pickup, you'll have a great color selection to choose from.